We independently source all of the awesome products and experiences that we feature on Thrillist. If you buy or book from the links on our site, we may receive an affiliate commission — which in turn supports our work.
It's an undisputed fact that cheese makes everything better, which is probably why people love fondue so much. Popularized in Switzerland, the dish consists of melted cheese served in a communal pot, which people then enjoy with pieces of bread. The term has expanded to cover pretty much any process of dipping something into a pot of liquid, whether it's fruit dipped into melted chocolate or pieces of meat dipped in hot oil. But no matter which form your fondue takes, one thing's for sure: This dish is the epitome of comfort food.
Fondue is best enjoyed on cold winter nights, with the warm cheese (or…whatever) sticking to your ribs and making you feel like you're at a fancy Swiss chalet. And while you could shell out a few hundred bucks to pay a visit to The Melting Pot, we highly recommend investing in your own fondue pot this winter. Here, we've rounded up some of the best fondue pots, sets, and accessories available on Amazon, all with rave customer reviews. So whether you're celebrating Valentine's Day or hosting a dinner party, grab a fork and get to dipping.
Amazon
This Cuisinart maker is basically a fondue starter kit, with a base, bowl, temperature probe, 8 fondue forks, and fork rack all included. The stainless steel bowl holds up to three quarts of liquid, and it's suitable for cheese, chocolate, broth, and oil. The fact that it's electric (as opposed to heated by fire) is another huge perk, especially if you're inviting kids to your party. But the best part? It's totally dishwasher safe.
Amazon
This sturdy, cast iron pot has a classic Swiss look, which will help you achieve that après-ski vibe even quicker. The set includes the bowl, wrought iron tray, burner, and six fondue forks with faux wood handles. The pot holds up to 2.5 quarts and has an enamel lining on the interior, which eliminates the stress typically associated with cleaning cast iron. And if you aren't a fan of open flames, the pot can even be used on a stovetop.
Amazon
If you're only interested in chocolate fondue, this HomeCraft set will certainly fit the bill. The electric set comes with a stainless steel bowl, four fondue forks, and a base with separate compartments for your fruit, marshmallows, pretzels, or whatever other goodies you want to dip in chocolate. The bowl is also removable, which makes it very easy to clean.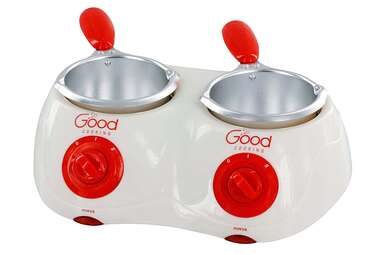 Amazon
If you're really interested in chocolate fondue, double up with this two-pot electric set. The separate bowls let you melt and serve two different types of chocolate (dark, milk, white, etc.), perfect for hosting people with varied tastes. It also comes with skewers, chocolate molds, and a recipe book for making candy outside the pot.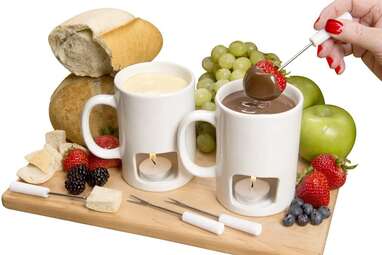 Amazon
Perfect for a date night or a solo midnight snack, each of these fondue mugs holds about 6 ounces of liquid—the perfect amount for one or two people. The set comes with four forks and eight votive candles, which can be replaced with any basic tea light candle when they burn out. The ceramic mugs are dishwasher and microwave safe, and can be used for both chocolate and cheese.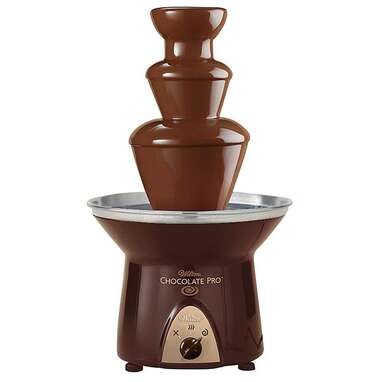 Amazon
On the other hand, a celebration involving more people calls for a bigger appliance. This fondue set holds a whopping four pounds of chocolate, and let's be honest—who doesn't love a chocolate fountain? The heated bowl keeps the chocolate melted and flowing, while three tiers are spaced out for easy dipping. Serve it with some cake pops and assorted fruit, and your guests will definitely be impressed.
Amazon
You're going to need a lot of forks if you plan on serving fondue at a party. This set of 12 from Sago Brothers are lightweight but sturdy, with heat-resistant handles that make them safe to grab straight from the pot. Each fork has a different color on the end, so people can easily recognize their utensils among the masses.
Caitlin Morton is a travel and lifestyle writer based in Kansas City. You can follow her on Twitter
@CaitlinMorton23
.