The Best Food Gifts for the Gourmand in Your Life
Your friend may have a perfect palate, but they probably don't have a pound of oak-smoked sea salt.
Design by Maitane Romagosa for Thrillist
We independently source all of the awesome products and experiences that we feature on Thrillist. If you buy or book from the links on our site, we may receive an affiliate commission — which in turn supports our work.
You may not think of Amazon as a place to stock up on specialty foods. Surprisingly, though, the retailer actually sells heaps of niche groceries far beyond the ubiquitous truffle oil or "gourmet" holiday food basket. If you need a last-minute gift for the gourmand in your life, look no further than this available-on-Prime array of curious condiments, cocktail accoutrements, and more.
Design by Maitane Romagosa for Thrillist
Is there such a thing as an "It" salt? If there were, then Maldon would take the title. While your gourmand friend probably already has a box of Maldon's classic flaked salt, they'll be thrilled to experiment with this oak-smoked variation, which comes in a comically large tub (one pound!) for a lifetime of unexpectedly smoky cookies, crostini, and other treats.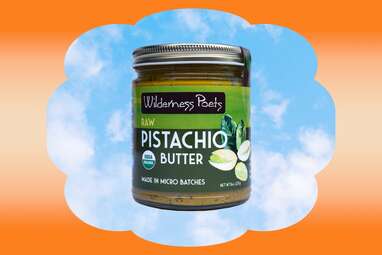 Design by Maitane Romagosa for Thrillist
Pure pistachio butter is among the priciest and hardest to find spreads, making it the perfect gift for anyone who needs a little luxurious nuttiness in their life. While other pistachio butters have heaps of sugar, the only ingredients in this jar are pistachios, olive oil, and salt, making it a blank canvas for your friend's sweet and savory culinary creations.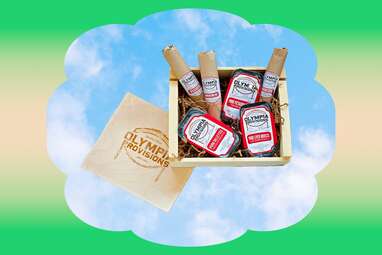 Design by Maitane Romagosa for Thrillist
Gift your Francophile friend this incredibly porky assortment of premium salami, liver mousse, rillettes, and pistachio pâté from Olympia Provisions out of Portland, Oregon—then hope they invite you over to eat the spoils with a good baguette and bottle of Bordeaux.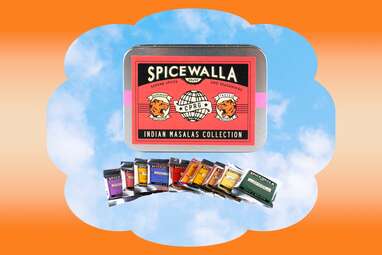 Design by Maitane Romagosa for Thrillist
Does your friend's DoorDash history read like a list of their city's best Indian restaurants? It's time they learned the masala behind their go-to order. This tin of 10 spice blends includes Madras curry powder, chaat masala, black mustard seeds, and other essentials for a proper Indian meal at home from soup to nuts.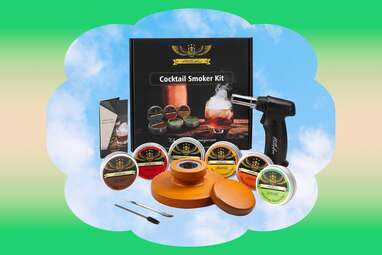 Design by Maitane Romagosa for Thrillist
The generous soul who's always inviting you over for craft cocktail night deserves an upgrade to their mixology repertoire—like this kit that comes with six flavors of wood chips, a torch, and a handsome wooden cocktail smoker that they can lift off a rocks glass to unveil a swanky smoked libation.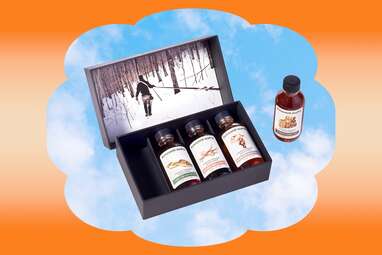 Design by Maitane Romagosa for Thrillist
Level up your giftee's pancake game with this set of four infused maple syrups from a family-owned producer in Vermont. They'll be just one drizzle away from waffles, Dutch babies, and other breakfast delights interestingly flavored with Makrut lime leaf or the scent of pecan wood.
Design by Maitane Romagosa for Thrillist
Have a condiment connoisseur in your life? They'll be totally tickled by this small-batch Japanese barbecue sauce from the family-owned Bachan's brand. This balanced blend has plenty of umami from soy sauce and tomato paste, some zing from ginger and green onion, and a surprising jolt of acidity from puckery yuzu—plus a label that will look very cute on their cookout table.
Design by Maitane Romagosa for Thrillist
We all know someone who's gardening-curious. Why not nurture that person's green thumb with an indoor mushroom growing kit? This DIY pack promises pearl and pink mushrooms that sprout directly out of the box in 10 days. Your giftee just needs to keep them in indirect sunlight and give them a daily spray with an included mister to grow quite the gourmet topping for their weeknight fettuccine.
Design by Maitane Romagosa for Thrillist
Enable your friend's tinned fish addiction with this eight-pack of gourmet sardines from Italy and Portugal. Between olive oil-packed and spicy tomato sauce varieties, your friend will have plenty of options for their sardine smørrebrød or fishy take on the TikTok-famous butter board.
Design by Maitane Romagosa for Thrillist
Why choose between blue agave, serrano, and habanero hot sauces when you can have all three? This Austin-born "flock" of condiments has minimal ingredients and maximum flavor that's ready to add heat, freshness, and complexity to your friend's breakfast burritos and beyond.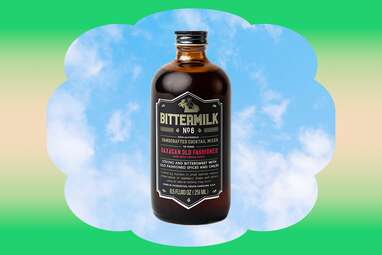 Design by Maitane Romagosa for Thrillist
Bottled in Charleston by the award-winning Bittermilk brand, this blend of cocoa, raisins, and dried chiles evokes the flavors of Oaxacan mole. Ideal for anyone who appreciates a thoughtfully crafted drink, the syrup makes a Mexican-inspired Old Fashioned with mezcal and a lime twist.
Design by Maitane Romagosa for Thrillist
Tiptree's most coveted product is its Little Scarlet Strawberry Conserve. That's partly because it was mentioned in From Russia, With Love, the 1963 James Bond flick, but mostly because it's made with a super sweet, dime-size strawberry variety that's only grown commercially on Tiptree's farmland near Essex, England. If this spread was good enough for Queen Elizabeth II, it's definitely good enough for your food-loving friend.