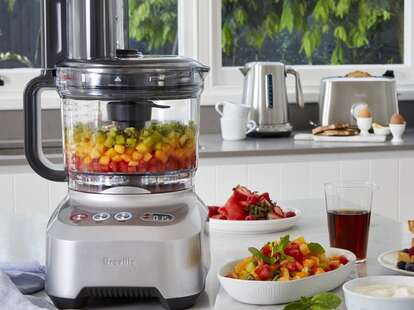 We independently source all of the awesome products and experiences that we feature on Thrillist. If you buy or book from the links on our site, we may receive an affiliate commission — which in turn supports our work.
In the never-ending quest to elevate your home kitchen setup, adding new appliances can make things feel crowded and cramped, not to mention expensive. That said, there are certain essentials that are well worth their countertop real estate, and a food processor fits that bill. A good food processor can easily open up new worlds of culinary adventure, from soups and sauces, to marinades and homemade mayo. Plus, unlike a blender, which is mostly used to pulverize ingredients into purees or liquids, a food processor effectively expedites any chopping task that would normally call for a knife, saving you valuable time on prep.
From formidable basic options to high-end, chef-grade choices, we tracked down some of the best food processors available on Amazon. No matter your budget, you'll find a good match that'll help you easily whip up your favorite recipes.
Amazon
If you're looking for a budget-friendly, all-in-one option, this is your best bet. The 10-cup bowl should give you plenty of room for most jobs, and the removable scraper makes cleanup a breeze. It also comes with reversible blades so you're well-equipped for chopping, shredding, or slicing.
Amazon
If you're short on extra space, this small-but-mighty KitchenAid processor will fit tidily on your countertop or in the pantry. It's lightweight and compact with a 3.5-cup bowl, making it a great option for meal-preppers. It's also completely dishwasher-friendly, and you can take your pick of 13 different colors.
Amazon
Another diminutive choice for apartment-dwellers, this 250-watt Cuisinart Mini is a simple processor with two choices: chop and grind. It'll likely fall short if you're trying to whip up a dinner party feast, but it'll more than suffice for quick weekday recipes.
Amazon
Those with a bit more experience in the kitchen might want to take on this 12-cup beast from Braun. Much more than a chop and pour processor, it comes with 7 different attachments and 11 variable speeds. It even comes with a built-in juicer, so there's truly no limit to what you'll be able to get out of it.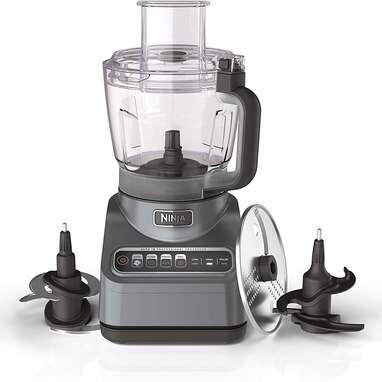 Amazon
If you want a professional food processor without emptying your pockets, look no further than Ninja. Arguably the most powerful option at its price point, this 1000-watt processor is a 4-in-1 rig that can chop, slice, mix, and puree. It's dishwasher safe, and its sleek design shouldn't take up too much space despite the well-sized 9-cup bowl.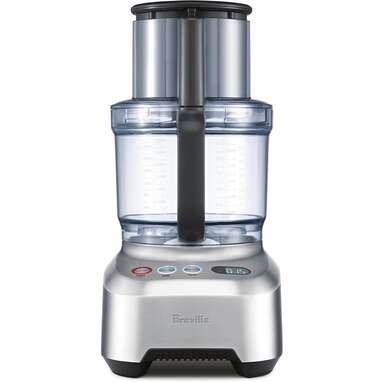 Amazon
On the other hand, if you're prepared to put more stock in your kitchen gear than your bank balance, the Breville Sous Chef 16 will serve as one hell of an upgrade. With three different chute options and eight precision tools, you can guarantee perfectly uniform chopping and slicing, every time. It also comes with two different bowl sizes, so you'll be well-set for any occasion.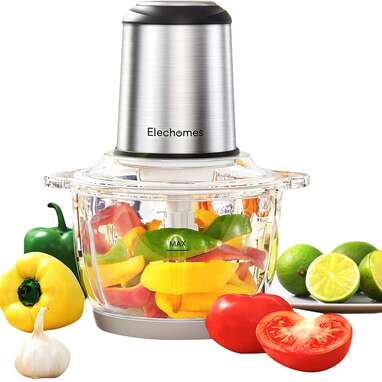 Amazon
If you'd rather opt for simplicity, this 8-cup Elechomes chopper will get the job done with the touch of a button. Its unique design provides easy control with a single top button, plus a built-in safety lock and overheating protection. It might not have the versatility of higher-end models, but it should take care of most basic needs.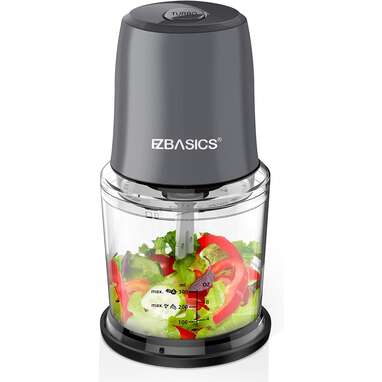 Amazon
Sometimes, two cups is all you need. This EZBASICS mini processor is essentially a handheld option, but comes with enough juice to grind up meat, nuts, veggies, ice—whatever you're likely to toss in it. The price is also right, making it a perfect starter food processor.
Chad Rafferty is a Thrillist contributor.