We independently source all of the awesome products and experiences that we feature on Thrillist. If you buy or book from the links on our site, we may receive an affiliate commission — which in turn supports our work.
Coming back from the holidays to a messy kitchen is not ideal, especially when you need the motivation to get back on track and start cooking for the week again. A tidy space not only allows you to be more efficient, but it can also inspire you to commit to your meal prep routine.
The first step to starting fresh is by organizing your fridge. So, if you find yourself in the all-too-familiar position of buying ingredients you already have because you couldn't see what's hiding in the back, we've tracked down some convenient and affordable organizing solutions, all available on Amazon.
From bins that keep your produce fresh for longer to drawers that you can easily install on nearly any fridge shelf, we tracked down the best-rated and most popular options that'll help you achieve Insta-worthy fridge organization in no time.
Amazon
There's nothing more annoying than having to empty your fridge just to be able to reach the items in the back. The solution? Storing everything in these bins. They allow you to easily retrieve items without messing up your entire organizational system (and also keep track of what you have/need to restock).
Amazon
There are myriad hacks floating around the web that show you how to make your fresh herbs last, but most require using a bunch of paper towels every time. If you're looking for a more sustainable option, consider these pods that promise to prolong the life of your herbs while keeping them organized in your fridge. All you need to do is rinse them and pat dry, chop the end of their stems, place them into the pod, and add some fresh water through the tethered filler cap. Also, remember to empty the old water and refill every three to five days to keep your herbs fresh for up to three weeks.
Amazon
These small drawers are a smart way to efficiently create more storage space in your fridge and ensure your most-used items are easy to grab. They're super easy to install in nearly any unit (just make sure the depth of your fridge's shelf is less than 11.2 inches or larger than 18 inches, and under 0.6 inches thick).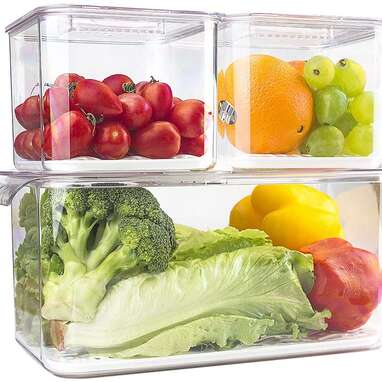 Amazon
When the two small bottom drawers in your fridge are not enough, keep the rest of your produce in these convenient containers. They boast lids and filter trays that create a vent system, regulating the flow of air in and out, controlling the humidity inside, and ultimately keeping fruits and vegetables fresh for longer (bye bye, wasted foods).
Amazon
This storage box comes with four removable bins that are great for stashing ready to use pre-chopped veggies or store pre-washed fruits. This makes it easy to pull out your ingredients from the fridge and have them handy to whip up meals and snacks quickly.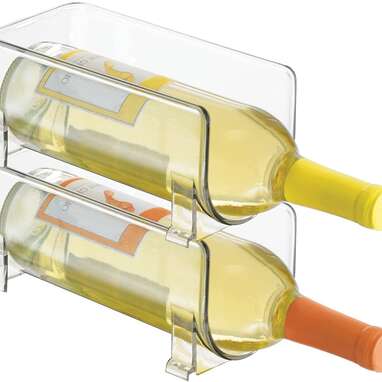 Amazon
Keep your wine bottles from running around or falling over in your fridge with this rack storage setup. Technically, you can also use this for any other bottles, too, so it's a great spot to keep tall bottled condiments and sauces tidy.