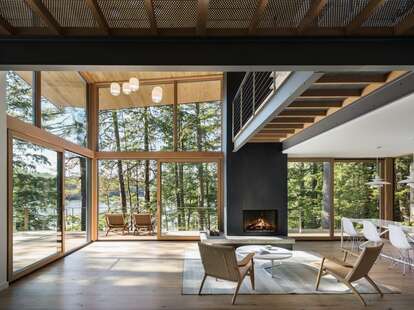 We independently source all of the awesome products and experiences that we feature on Thrillist. If you buy or book from the links on our site, we may receive an affiliate commission — which in turn supports our work.
Thanksgiving is, in theory, the best holiday of the year because the entire focus is sitting down with people you love for a delicious dinner with so many dishes that everyone gets their favorite, a mantra that if you don't go back for seconds (or thirds), you're not doing it right, and 11 straight hours of football.
Unfortunately, for some of us, our families are far away or live very close but don't believe in television and have also never not made us cry in front of everyone at the table so we don't do Thanksgiving Dinner with them anymore, or some other example that is not bizarrely specific but keeps us from celebrating together! For those people—and for everyone who is just stoked to celebrate Thanksgiving as many times as possible—there is Friendsgiving, a gathering that is exactly like Thanksgiving except there are many cooks in the kitchen, and you truly like every single one of them.
If you're a fan of Friendsgiving, why not take the festivities to a new level this year with a long weekend getaway in one of these Airbnb or VRBO homes, all of which have fully-stocked gourmet kitchens where you can create a feast worthy of seconds and thirds and—best of all—won't have to divvy up the leftovers at the end of the night because you'll all be eating turkey sandwiches and pumpkin pie for breakfast together.
Airbnb
10 guests/$510 per night
Everything's bigger and better in Texas, including your Thanksgiving feast if you stay in this four-bedroom home with an industrial kitchen and a glass garage door that opens to the patio for an indoor/outdoor entertaining experience (complete with an 82-inch TV in the indoor living room and a fire pit and grill outdoors). The kitchen has everything you'll need, including a quartz island for setting up the buffet and/or extra seating, and a hand-crafted wood dining table and benches. And in case you get sick of leftovers, Franklin Barbecue and 6th Street are just a short walk away (as is Whole Foods for all of your Thanksgiving dinner shopping needs).
What guests say: "The house is easy to find, super clean, and very stylishly furnished. It has all the vibes of Austin, and parking was amply available. The hosts are very friendly, and check-in was super easy. The kitchen was fully stocked with essentials and extra snacks, the bathrooms were spotless and stocked to fit our every need. The neighborhood was very quiet, and we felt safe staying in the house. I highly recommend and would stay again.
Airbnb
14 guests/$1,686 per night
A winding country road leads to this 18th-century hilltop manor that overlooks a pond and is surrounded by tons of trees, including a 250-year old maple tree, so you can enjoy the last of the fall foliage. There are five bedrooms, a library, study, and woodburning fireplaces in almost every room, but the country kitchen with views of the ponds is where you'll be spending much of your time. (Even doing the dishes isn't that bad when blue herons are putting on a show.) The kitchen has a table with seating for eight (or setting up the buffet), and there's another table for 10 in the living room by the fire. There's also a custom-made Argentinian grill on the patio, perfect for grilling all of the vegetables or even the entire turkey.
What guests say: "Susanne's property is absolutely beautiful! My friends and I could not have had a better stay. The kitchen is fully equipped with the best, and we were able to cook amazing meals during our stay. The house is perfect for groups. We also spent some time exploring nearby towns and went antiquing. I highly recommend staying here!"
Airbnb
16 guests/$1,212 per night
Your crew will have plenty of space in this eight-bedroom, five-and-a-half-bath historic mansion in New Orleans' Bywater arts district, including while creating Thanksgiving dinner in a renovated kitchen with Viking appliances and space for plenty of cooks in the kitchen (all of whom will also find a seat at the 16-person table). The private yard also has a six-burner propane grill, and it will serve as lovely place for a post-dinner turkey coma thanks to a fire pit and hammocks (and if it's warm enough, there's also a large dining table). When not cooking, enjoy a mint julep on the front porch, a dip in the heated pool and spa, watching the games on the 75-inch television, or playing a game of croquet in the yard (touch football is so cliché).
What guests say: "The house itself is gorgeous. It's beautifully decorated and was very clean when we arrived. It has abundant indoor gathering space, with a very large dining room where board games were played in the evenings and a living room with a large TV where movies were streamed. The kitchen is large with ample eating space and a huge commercial refrigerator that held more than enough food for our large group. The outdoor space was possibly even better than the inside. The heated pool and hot tub were certainly a highlight and well used by the group, but the gas fireplace with surrounding sectional sofa, hammock, and outdoor eating areas were all lovely, as well."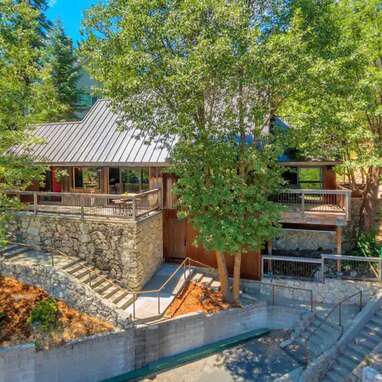 Airbnb
Lake Arrowhead, California
8 guests/$446 per night
The front deck of this luxe yet rustic Lake Arrowhead cabin is the perfect place for drinks or a casual dinner with lake views, while the back patio is the spot for grilling, corn hole, ping pong, and late-night dips in the hot tub. As far as Thanksgiving dinner goes, the enormous kitchen with upgraded appliances and a 10-person table (also with lake views) is where the magic will happen. Don't worry, football fans, the kitchen opens to the living room, which has an electric fireplace, comfy seating, and, yes, a television.
What guests say: "Great location, stocked kitchen, spacious rooms, gorgeous backyard, this place is ideal for friends and family! The house was about 5 minutes away from the village shops and restaurants, and even if you wanted to stay home and cook, Diane's kitchen was stocked with everything you need to make a home-cooked dinner or brunch! We took advantage of the amazing backyard and had a family dinner that paired perfectly with the ping pong table, cornhole, and an amazing record player to play some classics."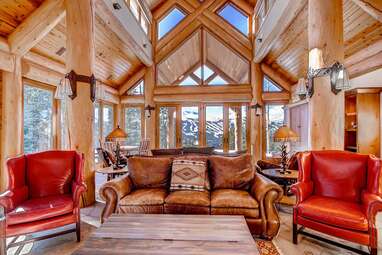 VRBO
16 guests/$1,211 per night
Those in the group who want to have some fun sliding on snow will be stoked that this expansive lodge sits right near the town of Breckenridge (and the free shuttle is .02 miles away), while those who prefer to indulge in the après activities will enjoy that the house is huge with mountain views from almost every room. It's also equipped with a huge theater room, a patio with a hot tub, and a great room with a gas fireplace. As far as Thanksgiving goes, the kitchen is fully stocked with tons of counter space, a gas range, double ovens, and a gas grill right outside on the deck. And there is seating for up to 18 people (10 at the dining table, four at the kitchen counter, and four at a smaller "kids" table).
What guests say: "The accommodations were excellent! The outdoor spaces and views were amazing. The kitchen was extremely well equipped. We came to Breckenridge for a special occasion, and staying at Rubywood added to our experience!
VRBO
15 guests/$638 per night
Relaxation will come instantly at this secluded farmhouse set on five acres of rolling Tennessee hills with 100-year-old pine trees and a tranquil (but fully-stocked) pond. If you do get antsy, you're just a short drive from local art galleries, antique shops, and restaurants, but probably you'll want just to spend your time finding new places to nap: the rocking chairs on three different porches, the rocking chairs by the fire pit overlooking the pond, one of the sofas in front of a fireplace (yes, there are several), the couch in the sunroom, the clawfoot bathtub...you get it. But first, in order to "make" an excuse for so much napping, you'll need to eat turkey, which can be cooked along with all of the fixings in a spacious high-end kitchen. There is a large table in the adjacent dining area, but if the weather permits, dinner should definitely be enjoyed on the 12-foot farmhouse table (that seats 14) on the back deck. Oh and don't worry: there are five different living areas, two of which have TVs, so you can watch football or HGTV or whatever!
What guests say: "The entire experience, from start to finish and every detail in between, was simply magnificent. We were swept away - by the grounds, by the entire property, and by the feeling that this idyllic world was ours, all ours. The house and property are elegant, gorgeous, and breathtaking, but they are also warm, comfortable, and as relaxing as can be."
VRBO
Center Harbor, New Hampshire
10 guests/$1,349 per night
During the day, this sleek light-filled home that sits on a quiet cove among pine trees is nothing but idyllic. The indoor and outdoor spaces flow seamlessly. There are big windows showing off views of Squam Lake at every turn. The Japanese-inspired design is clean and tranquil. There's a hot tub built into the deck, an outdoor fire pit, and a dock with a canoe, kayaks, standup paddleboards, and a swim raft. At night it may start to feel a bit like the perfect location for a friend getaway-turned-horror movie, but never mind that! Did we mention it was designed by architect Tom Murdough and received the Merit Award for Excellence in Architectural Design by the New Hampshire American Institute of Architects? Also, despite a completely streamlined look, the kitchen is high-end, with everything a chef might need to whip up an elaborate Thanksgiving dinner. Plus, the two dishwashers makes clean-up that much easier.
What guests say: "The house is beautifully designed with modern architecture, incredibly clean, and the lake views were simply breathtaking. Other than clothing, food, personal toiletries, and beach towels, everything is provided for you. The kitchen is a culinary dream, and there is plenty of space to gather together or enjoy some alone time."
Airbnb
8 guests/$1,602 per night
A successful Thanksgiving dinner requires excellent wine and lots of it, and you'll find both in the charming town of Healdsburg in Sonoma County. This home is just five minutes away from the square, where you'll find tasting rooms and restaurants, but if you just want to chill at home, that won't be hard. The house has an open floorplan with views of the surrounding gardens and forested hills. Outside you'll also find a sand volleyball court, horseshoes, bocce ball, and a hot tub. The kitchen has everything you'll need to make a dinner like no other, which can be enjoyed at the dining room table indoors or outdoors.
What guests say: "Xanadu is a beautiful home—the modern design and landscaping are stunning! Our group enjoyed the central location. Healdsburg's great wineries, restaurants, shopping, and golf courses are all nearby. All the outdoor spaces are wonderful, and it was nice to be able to spend time cooking and BBQing with our friends. We highly recommend this amazing property and look forward to returning soon."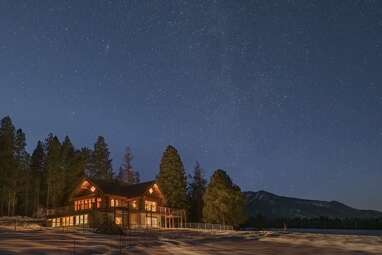 VRBO
20 guests/$371 per night
Math might not always be fun, but it sure is fun when you use it to figure out that you and 7 of your friends can all have your own bedroom for three nights at this cabin, and it'll only cost you $139 each. That leaves plenty leftover for gourmet ingredients for your Thanksgiving feast and to put toward next year's Friendsgiving rental! Here are the deets: The 5,200 square foot home is located on 250 acres bordered by Wallowa Whitman National Forest, which means lots of hiking, star gazing, and snowshoeing & skiing if the weather permits. The home was built in 1979 but was recently renovated, including the kitchen, which is "capable of feeding a crowd" and boasts a dining table for up to 14. Enjoy the two floor-to-ceiling stone fireplaces, views outside of every window, outdoor fire pit, game room with pool table, ping pong, and foosball, shelves brimming with books, and a cupboard full of board games.
What guests say: "We had a wonderful stay at the Good Bear Ranch. It was just like the pictures show—stunning and remote location, amazing log cabin architecture, beautiful views out the large windows showing the surrounding ranch land and snow-peaked mountains, marvelous kitchen, and lots of room to spread out in."
Daisy Barringer is a writer who was six-years-old when her mother told her at Thanksgiving Dinner that if she complained about one more thing, she was sending her to boarding school, but was still surprised eight years later when she held true to her word. Follow her on Instagram
@daisysf
for more fun stories like this!