We independently source all of the awesome products and experiences that we feature on Thrillist. If you buy or book from the links on our site, we may receive an affiliate commission — which in turn supports our work.
Thanksgiving is complicated. On the one hand, there's lots of good food and an excuse to celebrate. On the other hand, there's the harmful effects of colonialism and all the stress that comes with spending (or not spending) the time with family. But whether you're looking to add something to the holiday or replace it altogether, Friendsgiving—the holiday's cool younger sister with far less baggage—is a great option. And an even better option is to make a weekend of it, so you and your pals can spend a few days hanging out, cooking, and feasting before you have to get back to work.
If you're looking for a house to rent for a Friendsgiving getaway, you can't make do with any old vacation home. You'll want well-stocked kitchens with lots of counter space and quality appliances, and dining tables that have enough room to seat the whole crew. Any house you rent should also have plenty of cozy bedrooms where everyone can sleep off their turkey dinners. And because the weekend is meant to be a blast, the rental should also be cute, comfortable, and properly equipped to foster quality hangout time—we're talking indoor fireplaces and outdoor fire pits, conversation nooks, board games, and pretty surroundings where you can walk, canoe, or maybe even ski. And yes, you'll want to make sure there's a TV, too, because inevitably at least one member of your group will want to watch the game.
Not sure what to rent? We've got you. We tracked down a bunch of fantastic vacation homes that would be perfect for your Friendsgiving getaway—and you can book them easily on Airbnb or VRBO.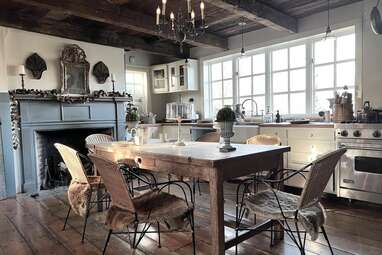 Airbnb
14 guests/$1,714 per night
Follow a winding country road to this 18th-century hilltop manor, which sits above a pond worthy of a chilly plunge (if that's your kind of thing). Leafy vines climb the house's brick exterior, and tall trees surround it, giving you an optimal spot to take in the last of the fall foliage. Walk inside and you'll find five bedrooms, a library, a study, and woodburning fireplaces in basically every room. But the country kitchen with pond views is where you'll be spending much of your time, whether you're washing dishes while keeping an eye out for blue herons, sitting down for a meal at the eight-person table beside the fireplace, or setting up a holiday buffet. For larger or more formal meals, there's a dining room table that seats ten—and if your cooking aspirations transcend the kitchen, there's also a custom-made Argentinian grill on the patio, perfect for grilling all of the vegetables or even the entire turkey. If you need even more space, you can inquire about renting the pondside pavillion and some additional tables for an outdoor feast.
What guests say: "This is a beautiful and charming home that transports you to another place and time. It is full of antiques and special details throughout the home. From the wardrobes in the bedrooms to the beautiful candelabras to the detail of some original pieces of the walls exposed in keys spots so that you really understand this isn't your run of the mill home. We really appreciated all of the beautiful china for our coffee and meals and some lovely crystal as well which made our Thanksgiving dinner feel all the more elegant and memorable."
Airbnb
8 guests/$409 per night
Guests of the Sandcastle Airbnb, located in the mountainous desert just outside of Joshua Tree National Park, agree that the accommodation is even more beautiful than photographs suggest. And while it may not exactly evoke the fallen leaves and damp chill of autumn near Plymouth Rock, it's still a perfect place to celebrate Thanksgiving with friends. The chef's kitchen has everything you need to cook a major meal, from pots and pans, to condiments, to a truly massive Wolf range. And if you're worried about getting stuck on food prep duty, don't be; the kitchen has gorgeous desert views, plus an open floor plan will keep you connected to anyone hanging out in the living or dining room. When the food's ready, the dining room table has room for eight. And as for the rest of your stay, well, feel free to get cozy around the numerous fireplaces in the home, or relax in a hammock, outdoor hot tub, or stunning indoor bath. There are tons of indoor and outdoor seating areas to take in the view, and an outdoor fire pit is the perfect setting for late night chats with your friends.
What guests say: "The Sandcastle is by far the best Airbnb I've encountered in the United States. The artistry, the attention to details, the location…it was literally superb. My only regret was not being able to stay longer... This is a perfect place to gather with your loved ones. Lots of room for relaxing, conversing and eating. The hot tub at night was perhaps my favorite, closely followed by the Master Suite bathtub at sunrise. If you're considering booking this place, do it!!"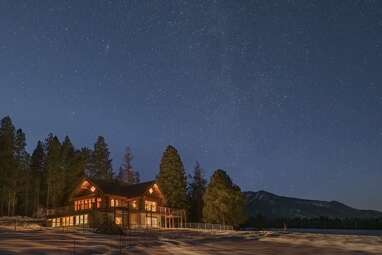 VRBO
16 guests/$383 per night
Math might not always be fun, but you don't have to think very hard to know that $383 per night divided among 16 guests is an extremely good deal—especially considering it's an incredibly cool house in a gorgeous setting. Here are the deets: The 5,200-square foot home is located on 250 acres bordered by Wallowa Whitman National Forest and the Elkhorn Mountains, which means you can hike, snowshoe, ski, or stargaze to your heart's content. The home was built in 1979 but was recently renovated so it has more modern comforts. The kitchen is equipped to feed a crowd, and boasts a dining table for up to 14 people. Two floor-to-ceiling stone fireplaces and an outdoor fire pit keep things cozy, as does a game room with a pool table, ping pong, and foosball. The house is also equipped with books, board games, and lots of beautiful views—so whether you stay in or spend your time outdoors, you're bound to have an amazing trip.
What guests say: "We loved our stay and made plans to come back the moment we arrived. one of the things we loved was how quiet it was in the areas itself. the house itself is awesome - plenty of room and pretty much anything you'd need in a kitchen to cook for an army which you can seat at the massive dining table in front of the castle-esque fireplace. the property is breathtaking, with sweeping views of the surrounding farmland... Wish we would've stayed longer and brought more friends but we'll definitely be back!"
VRBO
15 guests/$595 per night
Get away from everyday stressors at this secluded farmhouse set on 5 acres of rolling Tennessee hills, which are studded with hundred-year-old pine trees and a tranquil (but fully stocked) pond. If you do get antsy, you're just a short drive from local art galleries, antique shops, and restaurants, but you'll probably want just to spend your time finding new places to nap off that turkey dinner. Your options include the rocking chairs on three different porches, the rocking chairs by the fire pit overlooking the pond, one of the sofas in front of a fireplace (yes, there are several), the couch in the sunroom... you get the idea. But first, in order to earn your nap, you'll need to prepare a massive feast in the spacious high-end kitchen. There's a large table in the adjacent dining area for eating, but if weather permits, dinner should definitely be enjoyed at the 12-foot farmhouse table on the back deck, which fits 14 entire people. Oh, and don't worry—if anyone direly needs to watch football, the house has two TVs among its five different living areas.
What guests say: "The house is just amazing with so much room. I did a lot of cooking while we were there and the kitchen worked very well. Both the indoor and outdoor tables were wonderful and had plenty of room for the 12 of us to sit and eat as well as hang after the meal. The view from the front porch as well as the view of the pond in the back sitting room were my favorites!! We will be back and can't wait to choose our dates to return."
Airbnb
9 guests/$494 per night
Head down the Cape this fall to find yourself nearly alone with its seaside charm after the boom of the tourist season has subsided. Stay in this Sandwich cottage in the town's historic district, with grassy grounds that extend to the banks of a quiet pond. Your hosts are interior designers, and this is apparent as soon as you step inside the house. Their design choices enhance the building's historic charm with modern sensibilities and conveniences, from the five cozy bedrooms to the comfortable living room with its fireplace, nautical art, and styled bookshelves. A den space has a TV and lots of comfy seating, but the kitchen is the true showstopper. White marble countertops sit atop sage green cabinets, with gold accents on the hardware, appliances, and art. A wide wooden workspace adds more prep space for your Friendsgiving cooking, and a connected dining area has a fireplace to make the meal extra cozy. After dinner, head outdoors to sit around the fire pit or watch the stars from the property's small dock.
What guests say: "We enjoyed every moment of our time in this warm, charming and picturesque home. Every detail was beautiful, both inside and out. The setting against the pond was so peaceful and serene. We'd start our days with quiet mornings and coffee, and end them with fireside chats and laughter. Stephenie was always available to answer questions, and helped guide us in our planning. She was lovely in every way. We're so grateful we were able to call this place home, even just for a little while. We look forward to our next visit!"
Airbnb
10 guests/$532 per night
Everything's bigger and better in Texas—including your Friendsgiving feast, if you stay in this four-bedroom home in Austin. The place has an industrial-style kitchen and a glass garage door that opens to the patio for an indoor/outdoor entertaining experience (complete with an 82-inch TV in the living room and an outdoor grill). The kitchen has everything you'll need to craft and enjoy lots of food, including a quartz island for setting up the buffet or extra seating, plus a hand-crafted wooden dining table and benches. And in case you get sick of leftovers, Franklin Barbecue and 6th Street are just a short walk away (as is Whole Foods for all of your last-minute grocery needs).
What guests say: "This house was fantastic! Perfect size for my large group's needs, with plenty of amenities for us (ie utensils, cookware, seating, etc). Cute yard space with some seating and a grill. The hosts were extremely responsive and fun to chat with. The house is located in a quiet neighborhood (except for a little construction work nearby) with a coffee shop (Cenote) and taco truck (Las Trancas) a couple blocks away. Also a short walk is downtown/Rainey st, and 5th/6th street with lots of restaurants and bars. I walked over to target on 5th st multiple times for supplies and it was so easy. I highly recommend this home for your visit in Austin!"
Airbnb
16 guests/$2,757 per night
Your crew will have plenty of space in this historic mansion in New Orleans's Bywater arts district, which has eight bedrooms and five-and-a-half bathrooms so you can really spread out. Cook Friendsgiving dinner in the renovated kitchen with Viking appliances, and eat it with your pals at the 18-person dining room table. The private yard also has a six-burner propane grill, and it should serve as lovely place for a post-dinner turkey coma, thanks to a fire pit and hammocks. If the weather cooperates, there's also a large dining table outdoors. When not cooking, enjoy a mint julep on the front porch, a dip in the heated pool and spa, or a croquet game in the yard—or kick back and watch the game on the house's 75-inch TV.
What guests say: "Stunning mansion that's beautifully set up for a crowd with great entertaining spaces, a modern well-equipped kitchen, lovely bathrooms and gorgeous garden - and even a small pool and hot tub. We loved the Bywater location, with easy access to terrific local restaurants and a relaxed neighborhood. A long walk or easy cab ride to French Quarter and other fun places to visit."
VRBO
Center Harbor, New Hampshire
10 guests/$1,250 per night
This sleek, light-filled home sits on a quiet cove among pine trees, bringing to mind the phrase "idyllic". The Japanese-inspired design is clean and tranquil, with indoor and outdoor spaces that flow seamlessly into one another. When you're inside the house, big windows showcase views of Squam Lake at every turn. Outside, you'll find a deck with a hot tub, a fire pit, and a dock where you can make use of a canoe, kayaks, standup paddleboards, and a swim raft.
But forget all that; let's talk Friendsgiving. The high-end kitchen is equipped with everything a chef might need to whip up an elaborate dinner—and two dishwashers for post-turkey cleanup when you simply cannot muster the energy to scrub a single thing.
What guests say: "We wanted a special house to show off Squam Lake's natural beauty and this was IT! Very dramatic setting. Peaceful, quiet. Loons. Eagles. Squirrels and chipmunks. The grounds are lovely. Kitchen has top of the line appliances. The house is clean, beds are comfortable and location couldn't be better. Our last evening was spent talking around the fireplace with the rain falling gently outside. Gorgeous!"
VRBO
16 guests/$1,180 per night
Friends who want to have some fun sliding on snow will be stoked that this expansive lodge sits right near the town of Breckenridge, while those who prefer to indulge in slope-adjacent activities will enjoy the house's mountain views, huge theater room, patio with a hot tub, and great room with a gas fireplace. As far as Thanksgiving goes, the kitchen is fully stocked and has tons of counter space, a gas range, and double ovens—plus there's a gas grill right outside on the deck. Host up to 18 people for dinner; there are ten seats at the dining table, four at the kitchen counter, and four at a smaller additional table.
What guests say: "This incredible home far exceeded our expectations! From the private serene setting, nestled in the pines above the town of Breckenridge to the panoramic breathtaking views of the ski resort this is a property that will not disappoint. There is plenty of room for a large family or several groups of friends with private rooms for all. The kitchen is huge with plenty of space for preparing great meals and drinking fine wines! We enjoyed the wonderful views from every room in the house. The location is just minutes to town for shopping and restaurants and easy access for hiking and biking."
Airbnb
Lake Arrowhead, California
8 guests/$485 per night
The front deck of this stylish yet rustic Lake Arrowhead cabin is the perfect place for drinks or a casual dinner with lake views, while the back patio is the spot for grilling, corn hole, ping pong, and late-night dips in the hot tub. As far as Thanksgiving dinner goes, the enormous kitchen with upgraded appliances and a ten-person table (also with lake views) is where the magic will happen. And don't worry, football fans; the kitchen opens to the living room, which has an electric fireplace, comfy seating, and—yes—a television.
What guests say: "First of all this place was amazing! The design inside and out were gorgeous. The amenities that came along this precious property was plentiful for our party of 4. Everything from the rooms to the views, it was great!!We had a friendsgiving at this location and would recommend anyone looking for a place to do so. Even if it is a trip to get away from the busy day to day lifestyle. Diane was amazing in responding to anything that was needed and was flexible in working our check in/out times!"