Cool Off ASAP with These Top-Rated Frozen Cocktail Machines
There is objectively nothing better than an ice cold, frosty margarita in the midst of a heat wave.
We independently source all of the awesome products and experiences that we feature on Thrillist. If you buy or book from the links on our site, we may receive an affiliate commission — which in turn supports our work.
You may have noticed that it's hot outside. Like, flames of hell hot. Between the harrowing heat wave sweeping the nation and the impending arrival of August, it goes without saying that we're all in need of some reprieve. But, for those of us without personal pool set-ups—or vacation days still unaccounted for—finding a way to slow the near-constant stream of sweat can be a bit of a catch-22: On the one hand, you don't want to miss out on summer '21, but on the other, if you distance yourself from your air conditioner, you may actually melt.
Lucky for you, we've got the solution—and no, kiddie pools are not involved. Might we suggest: A frozen cocktail machine...because there is objectively nothing better than an ice cold, frosty margarita in the midst of a heat wave. And blissfully enough, you don't need a full bar or a seasoned mixologist to pull off restaurant-quality frozen cocktails. You just need the tools.
Ahead, shop our absolute favorite (affordable) frozen cocktail and margarita machines on Amazon before the heat robs you of your summer of debauchery.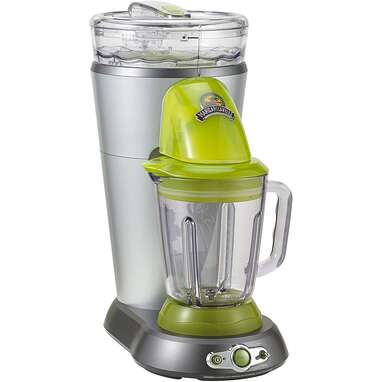 Shockingly enough, when it comes to at-home frozen cocktail machines, Margaritaville is the foremost purveyor. So, if you're in the market for an easy-to-use, single pitcher situation, this is the answer to your prayers. The specialty "shave n' blend" ice feature will make sure that your frosty bev arrives with just the right frozen-to-flavor ratio—without requiring any tedious measuring.
For when you've got places to go and people to see, why not consider a portable margarita machine? This little number offers a handy, easy-pour spout, double insulation to keep things cold, and a nice little handle for convenient transportation.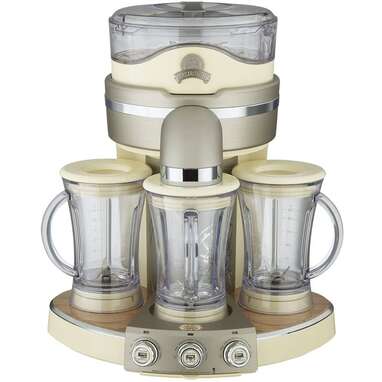 If you take your frozen marg consumption a little too seriously for this one-pitcher nonsense, go whole hog and test out Margaritaville's Tahiti model. The thing can create 72-ounces of frozen drink per cycle in three separate blending jars—and your cocktail options aren't limited to lime and tequila: Use this baby to make daiquiris, coladas, mudslides, mojitos, and even smoothies as well.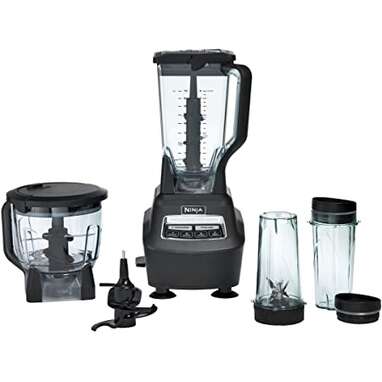 Speaking of smoothies: For anyone feeling reluctant about springing for a product as bulky and niche as a margarita maker, why not consider a classic blender with A+ frozen cocktail capabilities? This Ninja system is a trusty kitchen appliance on all counts—whether you're making soups, smoothies, sauces, so on—but the thing also offers a 72-ounce ice-crushing pitcher designed to pulverize ice in seconds for creamy frozen treats.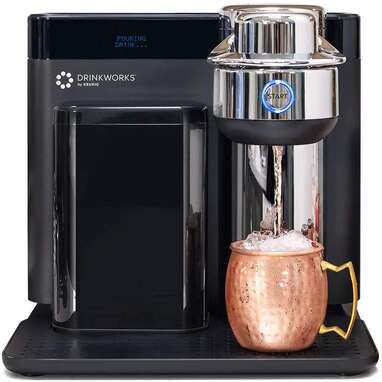 Sometimes, you simply can't be bothered to go through the whole process of buying groceries, and measuring, and prepping—and fortunately, we live in a glorious futuristic era in which you truly can have a cocktail at the click of a button. This Drinkworks Home Bar is essentially a Keurig machine, but for cocktails. So all you'll need to do is pop in the "pod" of your choosing, and hit go. Just don't forget to place a glass under the spout.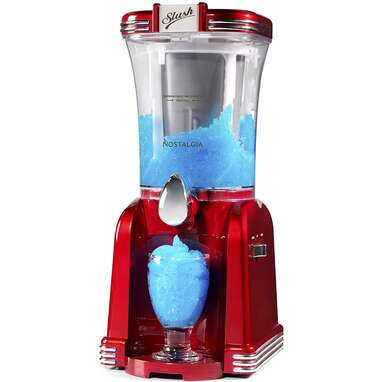 For the sake of your next dinner party, surely you'll want a cocktail contraption that looks as chic sitting on a table as the cocktails themselves. This fun, retro device, which comes in a classic vintage red, will make a far more effective centerpiece than, say, flowers.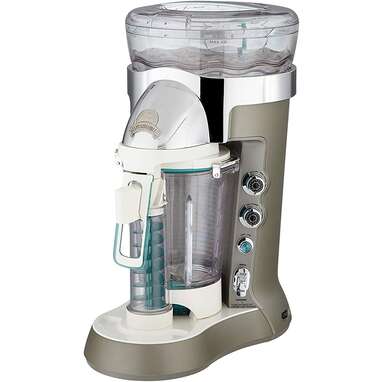 Naturally, once you get yourself on the frozen margarita train, you won't want to stop. So keep your glass full—with minimal effort—thanks to Margaritaville's Bali cocktail maker. This one has 60 ounces of jar capacity and it comes with four separate pre-programmed drink settings and an auto-dispensing lever. So while you drink, your machine will take care of the rest for you.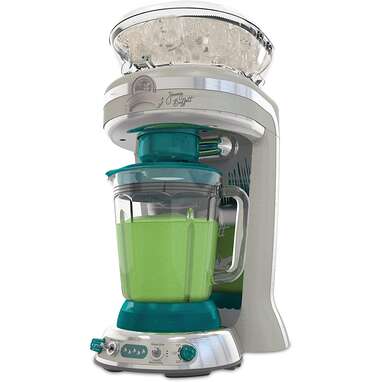 It's not a regular frozen cocktail machine—it's the Jimmy Biffet signature edition. So if you can't justify any old marg appliance purchase, placate yourself with the knowledge that this is indeed a collector's item. But also, it makes piña coladas.
Eliza Dumais is a former staff writer at
Thrillist
. She now works as a lifestyle editor at
Refinery29
.