Great Gifts for the Astrology-Obsessed People in Your Life
We asked astrologer Stephanie Whaley for tips on what to buy people who embrace the cosmic influence on our lives.
Design by Maitane Romagosa for Thrillist
We independently source all of the awesome products and experiences that we feature on Thrillist. If you buy or book from the links on our site, we may receive an affiliate commission — which in turn supports our work.
Looking for the perfect gift for the person in your life who can always tell you when Mercury is in retrograde, explains events based on the stages of the moon, asks not just about people's sun signs, but also their moon and rising signs, and finds a general comfort and peace in the zodiac?
While some of us are known to check our horoscopes obsessively and might even have a few crystals on our windowsill, when it came to gifts that will send your astrology-obsessed friends over the moon, there was only one person to turn to: Stephanie Whaley. Whaley is the founder and CEO of Oromoon, a dating app that works with your unique birth chart to create a cosmic connection. She shared some amazing gift ideas that will have everyone on your list thanking their lucky stars they have you as a friend. (Especially if you get them the third item on the list!)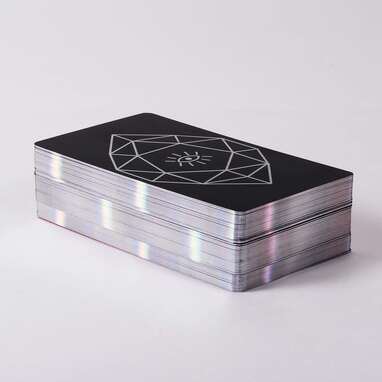 Amazon
Why it's a great gift: Whaley says this tarot deck is good for "tarot curious" people who are entry-level and will appreciate the gorgeous, modern designs and the guidebook that describes each card. "It's created by a woman of color who also created an app extension based on her designs," says Whaley. "Her influence in the community is very inspiring because the reaction one has when viewing her images is very uplifting. It's definitely a mood booster."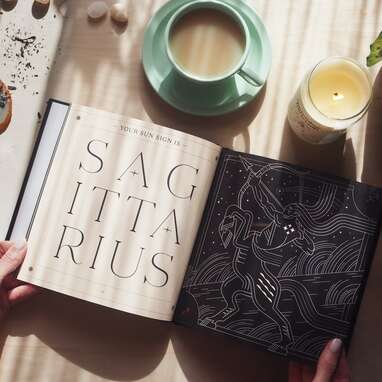 Birthdate Co.
Why they're a great gift: Anyone with a birthday (so everyone!) will appreciate a candle crafted for the day they were born and a made-to-order book that includes a map of the stars and planets at the exact moment they were born and a detailed horoscope analysis. "I chose these because they're hyper-customized, and people love reading about their identity but also having a tangible thing (the book) that you can keep as a memento or pass down to your child or a parent who has maybe misunderstood you," says Whaley. "You can present this third-party narrative that says, Maybe I don't feel comfortable sharing everything, but here's a glimpse of who I am. And who doesn't love to have candles during the holidays or really at any time?"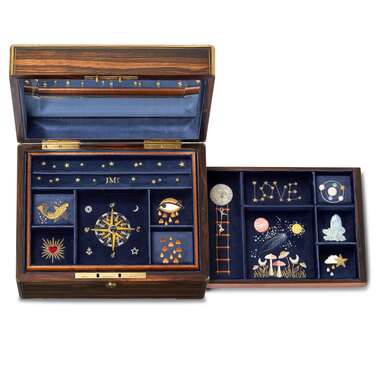 Jessica McCormack
Why it's a great gift: "Okay, I understand this is a splurge, but I can't help it. I love her work, and with these custom heirloom jewelry boxes, you can give ideas or symbols that are special to you, and they'll sew them on [the bespoke embroidery is designed in-house and hand-stitched]," says Whaley. "It's very special and unique, and in line with tangible heirloom pieces you can pass down to family. It's so beautifully done. Earth signs would go ga-ga for this."
Slip
Why it's a great gift: "Now that we're incorporating this hybrid work-from-home model into our lives, there's a lot of emphasis on self-care, or what I call soul-care," says Whaley. "Gifting this to someone and saying, 'Healing is feeling.' Taking care of yourself through sleep is one of the most important things you can do for longevity or just feeling good. I would give this to Capricorns and Tauruses, earth signs. What Taurus doesn't love to sleep? And Capricorns because they're always working so hard, it can influence them to take it easy and maybe take more naps. I mean, they would never, but it's a reminder to slow down and make their nighttime routine a ritual. I think that's pretty important."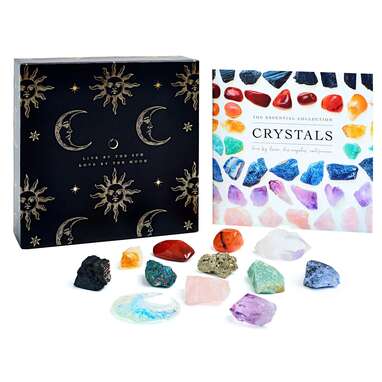 Etsy
Why it's a great gift: This crystal collection is a great gift for people who are really into crystals, as well as those who are newly interested. There are 12 stones that carry myriad powers, including creativity and confidence, opportunity and growth, and manifestation and willpower. Since crystals need to be charged and cleansed to work properly, Whaley recommends pairing the collection with the cleansing and charging disk. "Selenite is incredibly cleansing as a crystal. I would recommend it when there's a lot of scattered or negative energy," she says. Not all crystals can be cleansed in water (selenite will dissolve), and this disc can purify and renew the effects. "This disc would be really wonderful for putting other crystals on during the new moon to charge and reset," Whaley advises.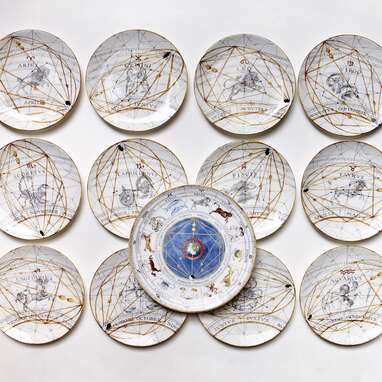 Artemest
Why they're a great gift: "I'm obsessed with these. They have many different ones, but these are good for Taureans, Librans, the Venus-ruled signs, and people who host a lot of dinner parties," says Whaley. "Leos would love these. They're extravagant, but you don't have to buy the whole set. You can start small and buy them individually. Maybe it becomes an anniversary gift or an annual holiday gift. They're definitely a collector's item."
Love by Luna
Why it's a great gift: This kit includes Venusian charms (essential oil, dazzle nail polish, wooden hand fan, rose quartz heart crystal) designed to empower and inspire. "This is perfect for younger beginners. The brand is incredibly sustainable, so those that are passionate about sustainability methods would really appreciate this," says Whaley. "It's an extension of rituals of pampering yourself, so it's for anyone trying to tap into their self-love. Venus represents self-love, values, money, beauty, self-worth, and finding time to create these rituals for yourself. Before bed, in the morning, or even when you just want to relax, this would be a great accompaniment."
Bookshop.org
Why it's a great gift: "This is wonderful astrology. She's really funny, she knows her stuff, and she's able to elaborate on deep subjects by making them relatable," says Whaley. "This book is a wonderful introduction for those who want to dip their toes in and get a good grounding to begin building their astrology toolkit."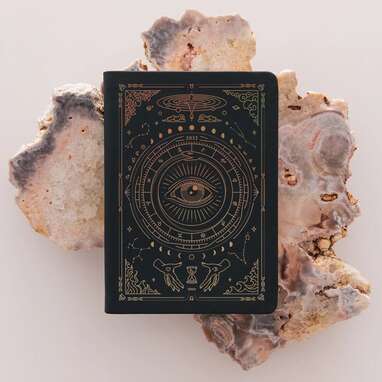 Magic of I
Why it's a great gift: "I have this planner. It's beautiful and made of soft, buttery leather, so it feels good," says Whaley. "It has that dose of mysticism, but also says, 'Hey, I'm organized.' This is for beginners but also advanced astrologers because it tells you the transits. It's really beautiful, and it allows you to plan out your lunar rituals."
Honeycomb
Why it's a great gift: This customizable almanac contains a full year of ephemeris and overview data (you provide the start date, location, zodiac and house system, natal date, etc.) and comes as a digital download and a printed notebook. "This one is great because they collaborate with artists who create illustrations to accompany your planner," says Whaley. "This astrologer I love who gamifes astrology storytelling—Em Wills—has some of her futuristic comics on here, which I find super cool. This planner breaks everything down with clarity, so it enables a beginner to start reading the ephemeris while trying to make sense of it, and everything is hyper-customized to you, so that in itself becomes incredibly valuable."
Daisy Barringer is a Thrillist contributor.