Great Gifts for the Music-Loving Audio Evangelist in Your Life
Once you listen to music and podcasts the right way, you'll never go back to cheap earbuds again.
Design by Maitane Romagosa for Thrillist
We independently source all of the awesome products and experiences that we feature on Thrillist. If you buy or book from the links on our site, we may receive an affiliate commission — which in turn supports our work.
We've got nothing against those earbuds you got for free on your last JetBlue flight. But the truth is, once you start listening to music through any high-quality apparatus, you'll find it nearly impossible to pivot back—even if that means forgoing the Hot Girl sartorial trend of the moment (a.k.a. wired headphones).
If you've already broken the seal and plunged yourself into full-on audio evangelist territory, you're likely more than aware of the thrill. There's a whole new world of auditory experiences opening up before you! Think: sound bars, speakers, wireless headsets, and elevated streaming platforms—all of which work wonders to up the ante on your brooding, Radiohead-forward playlist.
That said, when it comes to gifting for the audiophile in your life, things can get a little tricky. In such a saturated, often overpriced market, how do you know what's actually worth the cost? If you're not looking to dole out your entire expendable income, what affordable, giftable audio products are out there?
For some helpful answers, we tapped music world impresario Xavier "X" Jernigan—The Get Up podcast host and Head of Cultural Partnerships at Spotify—to weigh in on the best audio-centric gifts on the market right now.
"Here's the thing: In order to really listen to the audio you love, you've got to have the right sound system," Jernigan says. "How you listen is just as important as what you listen to—so I'm excited to share some of my favorite products for bringing that listening experience into your home."
Philips
Why it's a great gift: Sometimes, a great audio experience is about more than just sound quality—it's also about the energy in the room. "If I'm chillin' at home, it's all about creating the vibe," says Jernigan. "So that means music, lights, candles, the works." These Philips Hue lightbulbs, which you can connect directly to your Spotify account, will change in color and brightness to match the tempo and energy of the music you're playing.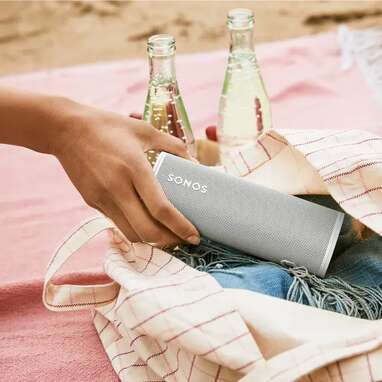 Sonos
Why it's a great gift: Sonos speakers have a bit of a devotional following—and for good reason. The sound quality is unrivaled. You'll hear it the moment you begin to stream a song. And opting for a portable version like the new Roam speakers means you can access that kind of quality on the go. "I've always been a Sonos fan for the sound quality, but the best thing about the Roam is that it's totally portable," says Jernigan. "I can throw it in my bag when I'm biking to the park or heading up to my rooftop." Better yet? It's waterproof, which makes it an excellent option for outdoor (or bathtub) usage.
Walmart
Why it's a great gift: For true audio evangelists, a love of music permeates just about everything—including video games. That means gifts like the new Xbox Series X and Series S serve a key purpose: The new console models have built-in Spotify controls that let you play your own gaming soundtrack, as opposed to having the Mortal Kombat 11 theme song drilled incessantly into your brain. "As my nephews will tell you, you just can't go wrong with an Xbox," says Jernigan.
Amazon
Why it's a great gift: "Maybe it's just being able to tell my speaker what to do, but I do love an Alexa," says Jernigan. The Echo's sound quality may not rival that of Sonos speakers, but it definitely gets the job done. Moreover, the display screen makes the already user-friendly speaker even easier to use. Music streaming services are simple to download and navigate, plus you can enjoy plenty of other features while you listen (like checking weather stats, news headlines, or even recipe details while cooking). If you're willing to spend a little more, check out the Echo Show (2nd Gen).
Amazon
Why it's a great gift: When hosting a room full of people, it can be great to stream your music through the TV. Folks can see what's playing, cue up their own songs, and enjoy album artwork while they listen. "The newest OS 10.5 Roku update now has voice controls for music streaming services, which is a really nice add," says Jernigan. Plus, when you're done listening to tunes, you can get right back to watching Succession on the same handy device.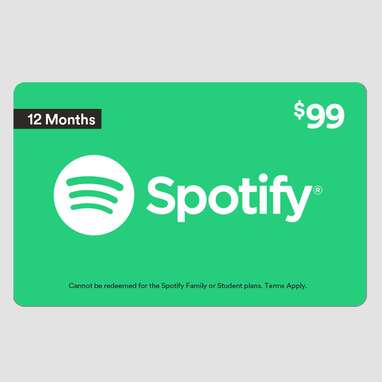 Amazon
Why it's a great gift: If you're worried about prices, consider buying Spotify Premium gift cards for your loved ones this year. Not only can you choose how much you want to give ($30, $60, $99), but covering or offsetting the cost of a Premium subscription is a viable gift option for pretty much everyone. Whether your giftee is into podcasts, instrumental tunes, trending top 40 stuff, or, well, anything in between, Premium has it covered. "To make it more personal, I love making custom playlists for friends—which always bang, if I do say so myself," says Jernigan. (Learn how to share Spotify playlists here.)
Eliza Dumais is a former staff writer at
Thrillist
. She now works as a lifestyle editor at
Refinery29
.