Great Gifts for the Bakers & Amateur Pastry Chefs in Your Life
The Dusky Kitchen's Abi Balingit has the scoop on what to get for baking enthusiasts this year.
Design by Maitane Romagosa for Thrillist
We independently source all of the awesome products and experiences that we feature on Thrillist. If you buy or book from the links on our site, we may receive an affiliate commission — which in turn supports our work.
As pandemic-induced lockdowns were enforced around the world, it seemed like everyone turned into a home baker. Sourdough and banana bread have never seen such popularity. Even I used that time to perfect my cinnamon roll technique. And while some abandoned their mixing bowls and measuring spoons as restrictions slowly lifted, others have persevered in producing sweet, savory, and flaky treats.
During the summer of 2020, Abi Balingit parlayed her home baking exploits into a blog called The Dusky Kitchen where she crafts recipes paying homage to her Filipino heritage. The idea had been percolating long before the pandemic but it wasn't until she lugged her KitchenAid Stand Mixer on a flight from California to her small apartment in Brooklyn that she fully committed. Now she shares her take on Pineapple Upside Down Guava Cupcakes or Ube Marbled Tahini Cookies with her avid following.
Balingit gave us the inside scoop on the best gifts for the aspiring pastry chef or baker in your life this year.
Amazon
Why it's a great gift: "Whether you already have a stand mixer or you're on the fence about splurging for one, it helps to have a power tool. With this Lord Eagle hand mixer, tasks like whipping cream and creaming butter and sugar aren't grueling arm workouts anymore! Not only will it save you time and energy, but I especially like how seamlessly every attachment fits in the storage case when it's packed away."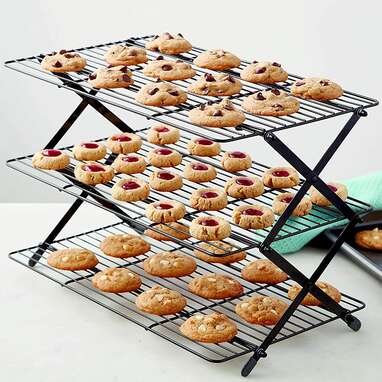 Amazon
Why it's a great gift: "When I'm baking for the holidays, there's a good chance I'm going to be making dozens of cookies. This rack is great because it maximizes the cooling space in my tiny Brooklyn kitchen. With 3 tiers, it increases the surface area so you can cool so many more cookies without taking up as much precious counter space."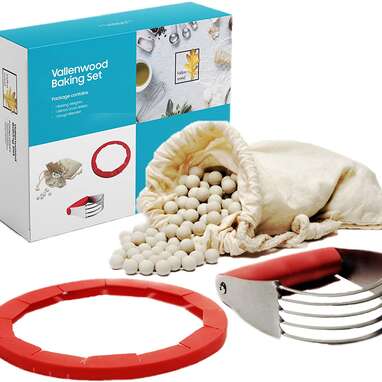 Amazon
Why it's a great gift: "With Thanksgiving right around the corner, this set has everything you need to get an early start on baking the perfect pies. The dough blender is useful for cutting butter into the flour, especially when you don't want to bust out the food processor. You can use the ceramic pie weights to blind bake the pie crust for your pumpkin pie. Last but not least, the reusable silicone pie shield helps keep the crust from burning when your pie is baking instead of just using pieces of aluminum foil."
Amazon
Why it's a great gift: "Rolling out dough can be such a pain! When you want pie crusts or cookies to bake evenly, you need to make sure the dough is all the same thickness. I used to have a lot of trouble with getting that consistency down, but this Quellance rolling pin has adjustable rings that allow you to roll the dough down to whatever thickness you need it to be. It's nice that it also comes with a pastry mat with printed measurements on it."
Amazon
Why it's a great gift: "Baking madeleines successfully is a triumph in itself. These delicate French sponge cakes come out beautifully whenever I use this USA Pan. I crowdsourced on Instagram for the best madeleine pan, and this one was recommended to me multiple times. The grooves are thick enough for the shell pattern to come through on the finished madeleines, and the nonstick finish helps the madeleines release so easily."
Amazon
Why it's a great gift: "I'm obsessed with these Nordic Ware cookie stamps because the designs are so fun and diverse. From emojis to intricate geometric patterns, there are endless possibilities of designs you can imprint onto your next batch of cookies. You'll want to start a whole collection of them!"
Caputo's
Why it's a great gift: "I love Valrhona chocolate feves because they're such high quality and Caputo's has an incredible selection of them. This wide variety of chocolates provides ample inspiration for your next decadent bake. I especially love using the dulcey feves in my favorite blondie and brownie recipes."
Amazon
Why it's a great gift: "While I use measuring cups quite often, sometimes measuring by volume just doesn't cut it. Whenever I'm making rolls or any dough that requires me to divide it evenly, I usually weigh out portions with this ZERLA digital scale. It's essential to have on hand for any bread baker! It's such a convenient tool because you can switch from different units of measurement, and it already comes with batteries."
HAY
Why it's a great gift: "I'm always looking for containers to fill with excess flour, sugar, etc. and these HAY Sowden tins do just that AND with style. Every tin is so colorful and it just brings me joy to see them on my shelf."
Nasha Smith is a Thrillist contributor.