Great Gifts for the Cheese Fiend in Your Life, According to Professionals
Three cheese connoisseurs recommend the knives, boards, and cookbooks for your most lactose-tolerant friends.
Design by Maitane Romagosa for Thrillist
We independently source all of the awesome products and experiences that we feature on Thrillist. If you buy or book from the links on our site, we may receive an affiliate commission — which in turn supports our work.
Picture this: It's 2019. The internet's first official cheese influencers have graced our eyeballs with elegantly arranged platters of salumi and crackers. Every event you're invited to features kaleidoscope-like displays of cured meats, cheeses, and condiments. Life is good.
These days, gatherings are fewer and farther between, and the ones that do happen have likely traded charcuterie boards for TikTok salmon bowls and air fryer appetizers. But if you do still have a friend whose dairy tolerance knows no bounds, whose enthusiasm for a good cheese board never wanes, this guide is for them.
We asked three turophiles (that's dairy-speak for connoisseurs of cheese) to weigh in on what to gift your most fiendish-for-cheese friend this holiday season, from raclette sets to mozzarella-making classes. Here are picks from Erika Kubick, author of Cheese Sex Death: A Bible for the Cheese Obsessed; Alexandra Jones, Philadelphia-based food writer, cheesemonger, and author of Stuff Every Cheese Lover Should Know; and Kristine Jannuzzi, an Italy-based cheese specialist and food and travel journalist.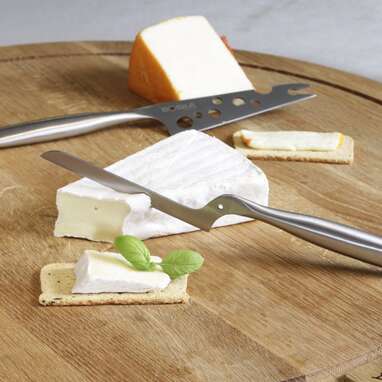 Amazon
Why it's a great gift: "You can use a classic chef's knife to cut most cheeses, but the thick blade will quickly smoosh softies like Camembert. The thin, offset blade on this soft cheese knife makes a clean cut and maintains the delicate shape on soft cheeses."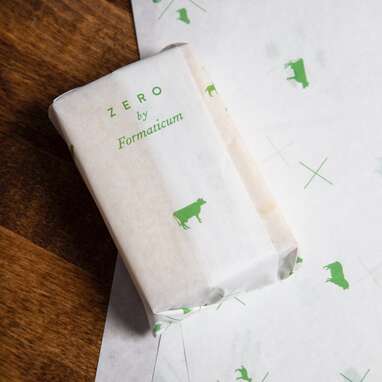 Amazon
Why it's a great gift: "Cheese is alive and needs to breathe. Wrapping it in plastic cuts off oxygen and traps moisture, which ruins the flavor and leads to a slimy texture. This specialty cheese paper provides perfect airflow and maintains optimal humidity. It's also biodegradable!"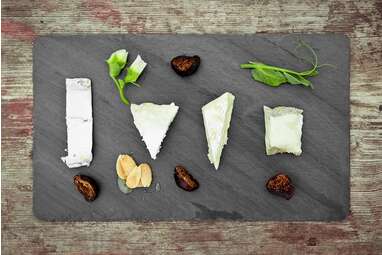 Amazon
Why it's a great gift: "You can build a cheese [board] on almost anything, but nothing highlights a good wedge like a sexy dark slate. I'm obsessed with the ones from Brooklyn Slate, which are sourced from a quarry in Upstate New York. They're stunning, durable, and come with soapstone chalk for labeling your cheese right on the slate."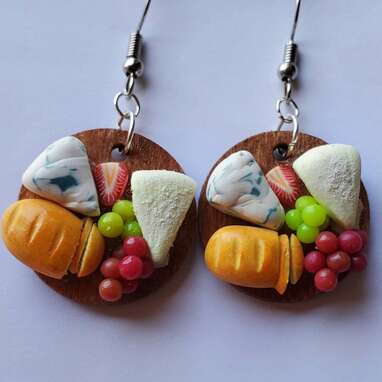 Etsy
Why it's a great gift: "The shark coochie board trend and the polymer clay jewelry trend intersect on Etsy, where there are a ton of different makers crafting tiny, perfect, and colorful cheese board earrings. A friend got me a pair for Christmas last year, and they're super cute and fun—just the thing to wear whether you're hitting up holiday parties on Zoom or in person." (See more charcuterie jewelry on Etsy here.)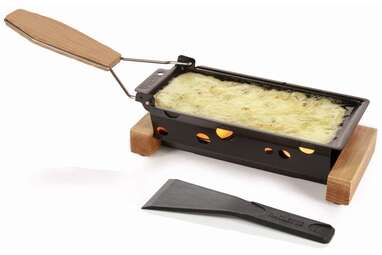 Amazon
Why it's a great gift: Ever had nearly liquefied Swiss cheese on a hunk of bread? It's pure bliss. These party-ready raclette sets are "for the lover of melted cheese in your life (so, everyone). The full Partyclette is the perfect centerpiece for a cool-weather gathering, while the candle-powered Partyclette ToGo is a compact solution to melt cheese for one or two. The Barbeclette is great for use on the grill."
Brookstone
Why it's a great gift: "This home cheese cave keeps your wedges at ideal humidity so you can store them unwrapped, in or out of the fridge. DIYers also love it because you can age your own cheese in it if you have a cool basement (or a wine fridge with an adjustable thermostat). Plus, there are four sizes, so it's great for everyone from the budding turophile to the seasoned connoisseur."
Cheesemonger Box
Why it's a great gift: "Curated by the professional cheesemongers and owners of Fairfield Cheese Company in Connecticut, the Cheesemonger Box delivers artisan American and European cheeses straight to your doorstep. You can choose from the Classic Box, with 3.5-pound cuts of cheese, the Signature Box, with additional accompaniments, and a number of monthly subscriptions options."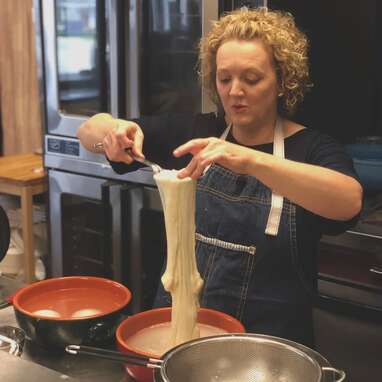 Caputo Brothers Creamery
Why they're a great gift: An activity might just be the most memorable and meaningful present you could give a passionate cheese fan. Alexandra suggests virtual classes—like a mozzarella-making lesson with the Caputo Brothers Creamery—or tastings with experts from Your Cheese Friend, Birchrun Hills Farm, or perhaps a cheese shop or maker near you. And if your friend has a trip to Italy in their future, you can send Kristine a message on Instagram @nyccheesechick to set up a surprise formaggio tasting for them in Florence.
Amazon
Why it's a great gift: Alexandra's Stuff Every Cheese Lover Should Know is small enough for your friend to fit in their pocket on their next cheese run, yet full of useful tidbits for all levels of expertise. It's a summary of what Alexandra has learned after more than a decade of working with cheese: making, pairing, tasting, board building, vocab, and much more.
Amazon
Why it's a great gift: Erika's Cheese Sex Death: A Bible for the Cheese Obsessed is for anyone who worships the lord Cheesus. The Old Testament covers cheese history and fundamentals, and the New Testament has tips and recipes for serving, plating, and cooking all things cheesy and holy.
Sara Cagle is a Thrillist contributor.