Great Gifts for At-Home Cocktail Enthusiasts, According to the Death & Co Team
All the best tools and resources to get the new-age cocktail connoisseur on your list.
Design by Maitane Romagosa for Thrillist
We independently source all of the awesome products and experiences that we feature on Thrillist. If you buy or book from the links on our site, we may receive an affiliate commission — which in turn supports our work.
For you, "craft cocktail" may conjure images of mustachioed men in canvas aprons, straining cocoa puff-infused vermouth into tumblers. Or perhaps paper menus littered with punny titles for impossibly elaborate mixed drinks. But in the realm of New York history, the 'ol "craft cocktail renaissance'' was a far sultrier affair.
In the early aughts, Manhattan was rife with dimly lit, speakeasy-style bars, perfectly executed boulevardiers, experimental takes on old classic cocktails, and iconic sought-after venues—like the legendary, oft-cited Milk & Honey. And while that may all sound like a bygone scene, there's one early aughts craft cocktail bar that's still notably kicking: Death & Co.
Naturally, the last two-ish decades in hospitality have brought plenty of new life to the craft cocktail scene—and you certainly would not have to work terribly hard to locate, in your vicinity, a restaurant or a watering hole with a decent, creative craft cocktail list.
And more importantly, the last two-ish years of quarantine-adjacency have all but made at-home mixologists out of all of us. And in that realm, the team behind Death & Co has something helpful to offer: Death & Co: Welcome Home—a cocktail recipe book by founders Alex Day and David Kaplan, and writer Nick Fauchald.
"We're seeing a big cultural shift: many more people are making cocktails at home. So in this book, we offer new strategies and tools for amateur cocktail enthusiasts," says Fauchald. "It chronicles our approach to mixology through technical advice—but it's also so much about how cocktail culture can help our guests connect with a space in a meaningful way."
Surely you've got at least one burgeoning cocktail artist in your life who already subscribes to that philosophy. So this year, for the holidays, why not help arm them with all the tools they'll need to truly elevate their mixology form? Ahead, we've tapped the all-star team behind Death & Co: Welcome Home to share the best tools and resources for the new-age cocktail connoisseur.
Etsy
Why it's a great gift: Any bartender will agree: The glass matters. So be sure that you've got the appropriate glassware to suit your of-the-moment cocktail obsessions. "I'd recommend going and finding these out in the world," advises David Kaplan. "Look for vintage glasses at antique shops and estate sales. I love having an eclectic assortment of coupes—especially beautiful old ones that are paper thin and impossibly delicate. If you insist on buying online, Ebay is a great source!"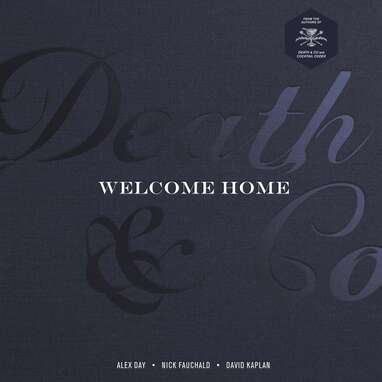 Penguin Random House
Why it's a great gift: Need we say more?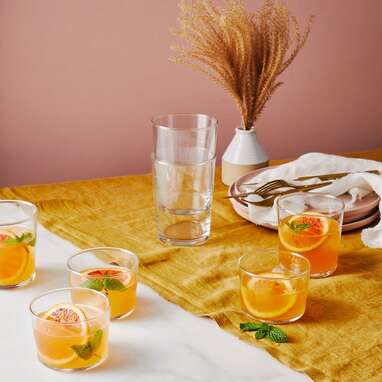 Food52
Why it's a great gift: Speaking of glasses, it goes without saying that you'll want versatile, stackable options—that still feel elevated. "A bartender friend once gave me a set of small bodega glasses. Their size and stickability make them a real utility player," says Fauchald. "I've used them to serve both shaken and stirred cocktails, and they make great wine tumblers as well".
Cocktail Kingdom
Why it's a great gift: "The best cheap-but-useful cocktail gift is an ice tapper," says Fauchald—a heavy steel dish with a flexible plastic handle that can be used to bust ice cubes into shrapnel. "It's so fun to use, and most folks don't own one. You can find vintage ones (under the Tap-Icer brand) on eBay, or Cocktail Kingdom makes a modern version."
Amazon
Why it's a great gift: "For the true cocktail nerd (who hopefully also likes to cook), I can think of no better gift than a really great sous vide setup," says Alex Day. What is a sous vide, you ask? (We, too, had to ask). The point of the contraption is to help you prep foods with maximum temperature precision—and for Day, this is critical when it comes to making homemade syrups, shrubs, and infusions. "If you want to up your infusion/syrup game—and explore the world of sous vide in the kitchen—this is a beautiful addition to your toolkit," he says.
Amazon
Why it's a great gift: "I'm a big freezer bottle fan so one of the most useful items in my arsenal is an incredibly simple one: the swing top bottle. I like a liter or 750ml clear one, but there are plenty of options out there," says Kaplan. These glass vessels are guaranteed spill proof, so you need not worry about coating your freezer in sticky, pink punch.
Polyscience Culinary
Why it's a great gift: In the realm of homemade syrups, Day has one more key suggestion: A compact infusion machine, loaded with all kinds of complex features and presets, including a whole kit of infusion and syrup settings designed by—you guessed it—the Death & Co team. "The MX2 allows you to quickly infuse ingredients for sous vide cooking, and make unique garnishes," says Day.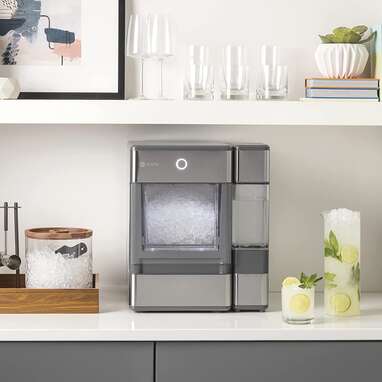 Why it's a great gift: "If you REALLY love someone, buy them a pellet ice maker, like this one from GE," says Fauchald. Apparently, nothing will elevate your home cocktail game like having pellet ice on hand (as Helen Rosner puts it, "pellet Ice is the Good Ice").
Amazon
Why it's a great gift: In case you're unfamiliar, a jigger is that little metal shot-glass-like thing that bartenders use to measure out ingredients. A stepped jigger, on the other hand, is a far shinier contraption.
"A jigger like this will allow you to measure all of your ingredients without having to switch or flip multiple jiggers," explains Fauchald. "You can usually find vintage ones made by the Napier company online, or Cocktail Kingdom and Barfly make reproductions."
Etsy
Why it's a great gift: "My absolute favorite cocktail tool that I own is a mixing glass made by the Vermont glassblower Robin Mix," says Fauchald. Not only is the thing brilliantly designed for stirrable cocktails (think: negronis and martinis), it's also the sort of glassware folks will certainly compliment while you work on their drink orders.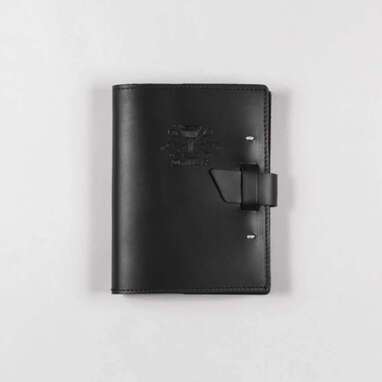 Death & Co.
Why it's a great gift: Sure, sure, we know most amateur mixologists are looking to the masters when it comes to advisory in the craft cocktail space, but that's not to say that newcomers on the scene shouldn't be developing formulas of their own, as well. "This leather journal is filled with pages organized for tracking the progress of new cocktails, syrups, and infusions," says Fauchald.
Eliza Dumais is a former staff writer at
Thrillist
. She now works as a lifestyle editor at
Refinery29
.