The Best Gifts for the Frequent Flier in Your Life
These products are perfect for anyone who has the plane's safety speech memorized.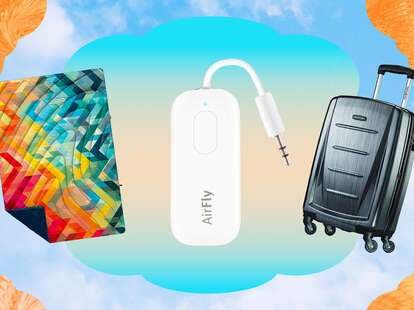 Design by Maitane Romagosa for Thrillist
We independently source all of the awesome products and experiences that we feature on Thrillist. If you buy or book from the links on our site, we may receive an affiliate commission — which in turn supports our work.
Forget people who already have everything—frequent fliers might be the hardest group to shop for. For starters, they're always on the go. Then you have the fact they are limited to what they can pack—whether it's a space issue or a TSA issue. Simply put, go-to gift ideas like wine, candles, and monogrammed cutting boards simply won't work. Fortunately, frequent fliers aren't a new phenomenon. They've been around since at least 1979, when Texas International Airlines became the first airline to recognize their best customers by establishing a frequent flier program. These days, every airline (even the scam known as Spirit) has one.
Ideally, you can gift the frequent flier in your life with a round-trip ticket to their destination of choice. But if you're on a tight budget, don't worry. As long as you know where to look—hello, Amazon?–you'll find plenty of affordable products designed for people who fly more miles in a month than most people fly in a lifetime. After all, even if your favorite frequent flier has status on every airline, or they only transit through airports with clean bathrooms and no lines at Chick-fil-A, their travel experience can always be elevated.
From a three-piece luggage set to a handheld luggage scale, here are 12 gifts ideas that frequent air travelers will love—starting at just $12.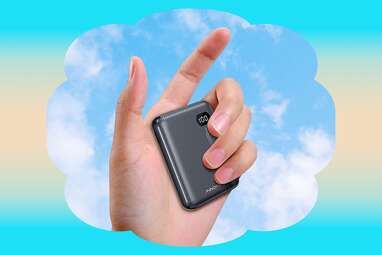 Design by Maitane Romagosa for Thrillist
About the size of a playing card, the AINOPE Power Bank, which has a 4.5-star average rating from nearly 3,300 reviews, claims to be the smallest power bank on the market. It can charge three devices at a time, but more importantly, it's significantly faster than other chargers. For example, if you plug a dead phone into the AINOPE Power Bank, you'll get to 50 percent battery in the same time it takes to get to 20 percent on most chargers. Unlike other travel-friendly chargers that display their own battery life in bars, this one gives an exact percentage on its LED digital display (so you have a better idea of when it needs a recharge).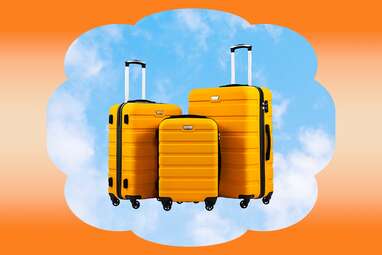 Design by Maitane Romagosa for Thrillist
Frequent fliers live out of their luggage, so why not get them a set that can travel the world with them? The Coolife Luggage 3-piece set, which comes with a two-year warranty, is ranked third on Amazon's list of Best Sellers in Luggage Sets. It has a 4.6-star average rating from more than 20,200 reviews. (In fact, nearly 80 percent of its reviews are perfect 5-star ratings.) Each piece has multidirectional spinner wheels, a TSA-approved lock, and zippered interior pockets. Also, they stack inside each other, so when not in use, they don't take up much space. Currently, they come in 14 colors. (Unfortunately, you can't mix and match.)
Design by Maitane Romagosa for Thrillist
These memory foam blackout curtains for your eyes are total game changers. In fact, they work so well that they have a 4.7-star average rating from more than 76,300 reviews—making them the number one best-selling sleep mask on all of Amazon. The MZOO Sleep Eye Mask comes in five colors, and it's 3-D (as opposed to other masks, which lie flat). Its ergonomic design with molded eye cups puts zero pressure on the eyes. The strap is adjustable, so the mask fits heads of all sizes. And since it's held together with heat-bonded technology, there's no irritating glue or seams.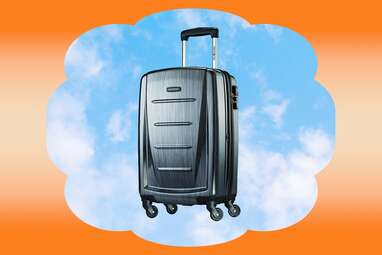 Design by Maitane Romagosa for Thrillist
Save more than 25 percent on this best-selling hardside carry-on from Samsonite. Normally $199, it's a steal considering how long you'll have it. (It even comes with a 10-year warranty.) The multi-directional spinner wheels make maneuvering around easy, and the side-mounted locks are TSA-friendly. Inside, it's easy to stay organized with the divider and cross straps that keep things like shoes and dirty laundry contained. It currently comes in six colors and meets the carry-on standards of all major U.S. airlines.
Design by Maitane Romagosa for Thrillist
This handy cup holder attachment is perfect for the frequent flier who always needs a caffeine fix. It easily attaches to any suitcase handle and comes with two cup holders that have elastic openings to fit almost any size drink (except maybe a Big Gulp). It also has a convenient back pocket perfect for stashing a passport or a smartphone. The Riemot Luggage Travel Cup Holder has a 4.5-star average rating from nearly 4,000 reviews, and it comes in 30 different colors.
Design by Maitane Romagosa for Thrillist
Because airline baggage policies are always changing, it's a good idea for travelers (especially overpackers) to bring their own scale. No one wants to be in line at the airport only to find out they'll have to pay a hefty fee if they don't repack on the spot. This best-selling handheld luggage scale, which has a 4.7-star average rating from more than 43,000 reviews, is as accurate as scales get. It's battery-powered and can give a bag's weight in kilograms or pounds (up to 110 pounds). Simply attach it to any suitcase or bag handle, hold it up, and within seconds the weight is displayed on the LCD screen.
Design by Maitane Romagosa for Thrillist
As hard as it is to get a good night's sleep when traveling, staying hydrated is even harder. Fortunately, there's a hack frequent fliers can borrow from athletes: electrolytes. These tasty Nuun Sport tablets feature optimized electrolytes that make it easier and more efficient for the body to absorb water. On Amazon, where they have a 4.5-star average rating from nearly 40,000 reviews, they come in various flavors—all of which have just 15 calories and one gram of sugar. Just drop a tablet in a bottle of water, wait three minutes, and drink.
Design by Maitane Romagosa for Thrillist
Even if you splurge for Economy Plus, it's easy to arrive at your destination looking a little disheveled—made all the worse when you go to change, only to find the clothes in your bag have already wrinkled. Fortunately, TSA lets travelers fly with this popular portable handheld garment steamer. It weighs just 1.13 pounds and takes up about as much space as a shoe. Simply fill the water tank with water, wait two minutes until it's hot, and then enjoy 10 minutes of continuous, satisfying steaming. The Pure Enrichment Portable Handheld Garment Steamer has a 4.2-star average rating from more than 8,400 reviews and comes with a five-year warranty.
Design by Maitane Romagosa for Thrillist
The award-winning and doctor-recommended Cabeau Evolution S3 is pretty much the gold standard of travel pillows. Unlike flimsy pillows that get flat over time, this one is made of memory foam that always bounces back. With its adjustable straps, it can easily be attached to the headrest, so it never slides to one side. It also comes with a removable machine-washable cover, has a pocket for earplugs, and packs down to take up half the space of most travel pillows. The convenient carrying case has a quick-release clasp that can be attached to the outside of any bag, freeing up precious interior space.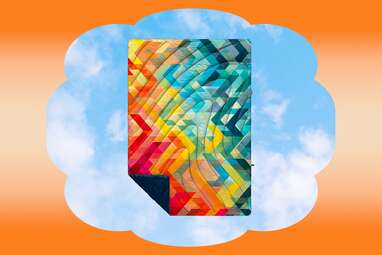 Design by Maitane Romagosa for Thrillist
It's no secret that airplane cabins have their own bone-chilling Arctic blast. But with this best-selling travel blanket, which has a very impressive 4.8-star average rating from nearly 700 reviews, there's no need to bundle up in layers or cling to your seatmate for body heat. It's made of a 100% recycled polyester down alternative, so it's as warm as it is machine washable. (That said, it has a DWR coating so it's stain and odor resistant.) In its stuff sack, it takes up about as much space as a water bottle. Choose from 19 fun colors and patterns.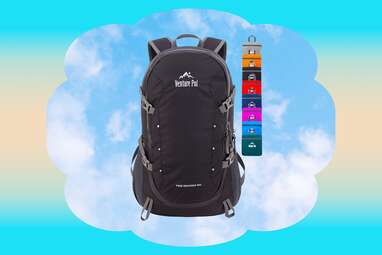 Design by Maitane Romagosa for Thrillist
Frequent fliers that spend their layovers shopping (it's that darn duty-free) always appreciate having an extra bag handy in their carry-on. The Venture Pal Packable Backpack is perfect for travel because it packs into one of its pockets and doesn't take up much space when not in use. It holds up to 40 cubic liters and features several compartments and pockets, including a main compartment big enough to fit a laptop (or a bottle of Jack Daniels) and a waterproof pocket perfect for storing valuables. It has a 4.6-star average rating from nearly 30,000 reviews and is currently available in 11 colors.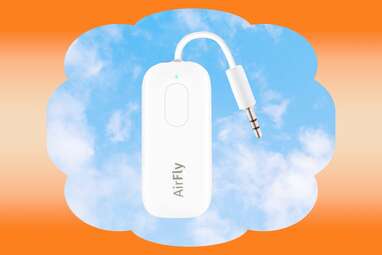 Design by Maitane Romagosa for Thrillist
Sure, flight attendants hand out headsets, but they're usually uncomfortable, possibly unsanitary, and sometimes only one ear works. Fortunately, with a wireless transmitter like the Twelve South AirFly Pro, passengers can use their own wireless headsets (including noise-canceling headphones) to watch in-flight entertainment on the big screen. The AirFly Pro, which has a 4.3-star average rating from nearly 5,000 reviews, has a battery life of 16 hours and can pair with up to two headsets at a time. Simply plug it into the audio jack, pair it with your device(s), and binge-watch to your heart's content.