Great Gifts for Marvel Fans and Superhero Geeks
Let's face it: You're not a true, die-hard fan until you own a Winter Soldier face mask.
Design by Maitane Romagosa for Thrillist
We independently source all of the awesome products and experiences that we feature on Thrillist. If you buy or book from the links on our site, we may receive an affiliate commission — which in turn supports our work.
Everyone knows the Marvel superheroes. They are a worldwide phenomena, part of a brand that has revolutionized media and turned people into proper comic book geeks for the past 82 years. You probably also know that fandoms can get a tad...particular when it comes to merch, which is why we've put together this handy gift guide. Do you know someone who has already seen Eternals and Shang-Chi in theaters multiple times? A casual Marvel-ite who had no idea who Thanos was before 2018? A Batman devotee who's ready to convert? On your left, we've assembled the choice picks for all types of fans.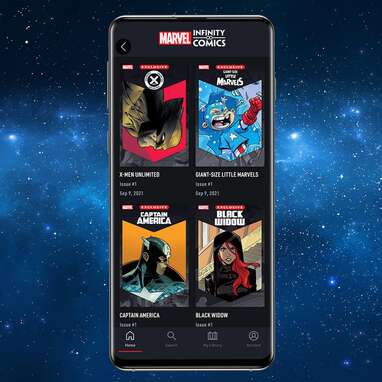 Marvel
Why it's a great gift: The best way to become a Marvel expert is to get back to where it all started: the comics. Marvel Unlimited is a subscription service that lets users access 29,000 digital comics from the company's entire history on their desktop browser or Marvel Unlimited app. (The service costs $9.99 per month, which is hundreds of dollars less than buying a bunch of back-issues of your favorite titles.) If you're travelling, you can download 12 issues at a time to your device; if not, simply browse through curated lists by title, topic, or hero. And since Marvel comics are still published every week, the app gets updated with new titles all the time.
Redbubble
Why it's a great gift: There are tons of fun options when it comes to Marvel-themed face masks. The Disney Store sells a 4-pack featuring Spider-Man, Hulk, and Captain America. But if you want something really cool, dance on over to Redbubble for some custom-printed face masks that will transform you into Bucky Barnes. When Cap's old friend Bucky first appears in Captain America: The Winter Soldier, he's rocking some serious smoky eyes and a black combat mask—that's the look replicated here. Now anyone can get that timeless, Soviet-brainwashed-assassin look at the click of a button (while keeping both arms!).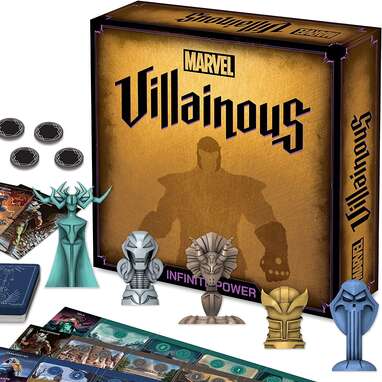 Amazon
Why it's a great gift: Disney's Villainous line of table-top games is all about—you guessed it—villains. Players take on the role of iconic antagonists and work to defeat Disney heroes, with strategies and goals associated with each wicked character. The Marvel take on the game features Thanos, Hela, Ultron, Taskmaster, and Killmonger, and objectives range from collecting all six infinity stones to taking control of Wakanda's vibranium mines. It's a fun game to learn with a group of people, and it makes a great gift for an entire family of Marvel fans.
Disney
Why it's a great gift: WandaVision signaled the transition of the Marvel Cinematic Universe from movie screens to TVs, and this shirt celebrates the milestone without rubbing Wanda and Vision's relationship in our faces. The retro design is particularly neat, with a classic television displaying the black-and-white Marvel Studios logo from WandaVision's first episode. The Disney Store also lets you customize the shirt with text and shapes—go ahead and add your giftee's name, a favorite episode, or a Ship of Theseus reference.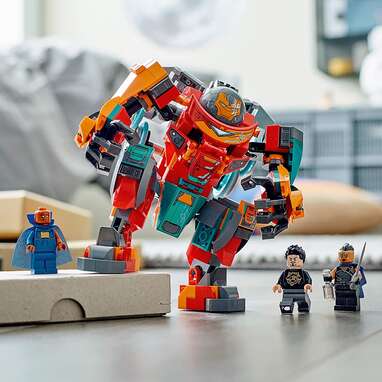 Amazon
Why it's a great gift: Marvel fans are probably familiar with the animated series What If...? on Disney+. But did you know that the nine-episode series was originally supposed to have ten episodes? The missing episode (which was cut due to animation delays) would have shown Tony Stark traveling to the planet Sakaar (you know, where Thor and Hulk meet Jeff Goldblum in Thor: Ragnarok) and building armor to fight in the Grandmaster's Contest of Champions. Now all that remains of the cult episode is a brief cameo at the end of the series—and this Lego set. The kit comes with minifigures of Sakaarian Iron Man, Valkyrie, and The Watcher, plus a mech that transforms into a Tony Stark-approved race car. It's basically a "what if?" inside of What If...? and it looks spectacular.
Amazon
Why it's a great gift: If you think you know all the behind-the-scenes details of Marvel movies, you'd be wrong—unless you have this book, that is. Authors Tara Bennet and Paul Terry were given unprecedented access to the franchise's producers, writers, and stars to create the official story behind Marvel Studios and its "Infinity Saga" run, which consisted of 23 movies ranging from Iron Man (2008) to Spider-Man: Far from Home (2019). The hefty tome also includes set photos and concept art that you can't get anywhere else.
Disney
Why it's a great gift: It's 2021, which means you can't just go to the movies if you want to stay up to date with the ever-expanding Marvel Cinematic Universe—you have to have Disney+ as well. Aside from housing nearly every Marvel movie, the streaming service is the exclusive home of WandaVision, The Falcon and the Winter Soldier, Loki, What If...?, and Hawkeye. A slew of new shows will be coming to Disney+ in 2022, with characters hopping between both TV series and theatrically released movies. In other words? A subscription is pretty important to anyone who doesn't want to feel out of the loop next year. Luckily, Disney offers a year-long subscription gift card that you can give to any nerd in your life this holiday season.
Amazon
Why it's a great gift: This beautiful book covers all aspects of design in and around Marvel Comics, breaking down the company's long history with logos, comic book layouts, lettering, cover designs, and varied color palettes. It educates readers about design, but it also dives deep into Marvel history with essays from famous graphic designers and artists. It also tracks the visual history of different characters, plus shows how the "Marvel Method" from the company's early days led to the movies we know and love today. All in all, the book illustrates how graphic design has always fed the creativity of all things Marvel.
Amazon
Why it's a great gift: You undoubtedly are familiar with Funko Pops—those tiny statues that feature pop culture figures with big heads and simplified expressions. Usable as both toys and collectables, there are always new figurines coming out each time a new Marvel movie is released. But this special set pays homage to the famous post-credits scene in The Avengers (2012), where the titular heroes get shawarma after the Battle of New York. The set features Bruce Banner, Tony Stark, Hawkeye, Captain America, Black Widow, and Thor, all with interlocking bases. When you link them together, you get a little tableau of the Avengers sitting at a table and quietly enjoying their shawarma. Note that the Black Widow statue won't be released until December 7 and Thor won't be released until February 2022, but both are available for pre-order.