What to Buy for New Parents, According to People Who Just Had a Kid
Curious what sleep-deprived and frazzled new parents actually want? We asked them.
Design by Maitane Romagosa for Thrillist
We independently source all of the awesome products and experiences that we feature on Thrillist. If you buy or book from the links on our site, we may receive an affiliate commission — which in turn supports our work.
Becoming a parent for the first time is a supreme shock to the system. Your life as you knew it is permanently altered. Sure, you've got a (hopefully) adorable baby and are bursting with love, but you're also exhausted, missing your friends, anxious about being responsible for someone else's literal life, dying for a night out, and did I mention exhausted?
As the parent of a six-year-old who is currently pregnant with number two, I'm familiar with the bevy of emotions being a new parent can bring. But it's important to not lose yourself in the mix. Don't be afraid to look after yourself—the better you feel, the better parent you'll be. Which is why I spoke to some friends who are also new parents about the kind of gifts they want most.
Below are 12 gifts for new parents, picked by new parents themselves. I spoke to Mike Paller, a senior program officer at Open Society Foundations, and his wife Sandra Paller, a creative producer, whose first child was born in August 2021; Lindsay Herman, a book editor whose daughter just turned one; Leah Herman, founder of public relations firm Kindred (whose son was born in June 2021); and Michael Goldsmith, the senior publicity director at Doubleday and dad to a two-month-old.
Here are their picks for the best gifts for the new parents in your life.
Amazon
Why it's a great gift: "Newborns can't be out in the sun, so a shade tent is perfect for new parents who like to be outside or are beach bums. It's also super easy to set up." — Mike Paller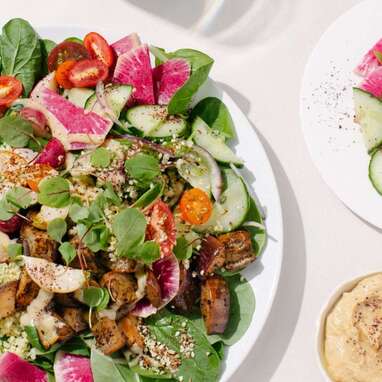 Sakara
Why it's a great gift: "Sakara's plant-based and organic meal delivery service is like having your own personal chef at home—at least for a little while—with ample nourishment for the postpartum body with ingredients you can trust." — Sandra Paller
Bowflex
Why it's a great gift: "Being homebound with a newborn made it impossible to make it to the gym. These adjustable weights go from 5 pounds to 52 pounds, so you've basically got a full weight rack in a compact package. I also loved that I could track my progress postpartum: I started using 5 pounds and worked my way up as I got stronger. — Lindsay Herman
BloomsyBox
Why it's a great gift: Flowers and plants can bring instant joy, but keeping them alive along with a child can cause any parent unneeded stress. Enter these dried and preserved flowers that add color to any room and will last forever—no extra care required. — Devorah Lev-Tov
Amazon
Why it's a great gift: Stress is not good for your skin, so new parents' skin can often suffer. Loli is an awesome skincare brand that focuses on organic ingredients packaged inside reusable, food-grade glass jars with compostable labels, bags, and boxes. We especially love this matcha coconut face chlorophyll mask that minimizes pores and blemishes so they can get back that pregnancy glow. — Devorah Lev-Tov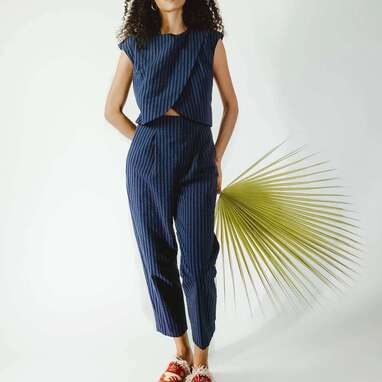 Madri
Why it's a great gift: "This is the most comfortable, easy-to-nurse-in article of clothing I own. It lets me go out in style and have access to the boob." — Sandra Paller
Ipsa
Why it's a great gift: "My wife and I have had the chance to experiment with a few different meal delivery services while we cope with the fact that we just don't have the bandwidth to cook (let alone meal plan, grocery shop, or wash dishes) for the foreseeable future. Of all the services we've tried, Ipsa comes the closest in terms of quality and experience to the actual home cooked meals we liked to make for ourselves pre-baby. Things like the spinach pie, enchilada bake, and seasonal mac and greens have become staples in our weekly rotation." — Michael Goldsmith
Amazon
Why it's a great gift: I first used a top-of-the-line Toto washlet bidet at a hotel in Hong Kong several years ago and have been pining for one ever since. No more wasting (or running out of) toilet paper, and your behind gets a delightful treatment every time you sit on the porcelain throne. This one has all the bells and whistles, ensuring each trip to the bathroom buys you at least five blissful minutes to yourself—something every parent dreams of. — Devorah Lev-Tov
SnackMagic
Why it's a great gift: New parents are often going through a constant state of frazzle, which means on-the-go, easy-to-grab snacks are a must. SnackMagic lets you curate your own snack box, so you can choose the recipient's favorites, plus some new ones for them to try, including Taali Foods popped water lily seeds, Belgian Boys stroopwafels, and Dry Soda's ginger botanical soda. — Devorah Lev-Tov
Fourth Phase
Why it's a great gift: Giving birth is intense and your body is put through the ringer. While many new-parent gifts focus on the baby, the person who pushed the child into the world often plays second fiddle. This thoughtful box (there's one for C-sections and natural births) contains a selection of organic healing and pampering items for mom, from nipple salve to hydrating essential oils. Plus, with each purchase the Black, woman-owned company donates a similar box to a mother experiencing homelessness. — Devorah Lev-Tov
Barney Greengrass
Why it's a great gift: "A friend who knows what's up sent us this so it was waiting at our front door when we got back from the hospital. It was such a special treat to have bagels and schmear for those early meals, and having it come to our door made us feel so taken care of. Lox was my #1 pregnancy craving so I was especially thrilled." — Leah Herman
NPR Coffee Club
Why it's a great gift: Caffeine is a must for any parent so why not support their favorite public radio station in the process? NPR partnered with Counter Culture coffee roasters on a coffee bean subscription service that mails freshly roasted beans to your recipient's door with names NPR nerds will particularly appreciate like All Beans Considered and Tiny Desk Coffee. — Devorah Lev-Tov
Beau Industries
Why it's a great gift: Toting around a diaper bag may be necessary for new parents, but why settle for one that's bulky and screams "I'm carrying a diaper bag"? That's where this stylish four-piece backpack set comes in. It's designed for outdoorsy, active parents who want a comfortable and functional carry-all they can easily pack with essentials for any adventure, with a kid in tow or not. It's made from sustainable materials and comes with a multitude of new parent-friendly features including a plush changing pad (which doubles as a laptop sleeve), an elastic stash pocket for a pacifier (or earbuds,, deep bottle pockets, a nine-pocket padded organizer, water-resistant wipes compartment, and two insulated removable pouches.
Devorah Lev-Tov is a Thrillist contributor.