Great Gifts for Dinner Party Hosts, According to an Entertaining Expert
What to get for your party-throwing friends who care about more than just the tablescape.
Design by Maitane Romagosa for Thrillist
We independently source all of the awesome products and experiences that we feature on Thrillist. If you buy or book from the links on our site, we may receive an affiliate commission — which in turn supports our work.
Some hosts are great at making things look pretty. Others have a special talent for bringing people together. And then there are the unicorns who can do both. Chef Courtney McBroom—founder of Ruined Table and co-author of Divine Your Dinner, a cookbook with recipes based on tarot cards—is one of those unicorns. (If you didn't know you could throw a successful dystopian sci-fi themed dinner party, for example, just watch her Instagram Live sessions.)
For your party-throwing friend who understands that at the end of the evening, what matters more than beautiful place settings is the fun their guests had and the connections they made, Courtney has recommended just the gifts. What better way to thank the person who always hosts you than with, well, something to help them host you even better?
Food52
Why it's a great gift: Cake stands add height, dimension, and color to table settings—not only when they're used for pies and muffins, but for savory things, too. Plus, there's always an air of mystique when you lift a glass dome off a plate of food, even if it's just chips and dip. These stands are made in a Polish glass studio that's been open for more than a century.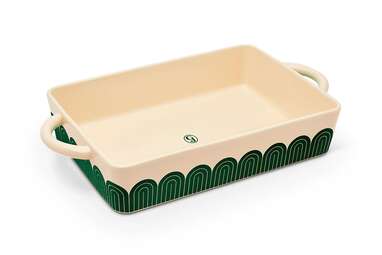 Great Jones
Why it's a great gift: Hot dishes don't just have to hold '50s-style tuna noodle casseroles—although they definitely can on retro night. Great Jones' 9-by-13-inch ceramic casserole dishes, which come in three colors and are dishwasher-friendly, are also ideal for lasagna, baked goods, roasts, and other meals you want to serve straight from the oven. Add a lid to keep your friend's moussaka safe and toasty warm on the go.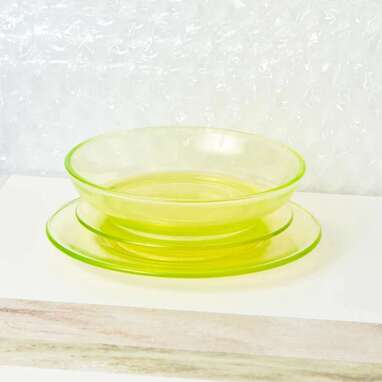 Coming Soon
Why it's a great gift: Neutrals have had their moment. Breathe new life into your friend's gatherings with electric green plates and bowls, which are translucent enough to blend in with most table settings but can also glow under a blacklight, in case that's the vibe. Courtney says that "really anything" from the Coming Soon store goes, but she especially likes this "classic, timeless," dishwasher-safe dinnerware by Mosser Glass, a family-run designer from Ohio.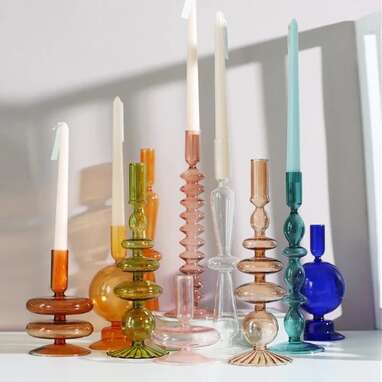 Etsy
Why it's a great gift: "Lighting is everything," Courtney says, with which your host friend likely agrees. If they already have a lifetime supply of dripless tapers, these colorful bubble glass candlestick holders from Etsy will give them a centerpiece-worthy home. They come in seven styles and seven colors, so you can start your giftee off with one or two and let them curate their own collection over time.
Friends NYC
Why it's a great gift: Speaking of lighting: "These things blow my mind. I'm sure there is a very simple way that they get these candles to drip rainbow-colored wax, but if so, I don't want to know what it is. I like to think it's magic, but then again, I also still believe that there are tiny musicians living inside my radio, so…"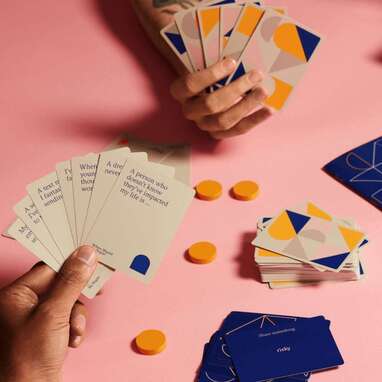 Esther Perel
Why it's a great gift: "She is a queen and I am obsessed with her," Courtney says about Esther Perel, whose conversation-starting card game sold out on its second release and is now available for pre-order. If people are feeling shy at their first pandemic-era dinner parties, this psychotherapist-designed game will welcome them out of their shells and coax them into memorable heart-to-hearts.
Kneeland Co.
Why it's a great gift: Kneeland Co. sources one-of-a-kind ceramics, textiles, and other rarities from around the world and shares "great stories of who made them," Courtney says. This terracotta platter was made by a four-generation family business in Troyan, Bulgaria, and the mandala design was created by hand with a toothpick.
Bookshop.org
Why it's a great gift: Courtney's own cookbook, which she wrote with tarot specialist Melinda Lee Holm, turns dinner into a spiritual experience that takes care of the theme-planning bit of your host's next party. Pull a tarot card, such as Abundance, and you'll be directed to a recipe with magickal ingredients that match the energy of the card, like the A Rose Is a Rose Is a Rosé Punch, and ideas for creating a harmonious atmosphere, from jewel-tone linens to emerald accents.
The Curated Pantry
Why it's a great gift: Mezcal is often enjoyed with food, like sliced citrus fruit or barbecued meats, which makes a set of proper Oaxacan glasses for the spirit a lovely gift for your mezcal-loving dinner party host. Vaso veladoras were formerly used to hold prayer candles in Catholic churches, which is why each of these glasses has a cross on the bottom. Courtney's pick for what to pour inside? The "delicious" Neta Espadin Capon Mezcal.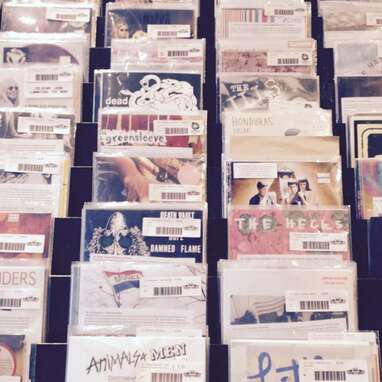 Permanent Records
Why it's a great gift: "Nothing is more important than music at a dinner party. If your friend has a record player, gift them some tunes via @permanentrecordsla. They release records a couple times a week via their Instagram feed, and you call dibs in the comments and they mail it to you. So fun."
Sara Cagle is a Thrillist contributor.