Great Gifts for At-Home Pizza Chefs, According to Katie Parla
Yes, it's possible to whip up pizzeria-caliber pizza right in your own kitchen.
Design by Maitane Romagosa for Thrillist
We independently source all of the awesome products and experiences that we feature on Thrillist. If you buy or book from the links on our site, we may receive an affiliate commission — which in turn supports our work.
Katie Parla likes a pizza with some structural integrity. It's not that she's adverse, exactly, to the flimsier thin-crust pies that are popular in some culinary circles—she just prefers a slice that's made for one-handed consumption. She likes pizza with a spine. "I'm obsessed with thick-rimmed round pizzas right now," says the notable pizza chef and cookbook author. "But I'll explore any pizza option—I've been in love with pizza and its various affiliated forms since I was a little kid."
Growing up as the child of an Italian chef in Central New Jersey, Parla was a voracious pizza eater for as long as she can remember. When the time came for her to get a job as a teenager, she began working at BAR, a famed New Haven pizzeria, before taking up residence in the ultimate pizza town: Rome. It was there that she learned to truly appreciate her hometown slices. "When I was young, I thought I loved New Haven-style pies at BAR mostly because the staff ate for free," she says. "But upon more adult introspection, I realize that [the pizza] is legitimately excellent—and I cannot find a clam pie anywhere in my adopted home of Italy. I know no one feels bad for me...but I pine for clam pizza every day."
Now, as a bona fide connoisseur when it comes to both pizza and wine (she enjoys serving margherita pizzas with a good, jammy Lambrusco), Parla has set out to master not just restaurant-grade pizza prep, but casual at-home pizza mastery for us plebes. In fact, her seminal cookbook, The Joy of Pizza, with Dan Richer of Razza in Jersey City, focuses on just that: At-home pizza prep to rival the brick-oven stuff in Rome.
To put it simply, if there's a living authority on homemade pizza, it's Parla. So, if you're looking for gifts for the aspiring pizza chef (or merely, the pizza devotee) in your life this holiday season, she's the person to ask for advice. "You absolutely, 10000% can make top-notch artisan pizza at home," Parla says. "And you don't have to buy a $12,000 wood-fired oven, either."
Without further ado, here are Parla's key giftable goods for your most pizza-savvy friends.
Amazon
Why it's a great gift: If you're making your dough from scratch (which, of course you are), Parla recommends securing yourself some high-quality dough proofing boxes to make storing, transporting, and proofing your dough (or letting it rise one last time before baking) as easy as possible. These ones from Cambro are stackable and dishwasher safe, so they'll be plenty easy to store and clean—plus, they'll eliminate your need for disposable plastic wrap.
Just be sure to check the dimensions before you buy. "Take care—some of these boxes won't fit in standard fridges," cautions Parla. "They come from a major restaurant supplier, so they come in industrial sizes as well as more standard ones. Make sure you're selecting carefully!"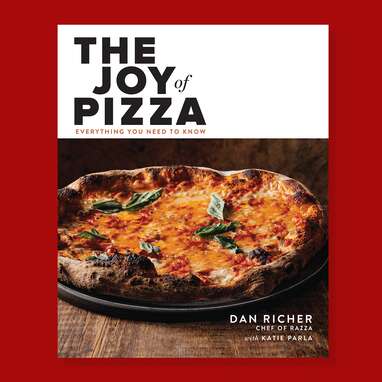 Bookshop.org
Why it's a great gift: This cookbook is basically the bible of pizza prep—an indispensable guide to mixing, fermenting, shaping, and baking pizzas. "Yes, it's true that I wrote this book—alongside dough genius Dan Richer—so technically, I'm biased," Parla admits. "But hear me out: A copy of this book will make a wonderful gift for the pizza-lover in your life, be they a newbie or a seasoned professional."
Even better? Parla and Richer have partnered with independent bookstores across the country (think: Los Angeles's Now Serving, San Francisco's Omnivore, Seattle's Book Larder, Brooklyn's Archestratus, New Jersey's Word, and more) to provide signed copies of The Joy of Pizza. "Dan and I really believe in supporting small businesses...and undermining Bezos," says Parla.
Baking Steel
Why it's a great gift: This particular baking steel is a quarter-inch-thick piece of metal that helps transfer heat to dough more efficiently than any pizza stone Parla has ever used. "Give your beloved the gift of a crisp pizza undercarriage, a more consistent bake, and the peace of mind that comes with knowing that, unlike a stone, the steel will last forever as it won't break as it cools," says Parla.
Amazon
Why it's a great gift: Like with most baking-adjacent culinary projects, dough creation is a science—meaning your measurements need to be pretty dang precise. Enter: the Smart Weigh Culinary Kitchen Scale, a dual platform kitchen scale with gram measurements (the standard weight unit for pizza dough) that'll help you honor your dough recipe with supreme accuracy.
Ooni
Why it's a great gift: "The Ooni Topping Station is my favorite way to organize my mise en place—and it makes any home pizza station look totally professional," says Parla. "Plus, the lids make it easy to pop leftover toppings in the fridge to use later." The tool features six lidded containers that settle into a stand, and it comes in two separate sizes—one for large format ingredients like tomato sauce and mozzarella, and a smaller version for toppings used in lesser quantities.
Etsy
Why it's a great gift: For Parla, this particular hand-hammered, copper oil-drizzling bottle feels uniquely Neapolitan—an excellent way to channel pizza's most esteemed city. "I love a copper oil container for drizzling extra-virgin olive oil over my pies before they go into the oven and just before they are sliced for service," says Parla. "This one makes very cute kitchen decor, too."
Eliza Dumais is a former staff writer at
Thrillist
. She now works as a lifestyle editor at
Refinery29
.