Great Gifts the Solo Travelers in Your Life Will Actually Appreciate
Travel blogger and solo adventurer Emily Martin has ideas for the independent explorers on your list.
Design by Maggie Rossetti for Thrillist
We independently source all of the awesome products and experiences that we feature on Thrillist. If you buy or book from the links on our site, we may receive an affiliate commission — which in turn supports our work.
After a couple of years of heavily restricted travel possibilities, most of us are ready to break free from our bubbles and start accumulating passport stamps or even just hop in the car and cross a state line or five. This is especially true for anyone who loves solo travel and has been aching for the freedom that comes with taking a trip with the best travel companion one can have: themselves.
Like all travel (especially right now), preparation is key, even more so for the solo traveler, but even though you won't be along for the journey, you can play your part with a thoughtful gift that will make their next adventure even better.
We spoke to Emily Martin, a.k.a. The Jet Setting Fashionista, a travel blogger who has explored (and dined) her way through five continents, 41 countries, and 38 U.S. states. She's always on the hunt for hidden neighborhood gems and the best food and wine, often on her own, so we picked her brain for some go-to gifts for the solo traveler on your list (and threw in a few of our own, as well).
Bose
Why they're a great gift: There are times when a solo traveler will be down to chat with strangers, but there will also be many times when sleep or solitude are of the utmost importance. Especially on long train, plane, and bus rides. These Bose headphones are some of the most popular available for good reason: they're comfortable, you can control how much of the outside world you hear, there's a six-mic combo that makes it easy to take calls even in the noisiest places, and they're easy to use.
Amazon
Why it's a great gift: If the solo traveler in your life is also an oenophile and you want to "win" the holidays, then look no further than this wine suitcase that "guarantees a safe journey" for wine, beer, and spirits. The foam wine cavities are removable, so the "Grande" (the biggest option) carries anywhere from two to 12 bottles. Martin says this is the one she prefers since she's usually packing for a week or two. She also suggests you pack a wine key since, well, if you end up staying somewhere that doesn't have one, you're out of luck. Skip the fancy ones; anyone who loves wine and travels is going to appreciate Pulltap's practical double-hinged waiter's corkscrew.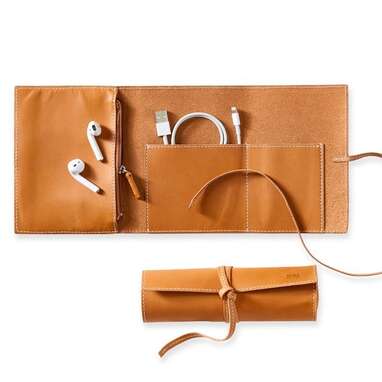 Mark & Graham
Why it's a great gift: This soft leather organizer is "great to organize cords," says Martin. "There's nothing worse when you're trying to work between flights and can't find your iPhone or computer cord." Mark & Graham has several versions; this one's made from the same aniline leather used to make baseball gloves and perfect for traveling because, just like a baseball, it gets softer and suppler with time and use. It can also be monogrammed to class it up even more.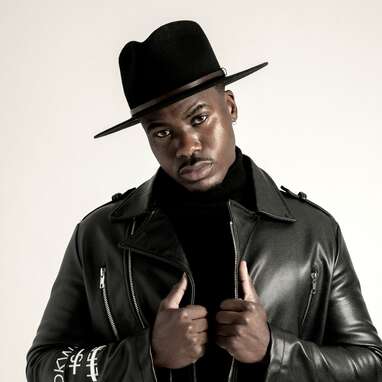 Goorin Bros.
Why it's a great gift: You know who did a lot of solo travel? Billy the Kid. This Goorin Bros. hat named after the infamous outlaw has a wide, flat, stiff brim, and Martin says it's the winter hat she can't leave home without. Not every person can pull this one off, but as the website promises, "Whether you're a little bit country or a little bit city," the Billy the Kid crosses State lines with the right attitude. They've been making hats since 1895, so they know what they're talking about. Looking for something a little more packing-friendly? The Dark Knight acrylic beanie ($40) comes in four colors and is a total classic.
Shinola
Why it's a great gift: "As much as I rely on my technology, I still use a notebook for my daily to-do list, and it's perfect for travel if you want to journal about your adventures," says Martin. "I also find myself making lists [while traveling] of places I learn about, as well as jotting down ideas and spots to check out!" It's American-made, highly-durable, and the pages lie perfectly flat, which anyone who uses a journal will definitely appreciate. Fancify this gift by combining it with a leather cover ($195) with interior pockets, including one that fits an iPad mini.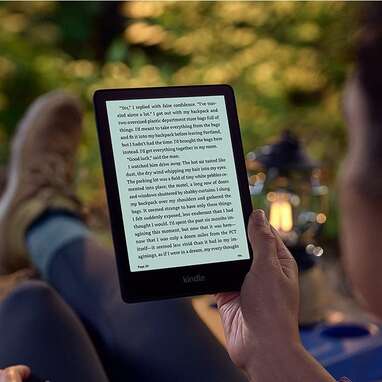 Amazon
Why it's a great gift: There are those who travel with thick paperbacks and tear the pages out as they go, and then there are those who read on a Kindle. This is the perfect year to gift one to any solo traveler as Amazon just released new versions for the first time in years. This waterproof version has a charge that lasts up to 10 weeks, boasts wireless charging capability, and has an auto-adjusting front light.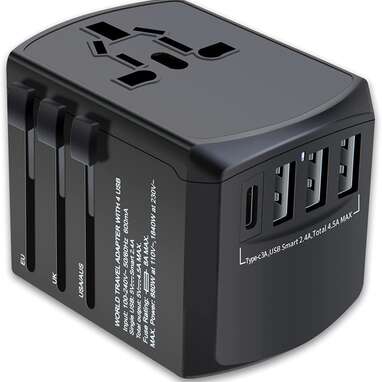 Amazon
Why it's a great gift: This one's a no-brainer for any world traveler and a great stocking stuffer. The all-in-one adapter works with plugs in 150 countries and has 3 USB ports and 1 USB C port.
Eagle Creek
Why it's a great gift: Nothing ruins a trip faster than getting ripped off, especially if the stuff that gets stolen is your passport and credit cards. Give the gift of peace of mind (for you and them) with this money belt that's designs to be worn under clothing to keep money, documents, etc., out of sight. (It's very soft and also sweat resistant.)
Daisy Barringer is a Thrillist contributor.