The Best Gifts That Solo Travelers Will Actually Use
There are safety gadgets, sure, but also the latest tech and creature comforts that any traveler will adore.
Design by Maitane Romagosa for Thrillist
Design by Maitane Romagosa for Thrillist
We independently source all of the awesome products and experiences that we feature on Thrillist. If you buy or book from the links on our site, we may receive an affiliate commission — which in turn supports our work.
The only things our solo traveling friends really need, they'll tell us, are a bag, their passport, and a sense of curiosity. But that's not what we want to hear when the holidays come around and we're pondering their perfect present. Fortunately, the best gifts for solo travelers are essentially the same things we all want on a trip: small comforts while we're away from home. These dozen Amazon picks are a healthy blend of safety contraptions—not meant to scare your dear friend, but to empower their adventures—and a few fun finds that will make their life on the move a little more luxurious.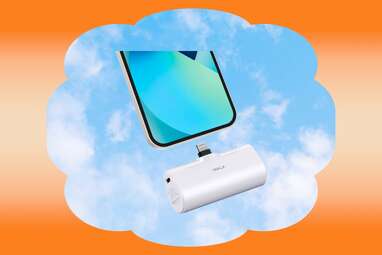 Design by Maitane Romagosa for Thrillist
Your friend can't get from the Louvre to Le Marais if their phone dies. Well, they could, but who wants to go anywhere without Siri? Giving them a portable phone charger, then, is really like giving them the gift of peace of mind. While most portable chargers are heavy, phone-sized devices, this lipstick-sized one is small enough to fit into a jean pocket and has enough juice for one full charge.
Design by Maitane Romagosa for Thrillist
Your solo traveler will love writing in these lightweight, 6-by-8-inch journals at some café in Copenhagen or beer garden in Berlin—then reading their entries years later in fond reminiscence. A notebook is the perfect place for them to jot down the names of people they've met, places they've been, and all the little stories they'll surely share with you when they get back.
Design by Maitane Romagosa for Thrillist
Fanny packs, belt bags, or whatever you want to call them are back, which means your giftee can enjoy the convenience of carrying their stuff hands-free without necessarily standing out as a tourist. This one (which some reviewers say is a dupe for the trendy Lululemon belt bag) comes in dozens of colors and has an adjustable strap that can be set around your waist or shoulder. Your friend will especially love the separate zipper pocket on the back, perfect for keeping their passport secure.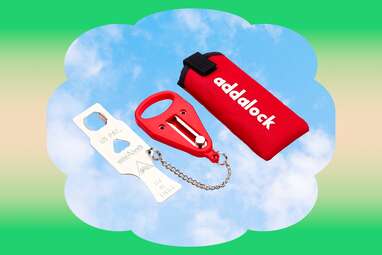 Design by Maitane Romagosa for Thrillist
Make your friend feel more at ease in their hotel, Airbnb, or private room with this portable door lock. The Addalock installs in most doors in about a minute, and its flat shape and quarter-pound weight make it easy to pack into even the fullest of suitcases.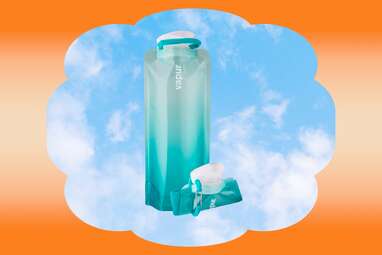 Design by Maitane Romagosa for Thrillist
Nothing is worse than triumphantly sealing your stuffed carry-on with a satisfying zip—only to realize your big ol' Hydro Flask is still waiting to be packed. Relieve your friend of this struggle (yet still encourage their plastic-saving practices) by gifting them a foldable water bottle. When empty, the flexible Vapur bottle can be rolled up and stuffed into a front pocket or clipped onto a keychain. As soon as thirst strikes, it's easy to unfurl and fill with a liter of water (or wine).
Design by Maitane Romagosa for Thrillist
Design by Maitane Romagosa for Thrillist
This "twist" on the classic travel pillow bends into all kinds of shapes, making it easier for your friend to get some en-route shuteye whether they're stuck in the middle seat or chilling by the window. The removable cotton cover is machine-washable, so they'll be able to keep it as fresh as a daisy from day one to day 21 of their trip.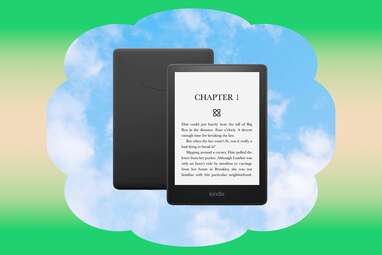 Design by Maitane Romagosa for Thrillist
Solo travelers do a lot of reading—but even more walking. Avoid weighing them down with bulky books by buying them a Kindle instead, which weighs less than half a pound and stores thousands of stories to keep their travels worry-free and well-read. Also, it's waterproof!
Design by Maitane Romagosa for Thrillist
These vegan and cruelty-free, fashionably packaged, and downright delicious-smelling toiletries from Malin + Goetz will help your friend convince themselves that their $30-a-night hostel is really a boutique Malibu hotel. The 1-ounce (i.e. TSA-friendly) bottles come in their own handy pouch, but your giftee can separate the lot if they want to bring the bergamot body wash to Barcelona and save the vitamin B5 moisturizer for a future jaunt to the desert.
Design by Maitane Romagosa for Thrillist
Your traveler's solitude will be extra sweet if you gift them these noise-canceling headphones, which connect to Bluetooth for wireless listening and promise to stay charged for 50 hours. Plus, they come in stylish shades and won't blow your entire gifting budget. Just imagine your friend now, strolling in Seoul to the unadulterated sound of their favorite artist, their best life mode activated…
Design by Maitane Romagosa for Thrillist
Ideally, your friend will have no use for a personal safety alarm and strobe light on their trip. But if they find themselves walking home at 3 a.m. or staying in a hotel on an empty, unlit street, they'll be glad to have this easy-to-activate, 130-decibel alarm on hand. Unlike pepper spray, it's TSA-friendly, and at just under 4 inches long with an array of cute colors, it will remain discreet on their keychain.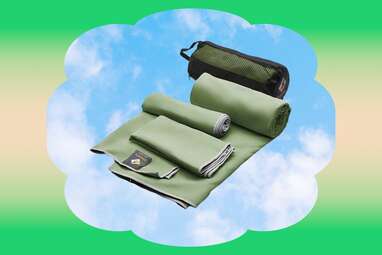 Design by Maitane Romagosa for Thrillist
Regular towels are bulky and slow to dry, and Airbnbs aren't always sufficiently linen-equipped. This trio of lightweight, quick-drying microfiber towels solves both of those problems. Your solo traveler can easily tuck the larger towel into their backpack for impromptu beach naps or camping trips, while the smaller size could be handy for, say, a scorching day in Rome or a particularly spilly pub in Dublin.