Great Gifts for TikTok Addicts & Content Creators, According to Social Media Pros
We asked a TikTok personality and professional social media content specialist about what to buy the emerging social media stars in your life.
Design by Maitane Romagosa for Thrillist
We independently source all of the awesome products and experiences that we feature on Thrillist. If you buy or book from the links on our site, we may receive an affiliate commission — which in turn supports our work.
Whether or not you'd describe yourself as "on TikTok," odds are you're kind of, well, on TikTok. The video-based social media platform—which moved from niche contender to centerstage at some point in 2020's quarantine period—now operates as the crown jewel of the internet.
No matter if your personal feed oscillates around trending dance routines, political news summaries, DIY tutorials, or plastic surgery before-and-afters, the all-seeing TikTok algorithm probably knows you better than you know yourself. And it's only getting smarter by the day—so there's never been a better time to encourage the burgeoning TikTok star in your life.
How, you ask? Well, short of access to a full-fledged cinematographer, your soon-to-be social celeb will merely need the proper tools to get things moving –– from ring lights and phone stands to any number of viral, of-the-moment goods making their rounds in the TikTok sphere. "[My sister] and I have been making silly videos together since she was a baby—TikTok just provided us with a place to upload all our videos together," says Sarah Francati, a TikTok personality with over 2.5 million followers. "And now, it's become so much more than an app. It's like a family. I'd consider everyone who follows us family."
Wholesome, no? So...why not go ahead and give your own future TikTok star and/or content creator the leg up they've been waiting for? Ahead, we've teamed up with Francati and Maxwel Corpuz—social content specialist at Warby Parker—to locate 2021's best, most giftable items for the content creators and TikTok devotees in your life. And yes, hot chocolate bombs did make the cut.
Amazon
Why it's a great gift: When it comes to quality, a ring light is all but essential for guaranteeing flattering lighting, clear visuals, and professional-grade color. And this one is as easy to use as it is effective. "It's so helpful to have a mini ring light that can also attach to your phone," says Francati. "It means I can be ready to record videos just about anywhere, anytime."
Amazon
Why it's a great gift: "First and foremost, every TikToker needs a good tripod," says Francati. "It's the staple to creating great content!"
There you have it: This lightweight travel tripod—which comes with a remote to make video recording as easy as possible—is an essential item in the young TikTok celeb's go-to starter pack.
Joby
Why it's a great gift: Corpuz agrees that an easy to use, ergonomic, and portable phone mount like this one from Joby is a must-have. "Joby Gorilla Pods have been around for so long and for good reason. They can be mounted anywhere and are really sturdy—stabilizing everything from iPhones to medium format film cameras—perfect for elevating your content on-the-go."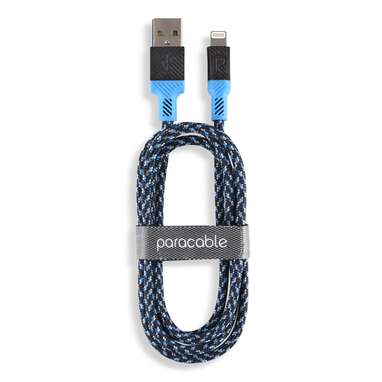 Paracable
Why it's a great gift: We know, we know—your giftee already has a phone charger (if not, we regret to inform you that the odds of their impending TikTok stardom are fairly slim). That said, a super high-quality charging cord—like this Paracable edition, which comes coated in Paraflex fabric to prevent breakage—will help ensure your Gen Z protege never finds themselves with a juice-less phone. "If you need to create content and your phone keeps on dying—well, there's no time for that!" says Francati.
Casetify
Why it's a great gift: We cannot stress this enough: A functional smartphone is a non-negotiable for any TikTok career. So it's important that any content-producer keep their phone charged, on their person, and protected from major damage. Hence: An iphone case that's fully impact resistant.
Moreover, for published content of any kind, you'll want to be sure that your phone is well-dressed for its photo opp. "A cute phone case is a great way to get a conversation started in the comments section," says Francati.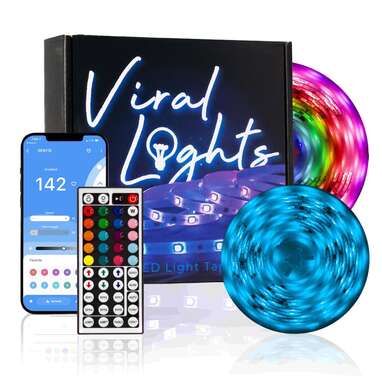 Viral Lights
Why it's a great gift: Creative lighting arrangements are certainly a staple of the average TikTok—and this LED light tape, which is easy to apply and can be controlled directly from an iphone, certainly gets the job done. "If you're a TikToker who SLAYS transitions—which are so hard—then you need LED lights for your room," Francati advises. "There's something so cool about light changes during a transition."
Bookshop.org
Why it's a great gift: If you're shopping for someone who's always looking to stir up new creative content ideas, Corpuz recommends photography coffee table books. "Architecture books are my go-to when in a creative rut. There's something about the symphonic of innovation, utility, and beauty at the crux of architectural solutions that gets the creative gears turning," he says. "One architecture book I've recently picked up is Women in Architecture by Ursula Schwitalla."
Amazon
Why it's a great gift: No matter what niche of TikTok land your fledgling influencer occupies, they'll surely find themselves listening to the same song on repeat several hundred times whilst broaching the editing process. For the sake of audio quality, comfort, and, well, preserving the sanity of anyone else in the house, wireless earbuds are a must-have.
Amazon
Why it's a great gift: Sure, hot chocolate bombs aren't exactly a new phenomenon—but of late, they've taken TikTok by storm. Much like any powdered hot chocolate phenomenon, you drop the dense spheres into boiling water or milk—and there you have it (if your giftee is deep in the TikTok-verse, they're surely already aware of the relevance).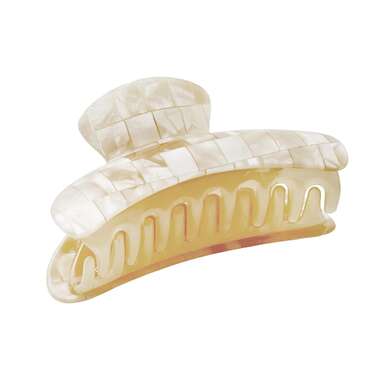 The Yes
Why it's a great gift: If there's anything the long-haired patrons of TikTok are recommending without fail right now, it's a classic '90s-inspired big claw hair clip. Large and stable enough to actually support a full ponytail's worth of locks, the thing is equal parts trendy and deeply efficient.
BONBONWHIMS
Why it's a great gift: Much like the aforementioned hair clip, these kitschy plastic rings certainly hail from the '90s (aesthetically, not literally). Made by independent artist Clare Ngai, they're stackable, loud, inexpensive, and extremely hip on TikTok—plus, they look like something you might've been delighted to find in a capsule from a 25-cent candy dispenser in your local mall.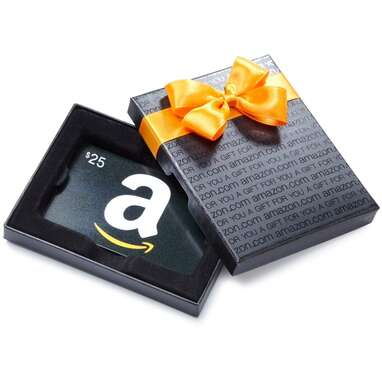 Amazon
Why it's a great gift: An Amazon gift card is like the skeleton key of all gifts—and in the quick-turn world of TikTok, a giftcard for forthcoming trending products is never a bad idea. "Amazon is THE place to buy trendy TikTok accessories," says Francati. "You can never go wrong with an Amazon gift card."
Eliza Dumais is a former staff writer at
Thrillist
. She now works as a lifestyle editor at
Refinery29
.