Great Gifts Under $10 for Anyone on Your List
Fun, functional, and not-too-personal gifts perfect for stocking stuffers and office secret santas alike.
Design by Maitane Romagosa for Thrillist
We independently source all of the awesome products and experiences that we feature on Thrillist. If you buy or book from the links on our site, we may receive an affiliate commission — which in turn supports our work.
On a tight budget this holiday season? Whether you're not feeling super spendy this year or you need some last-minute gifts for stocking stuffers, the party host, or that casual acquaintance who always insists on a gift exchange, we've got you covered. Our advice when it comes to inexpensive gifts? It's all about presentation. Cheap gifts don't have to seem cheap—so when your second cousin or Martha from HR rips through the wrapping paper, you can pretend you scoured the internet for hours searching for the perfect present. Just say, "I know how much you love dogs/the environment/photography" and you'll be a hero.
We know you're not made of money, so we've sifted through the internet's infinite offerings for these fun, functional, and not-too-personal gifts perfect for stocking stuffers and office secret santas alike. Avoid the last-minute panic of finding something for your pickiest family member with our roundup below.
Mochi Things
Why it's a great gift: Help your giftee rid themselves of hasty to-do lists on junk mail and old receipts. If you need an extra gift for your bullet-journaling, stationery-obsessed friend, consider these extra-large sticky notes. They can keep all their important thoughts in one neat place on these multi-use notes. The shape is perfect for adhering the paper to a desk, computer monitor, or inside a notebook, and the grid design makes it easy to write memos, draw graphs, or even design a weekly calendar.
Etsy
Why it's a great gift: For the person in your life with a million pictures in their camera roll, why not give a unique way to display all those memories? Made of hand-cut cherry wood from furniture scraps, these blocks are perfect for holding polaroids and small prints, and they can double as event displays for seating assignments or buffet meals. If there's someone on your list who expects a gift but you can't manage to remember a single detail about their life (we've all been there), these photo blocks are perfect: they seem personal without actually being personal. And if you want them to be personal, you can always personalize the gift with some photos you know your recipient will love.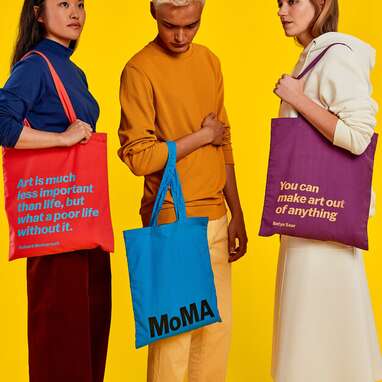 MoMA Design Store
Why it's a great gift: Art lovers can make a bold statement with these tote bags from the Museum of Modern Art. Adorned with the MoMA logo and quotes from Faith Ringgold, Pierre Bonnard, and Yoko Ono, these cotton bags are lightweight and comfortable carried in hand or over the shoulder. Your artsiest friend knows that a tote is the ultimate accessory, so they'll love a new bag to stash their keys, wallet, and whatever else the cool kids are carrying around these days.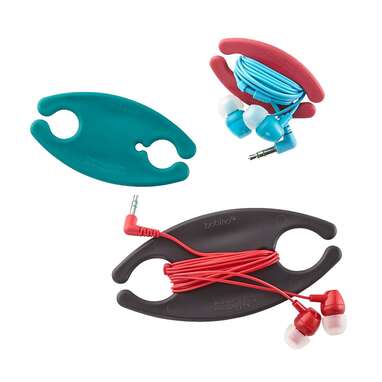 The Container Store
Why it's a great gift: If you're anything like me, your charging cords are in a constant tangle whether plugged in the outlet or packed in a suitcase. These handy cable wraps are the perfect solution and make a useful gift for anyone in your life. Available in multiple sizes and colors, these cable wraps secure cords and keep them tidy for convenient organization and easy access.
Jetpens
Why it's a great gift: Mark events on your planner or add some colorful personality to your notes or letter with these adorable stamps, available in a variety of designs including animals, shapes, and messages. These self-inking erasable stamps don't require an ink pad, and they won't bleed through paper, so they're a great addition to any pencil case. They're great as stocking stuffers for kids or adults who love to infuse some cuteness into their everyday life.
Goods for the Study
Why it's a great gift: Everyone knows that presentation is half the fun of gift giving. If you have puzzle-lovers in your life, why not make the unwrapping process extra special with this word search gift wrap? The design features fourteen hidden messages for any occasion (happy holidays, congratulations, thank you, happy birthday, et cetera), so you can delight your giftee with a sweet message in a fun, unexpected way. They'll be so delighted by this paper they might even forget about the gift that's wrapped up inside.
Etsy
Why it's a great gift: This handy, inexpensive tool is the reading accessory the booklovers in your life never knew they needed. The simple wooden instrument keeps the pages open and steady, so you can comfortably read any book with just one hand. All you have to do is slip your thumb through, open your book of choice, and enjoy the life-changing magic of this book holder. We advise stocking up on a bunch of these in different colors, since they make a great last-minute gift for any readers on your list.
Etsy
Why it's a great gift: Finally, a gift that can please cat people and dog people alike. Customizable for animals of any stripe, these magnets make a perfect addition to any pet-lover's refrigerator. Just choose the preferred size and finish and supply an adorable pet photo, and you'll have a handmade, personalized gift in no time.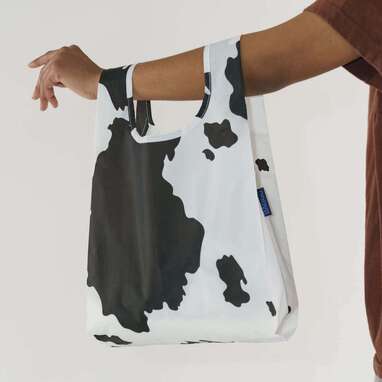 Why it's a great gift: Anyone who carries things (so, literally anyone) can appreciate a sturdy reusable bag like this one, a mini version of the Baggu classic. Perfect for quick bodega runs, picnic supplies, or a change of clothes, these bags can handle an impressive fifty pounds of cargo. These reusable nylon bags are machine washable and can be neatly folded into a matching square pouch, making them a convenient must-have in your purse, car, or pocket. Available in a bunch of unique prints—leopard, patchwork, stripes, Snoopy, and floral patchwork, just to name a few—these bags make a fun and functional gift.
Caroline Curran is a Thrillist contributor.