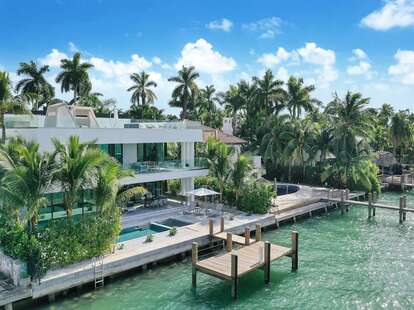 VRBO
VRBO
We independently source all of the awesome products and experiences that we feature on Thrillist. If you buy or book from the links on our site, we may receive an affiliate commission — which in turn supports our work.
A bachelor or bachelorette party cannot go wrong if it contains the following ingredients: sunshine, beaches, amazing food, non-stop nightlife, and a great group of friends. Add a sweet place to lay your head at the end of the night (or the beginning of the day—no judgment here!) and you're guaranteed a weekend you'll never forget. Or, rather, will mostly remember. Or remember parts of. Whatever! These nine houses (one pent) will take your weekend party to the next level. After all, how better to recover than a refreshing swim followed by a lunch of burgers and dogs someone threw on the grill, and an afternoon nap in the shade?
VRBO
Northeast Miami, Miami, Florida
18 guests/$3,375 per night
This six-bedroom, five-bath home has everything you could want on the inside: bedrooms with private balconies, soaking tubs, rainforest showerheads, and a gourmet kitchen with all of the bells and whistles, but the outdoor space is why you and your friends want to rent it. Sitting right on the intercoastal waterway, this south-facing home gets tons of sun, perfect for a day spent hanging out in the heated saltwater pool and jetted hot tub, napping on the chaise lounges, drinking at the outdoor bar (there's even a kegerator), making pizzas in the wood-burning pizza oven, flipping burgers on the grill in the outdoor kitchen, and watching the game on the outdoor television. Keep an eye out for sea manatee, dolphins, and other fish who cruise by the dock, making it your own private marine life park.
What guests say: "This home is beautiful and very accommodating. The extras that you can add to your stay were great as well. We added a private yacht party and a private dinner to our stay. All of the rooms were adequately laid out, and all of the common space is very functional. The outdoor area was very spacious, not to mention the hot tub and pool. Because the home is right on the water, we even had the opportunity to catch and eat some pretty tasty fish right off the dock."
Airbnb
North Bay Village, Florida
6 guests/$371 per night
Cocktails just taste better when accompanied by views of the ocean, which you'll get plenty of at this penthouse that's a short drive to all of the nightlife in Miami Beach. You'll definitely want to take advantage of the building's amenities, especially the heated waterfront pool overlooking Biscayne Bay. The pool level also has an outdoor bar, gym, barbecue, and the chance to meet some people to tell you where to go to have the most fun.
What guests say: "The space was as advertised, the view was gorgeous, and the location was exactly what we wanted. Each day we went to the pool or the beach, and each night we ate amazing Cuban food at nearby restaurants. We had a great stay, and we would definitely do it again."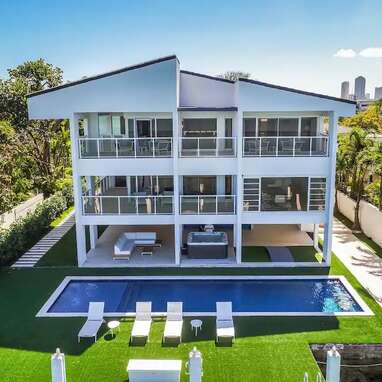 Airbnb
15 guests/$7,143 per night
This eight-bedroom villa is located between South Beach and downtown Miami, but good luck dragging yourself out on the town because when you do so, you'll be leaving behind a backyard with views of Biscayne Bay and the Miami Skyline, a swimming pool, lots of places to chill out, an outdoor living room with a "champagne table," hot tub, and outdoor bar. The inside of the house is pretty sweet as well. There are water views from every room, a theater and game room (ping pong and pool), huge soaking tubs, sauna, balconies, and gourmet kitchen in case you decide not to order pizza every night (or hire a private chef).
What guests say: "The house is amazing, it's spacious, quiet but very close to all the craziness of Miami. This is perfect for whatever your trip may entail: sitting out on the balcony after a night on the town was my personal favorite. The pool table, pool, hot tub, and beautiful scenery are the prime reasons I enjoyed my time there, but Gino was also amazing. He answered every question we had quickly, his recommendations were spot on, and he was extremely easy to work with!"
VRBO
North Bay Village, Florida
9 guests/$2,690 per night
This luxurious and modern home sits on 70 feet of waterfront and has amazing views of the bay and Miami skyline. And, don't worry, even though you'll be on your own private (gated) island, it's less than 10 minutes from the beach and about 15 minutes from the nightlife. The pool and jacuzzis have a very beachy feel, surrounded by palm trees and just steps from the dock. There's also ample outdoor living space, but the inside of the house is pretty amazing as well. Floor-to-ceiling glass walls make sure you never forget to be stoked about where you are, plus there's a pool table, spacious rooftop terrace, and since it's west-facing, you're pretty much guaranteed a good sunset if sunsets are a thing you enjoy.
What guests say: "I stayed at this beautiful house with my family, and we all absolutely loved it. The location is perfect since it's centralized; nothing is too far away. We used the pool and hot tub every day while we were there, and the sunsets from the house were incredible."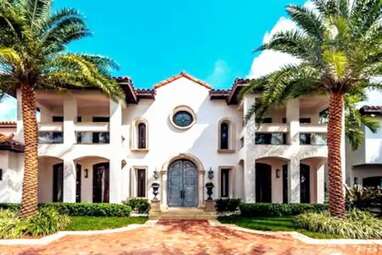 Airbnb
16 guests/$4,200 per night
This Spanish-style mansion feels like staying in a private hotel in a tropical paradise. There are 10 bedrooms and 8.5 baths, so there's plenty of room for everyone to spread out. There are views of the bay, canal, and gardens, including plenty of nooks for an afternoon siesta. There are TVs throughout, a huge kitchen indoors (and a smaller one out), a dock in case you want to rent a boat, gorgeous details, like colorful tiles, lush plants, and architectural moments, throughout, and, of course, a pool and a jacuzzi.
What guests say: "We organized a team offsite here with 10-11 people. The space was perfect for our event. We were able to meet outside and enjoy the weather. The rooms provided ample privacy, and it turned out to be far superior to hosting the event at a hotel."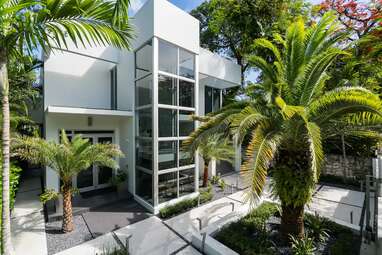 Airbnb
8 guests/$2,000 per night
This sleek and luxurious home with five bedrooms and five baths is right near Brickell, one of Miami's chicest waterfront neighborhoods known for its arts scene, amazing dining options, and faster pace (well, for Miami, anyway). The backyard has a swimming pool surrounded by palm trees, but the 2,250 sq. ft. rooftop with a hot tub, summer kitchen, and views of the city skyline and lights is where you'll want to chill when you're not enjoying the nightlife.
What guests say: "With many outdoor spaces and a beautiful garden with a beautiful pool and jacuzzi, I had a fantastic time in this house. The location was perfect, walking distance to many restaurants. The house is new, spacious, and very comfortable, and the owner was very attentive. Had an amazing experience and will definitely recommend to friends and family when they come to town."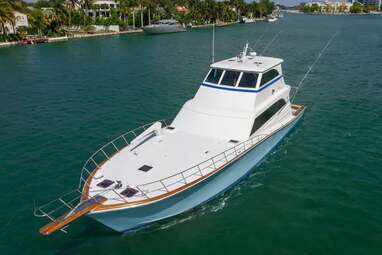 Airbnb
6 guests/$1,083 per night
Collins Avenue and Ocean Drive are synonymous with the best parts of South Beach. Steps from postcard-perfect beaches, surrounded by amazing shopping, restaurants, sidewalk cafes, and non-stop nightlife, if you want your party to be non-stop, this is the place to stay. And you could do that in a hotel, or you could do it in a way that's much more memorable: on a brand new 80-foot yacht with three bedrooms, three baths, a huge outdoor sun deck, and a state-of-the-art sound and lighting system.
What guests say: "This yacht is amazing!! Sam was really accommodating when I needed to book last minute. The interior is huge; it felt like I was staying at a luxury condo. Everything was super clean. Great views from the deck, and you can't beat this location either. I will definitely be back!"
Airbnb
12 guests/$1,571 per night
Want to cruise around on a yacht or head out for a day of fishing? What better place to stay than a mansion with plenty of room for boats up to 65 feet to dock? Even if the sailor's life isn't for you, this is still an amazing place to stay because, well: waterfront mansion with amenities galore. Amenities like indoor-outdoor living, a gourmet kitchen, billiards table next to the sliding glass doors that open up to the patio, outdoor living room with comfy seating, and, of course, a swimming pool.
What guests say: "This was definitely a one of a kind stay, great host, home was exactly what was placed in pictures, great area, sparkling clean. There isn't a thing I would change or alter about my stay here. I can not wait to book again and come back."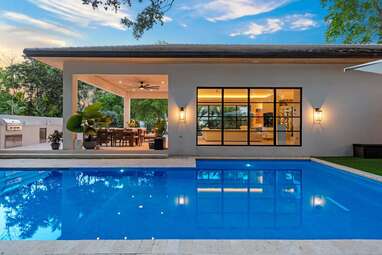 VRBO
Bayside Historic District, Miami, Florida
12 guests/$3,163 per night
The interior of this five-bedroom home is a perfect example of minimalist style done right and has everything you could need, including an open-concept layout, smooth limestone floors, natural wood accents, plenty of privacy, and even a gym, but like with most of the homes on this list, the outdoor living is what makes it stand out. Lush foliage gives the outdoor space a tranquil vibe, all the better for enjoying the spacious sitting and dining area, swimming pool, shaded lawn, outdoor kitchen, and hammock. Plus, when all of that tranquility becomes too much to bear, it's close to downtown Miami and Miami Beach.
What guests say: "The house was even more beautiful in person and the communication was great, totally recommend!"
Daisy Barringer is a writer who lives in San Francisco but is currently wondering why she doesn't live in a waterfront mansion with a swimming pool. See all of the obvious reasons by following her on Instagram
@daisysf
.