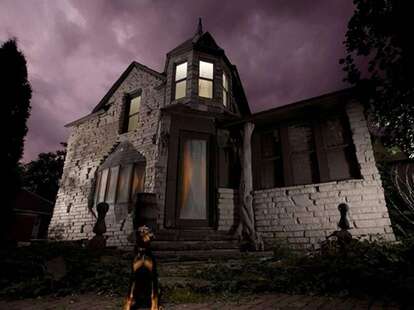 We independently source all of the awesome products and experiences that we feature on Thrillist. If you buy or book from the links on our site, we may receive an affiliate commission — which in turn supports our work.
If you enjoy the shiver running up your spine, having your hair stand on end, and your blood running cold, then these haunted Airbnbs and VRBOs will give you goosebumps. After all, what better way to really test the limits on how scared one enjoys being than by sleeping in a room with the spirits of people long since deceased who, for one reason or another, just can't let their weary souls rest?
Of course, we can't guarantee you'll have a paranormal experience at any of these haunted homes, but with the right attitude (and maybe a Ouija board), you just may hear bumps in the night, see chandeliers swaying when there's no breeze at all, and, if you're lucky, get your feet tickled by a little girl sitting at the edge of your bed while you sleep. Fingers crossed!
Airbnb
7 guests/$228 per night
This 150-year old home has been featured on ghost-hunting shows "Paranormal State" and "Portals to Hell" and is owned by a paranormal researcher who promises that the ghostly residents are friendly. If exploring the paranormal is of interest to you, then you'll want to spend time in the display room on the first floor—part museum, part "training ground." It's designed to help people get familiar with the tools, theories, and approaches of paranormal investigation but can apparently be a little creepy for those who aren't into that kind of stuff. (Why they booked this particular Airbnb is a mystery of its own!) Although the home is haunted, it is also meant to be relaxing with opportunities to connect with whomever you're traveling with or spirits (spirit communication prompts and practice decks of Psychic Aptitude Cards are provided).
What guests say: "If you love old houses, then this is your place. Floorboards creak, doors stick a little, but that's what adds character to old homes. Very quiet and peaceful place to just relax and do nothing read a book, or take a nap. Yes, this place is haunted, but the spirits are peaceful. If you don't mind the occasional knock or bump in the night or daytime, then this is your place."
VRBO
Rocky Bottom, South Carolina
21 guests/$378 per night
Three rustic cabins make up this compound that sits on a constantly flowing creek and is part of the South Carolina Heritage Corridor. Even if you aren't into ghosts, this property still has an interesting history—the owners believe it was the first home in the area to have electricity (via a water-wheel, parts of which remain). Travelers passing through the area stayed for the night to rest their heads, including President Lyndon B. Johnson. Amenities include a basketball hoop, horseshoes, open meadows, hammocks, and proximity to waterfalls, hiking, biking, tubing, whitewater rafting, and Table Rock State Park. Oh, and about the resident ghost? "Weeping Nancy" is said to be very friendly, and if ghosts aren't your thing, you can always just pretend it's the sound of the cabins creaking. Good luck with that.
What guests say: "Our family enjoyed our stay at The Shamrock House. The compound is full of rustic beauty and is a real step-back in time treasure that the owner is kind enough to share. We were able to spread out so that our party of all adults had their "space." We had fun visiting Sassafras Mountain, Twin Falls, Lake Jocassee, Ceasars Head, The Pretty Place, Jumping Off Overlook, Gorges State Park, and many other area attractions. My mother was surprised to see a mama bear and her two cubs come down the walk beside the Bunkhouse and then down below the Trout House one afternoon. As for Nancy, I personally didn't witness anything, but my niece said she saw someone outside the upstairs bathroom of the main cabin when she was the only person up there, others saw flashing lights, and my sister thinks someone pushed her down the steps (she was okay, just took a coffee bath!). The owner was very kind and helpful. Would recommend for anyone wanting a true mountain experience."
Airbnb
2 guests/$145 per night
There are three rooms you can call your own for the night in the 130-year-old Parks-Bowman Mansion in New Orleans' Garden District, but if you would like to meet a new friend, this is the one you want. The large bathroom is on the third floor and has views of New Orleans and a "stately" oak tree, a sitting area, and a private balcony. You'll also have access to the entire house, including the music room, formal dining room, parlor, garden, lap pool, and two friendly dogs who call the mansion home. Also apparently occupying the bedroom? The ghost of a young girl with dark hair who is occasionally seen wearing a long yellow dress and walking with a limp—much like the youngest daughter of the first family to ever occupy the house in the late 1880s who died at a young age and was buried on the grounds. She's allegedly quite shy, so you may not see her, but pay attention, and you might hear footsteps, doors opening and closing, a soft lullaby, or just have the comforting sensation of someone sitting next to you on the bed.
What guests say: "Loved staying here! May have had a ghost experience where I was tapped on the back a couple of times, but that just added to the fun! The house is amazing, Adrienne is great, and Boggs is a perfect boy. Would love to stay here again."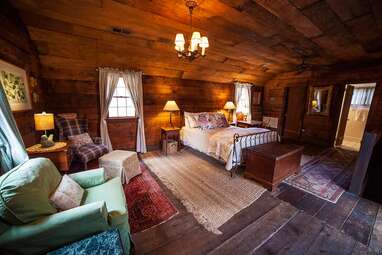 Airbnb
4 guests/$203 per night
This 1799 guest house is in the heart of Savannah's Landmark District in the middle of a "private urban woodland." Filled with antique furniture and art from the region, it was used in Robert Redford's film The Conspirator and is on many home and ghost tours because it has retained so much of its historic charm. Or maybe it's on those tours because Laura, the ghost who haunts the cottage and once lived there, beckons people so they can see the gorgeous flowers that she still grows. Allegedly, she's good-tempered, though she may try to get your attention by opening windows and turning the lights on and off. Probably best to admire the flowers, but not pick them, then.
What guests say: "This cottage is within walking distance to amazing restaurants and historic sites! Vicki has the tiniest detailed cozy touches to make this Airbnb truly unforgettable. From fresh flowers to movies and literature relating to Savannah's great history, you'll be glad you didn't stay in a modern hotel. Our favorite part was reading the guest book of all the spooky experiences! We had a few ourselves, but would definitely stay here again! The best way to describe this place is as if someone's cozy grandmother's house and a museum had a baby, this cottage would be the result."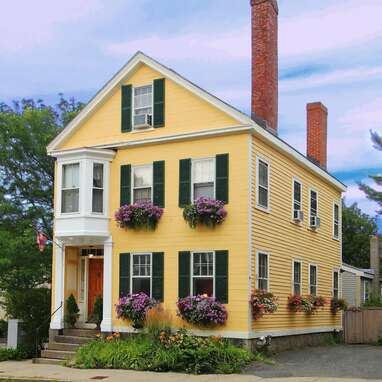 Airbnb
10 guests/$552 per night
Is a list of haunted vacation rentals even a list of haunted vacation rentals if it doesn't include a home in Salem, Massachusetts? The Henry Derby House, a charming 1838 Victorian painted bright yellow with green shutters and window boxes full of colorful flowers, is close to downtown Salem and you'll have access to all of it. You and the ghost of at least one spirit—a teenage girl who seems to be stuck on the third floor but takes it in good stride and has a bit of fun with the situation, moving objects, and even tucking people into bed and tickling their feet. If the latter scares you, may we suggest you wear thick wool socks?
What guests say: "The location is excellent, very near and walkable to many shops, restaurants, and other attractions but still relatively quiet also. So many beds and bathrooms. The 3rd floor did feel a little spooky, even before we looked up the history. Also, I didn't realize ghost cats were a thing until we had a brush with this one. Very responsive host, though no problems came up."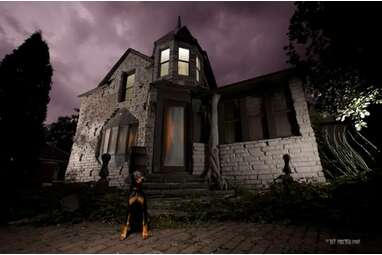 Airbnb
4 guests/$78 per night
Spend the night in the primary bedroom of a home once named "the most mysterious house in Saint Paul" by The Pioneer Press, and maybe you'll cross paths with Rosalia Fihn, a girl who caught typhoid fever in 1908 and died. You'll know it's her because of her white dress and the fact that she's a ghost. When not interacting with dead people, you can enjoy the bedroom with tall ceilings, lots of sunlight, a queen bed, and even an air mattress if you want to have a midnight seance with a couple of your friends. You'll also be able to take advantage of the large courtyard with a fire pit, picnic area, and the fact that you get to pet a very friendly Doberman named Scorch.
What guests say: "Sean is a great host. He has a lot of pride in his home and has spent a lot of time and effort making sure it is comfortable for his guests. I loved the character, workmanship, antiques, and Scorch, the sweetest Doberman you ever will meet. We would definitely stay again."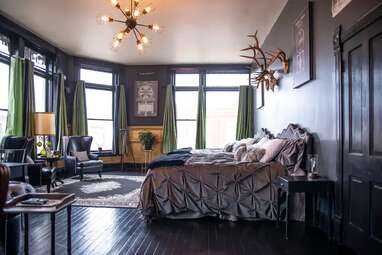 Airbnb
16 guests/$900 per night
A Victorian-era building that was a brothel, casino, and saloon is appealing enough on its own. But then to know that it's haunted by the ghost of a miner who died in a gunfight? What are you waiting for? More reasons to book it? Okay, what about all of this? The Black Monarch has its original ornate solid oak doors, bay windows, hardwood floors and stairs, and tin ceilings; it's full of furniture that feels like what you imagine when you think of a brothel even though it's probably 100 times more luxurious, as well as creepy art and taxidermy (!). The town was once the site of the second largest gold mining district in the United States, but like so many others, the population dwindled from 18,000 to 397. (No word if the ghosts are factored into the most recent census count.) And while one might think they'd get a good night's sleep in a town with so few people, don't count on it. A common "complaint" is being awakened in the middle of the night by men and women carousing on the main floor.
What guests say: "The Black Monarch is probably the most unique place I've ever stayed—in fact, our bed was a ouija board! This is not a hotel such as the Stanley Hotel, where they have ghost tours and fake history. This place has a true spooky and unique history with incredibly thoughtful touches to add personality. I could tell a ton of planning and effort went into every single little detail. It almost looks like designers from "Sleep no More (an immersive theatre play in NYC) helped decorate this space."
Airbnb
2 guests/$136 per night
This 1900 building is a schoolhouse-turned-tool factory-turned-artist studios-turned-Airbnbs and is located inside of the Cedar Park Cemetery, which is as much a park as it is a place that is home to thousands of burial plots and has all manner of notable people resting in peace. This building has several lofts; this one is Chinese-inspired, meaning you'll sleep in an authentic 18th-century Opium Wedding bed. Not creepy enough for you? Think about it this way: If no one is renting out the other spaces, you'll be the only living soul for miles.
What guests say: "A converted schoolhouse that is nestled in a historic cemetery - and it's every bit the interesting and unique experience that you could imagine. Laura Ann is an absolutely delightful host: friendly, helpful, quick to respond, everything that you hope for in an Airbnb host. The building and this particular room are fun, funky, quite comfortable, well-appointed, completely interesting spaces that make you smile and engage all your senses, making for a completely enjoyable stay.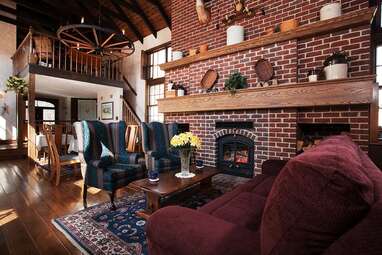 VRBO
2 guests/$143 per night
The Baladerry Inn was constructed in 1812 on the Bushman Farm, land that was later right on the edge of the battlefield and home to a field hospital for the Army of the Potomac during the Battle of Gettysburg. The inn is very charming with exposed brick walls, fireplaces, and lots of antiques, and every morning you can enjoy a full country breakfast before setting out to see the historical sites. Hoping to see some ghosts? Over 3,000 Union troops were killed in the three-day battle, and at least a few are still hanging around.
What guests say: "The Baladerry Inn is a perfect B&B right outside of downtown Gettysburg. Judy is an absolutely wonderful hostess and a very talented chef. Her breakfasts are amazing!!! The rooms are comfortable and our room was quite spacious. The property is nicely appointed with a hot tub, firepit, and welcoming common areas. We will definitely be staying here again the next time we are in town! No ghost sightings, but the Inn is apparently haunted!"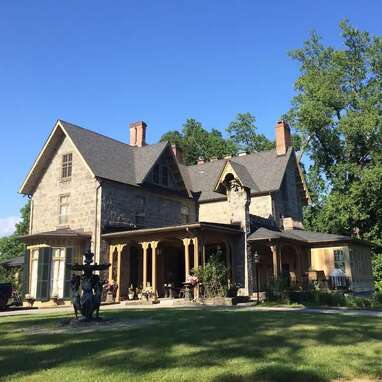 Airbnb
12 guests/$500 per night
This 19th-century Gothic "castle" has 20 rooms, a four-story tower (with amazing views), marble fireplaces, a ballroom, swimming pool, and the ghosts of at least two children and an older man (who brings with him an aroma of cigar smoke). Is that man Henry Richard Hazelhurst, who made a fortune in the iron trade during the Civil War and was the last person in his family to die (inside the mansion at the age of 85 in 1900)? Are the children two of several who died in the home? Perhaps. As the story goes, all was well until the mansion suffered great loss during a fire and the new owner rebuilt it in a very different style. One that was not, apparently, to the liking of the former master of the house and has made that known through loud footsteps, windows that won't budge, and swinging chandeliers. As far as the children? Perhaps they're his, keeping him company so he won't have to haunt the house alone. The girl is sometimes spotted by his side. The boy, on the other hand, just cries in the upstairs bedroom. But hey! Twenty-room mansion with a ballroom and a pool. Totally worth it.
What guests say: "The place is spectacular, steeped in history, and is impeccably clean. You can lounge by the pool, grill, relax with a drink at night or dine in the lavish dining room - all of which we did and would absolutely do again. FYI considering this place has been in many movies, the pictures really do not do it the justice it deserves !!!! I would 100% recommend the property, the location, and our gracious hosts to anyone in the future and would hope to go back again someday."
Daisy Barringer once lived in a haunted home in Wilmington, North Carolina. Now she just lives in a rent-controlled apartment in San Francisco that she has every intention to haunt after they pull her cold, dead body out of it one day (hopefully not soon!). Follow her on Twitter
@daisy
for even more morbidity!