Paid Content For
Helt Studio
5 Sturdy & Stylish Aprons That Make Great Gifts for Aspiring Home Chefs
Cheap aprons can't stand the heat, so get them out of the kitchen.
Paid Content For
Helt Studio
We independently source all of the awesome products and experiences that we feature on Thrillist. If you buy or book from the links on our site, we may receive an affiliate commission — which in turn supports our work.
Whether you're simmering a pot of bolognese sauce or tempering chocolate for some homemade candy, there's always potential for things to get messy in the kitchen. That's why aprons are as essential to any cooking tool arsenal as a good knife or sauté pan—and they happen to make excellent gifts for home chefs. While you can easily find tons of polyester options online for a few bucks, those won't exactly bring holiday cheer to the cuisiniers in your life (not the serious ones, at least). If you really want to make an impression this holiday season, look no further than Helt Studio.
Backed by a team of chefs and restaurant owners, Helt Studio sells uniforms specifically designed for the everyday tasks of kitchen workers—think liquid-repellent fabrics, large pockets, and slick yet comfortable designs. Its target customers are professional chefs, but the products work just as well for home cooks who want to feel big-league without donning a double-breasted jacket and toque blanche.
Helt Studio's canvas aprons make particularly great gifts, as they come in a variety of styles and colors—and because everyone enjoys protection from marinara splatters. Whether your giftee prefers something classic or chic and modern, you're sure to find an option here that fits the bill. (You can even customize certain aprons with embroidered text, as well.) To help get your search started, check out five of our favorite picks.
Helt Studio
Bib aprons fully cover both the torso and upper legs, so they're the best when it comes to protecting against stains and splatters. Helt Studio ups the protection factor even more with its CrewTech Fabric, the brand's signature water-repelling, 4-way stretch, sweat-wicking material. Serious home chefs will love this particular apron not only for the fabric, but for the pockets as well: one chest pocket, two lap pockets, and one sneaky hidden pocket for your phone. The traditional Alpine White color is a nice touch, too.
Helt Studio
This bib apron is made with Japanese canvas, not the waterproof CrewTech Fabric; but you'll probably be extra careful not to spill and mess up that gorgeous burgundy color anyway. (You can change the color in the "personalize it" section, but why would you?) It also comes with four pockets, and the adjustable white straps and antique brass hardware look particularly nice against the deep red material.
Helt Studio
We dare you to find an apron better suited for grilling meat or cooking up a big pot of chili. Helt Studio drew inspiration from the Wild West for this denim uniform, which is as equally functional as its other aprons, but as laidback and comfortable as wearing a pair of jeans. There's still a touch of professionalism, however, since the raw denim has no signs of distressing or artificial washing. So it's really more of a Wild-ish West look, if you will.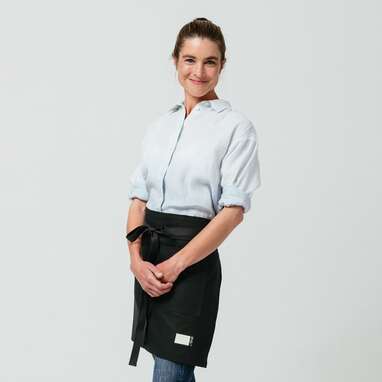 Helt Studio
Bistro aprons tie around the waist as opposed to up around the neck, making them ideal for front-of-house staff like bartenders and waiters, as well as chefs who maybe don't need quite as much coverage. This Raven number is both stylish and sturdy, made with DWR (durable water repellent) canvas and black straps that blend right into the overall design. It comes with two sizable pockets for storing your phone, wooden spoon, or whatever else you may need to work your gastronomic magic.
Helt Studio
This bistro apron has no right being so stylish, but here we are. The tan design could almost be mistaken for a skirt you'd wear with thick tights during a fall afternoon, but it is just as strong and utile as Helt Studio's other products. In fact, it may even be sturdier. It's made with waterproof duck canvas, a fabric lighter and more flexible than traditional canvas but more hard-wearing than even denim. Wear it while you whip up a delicious meal for your next dinner party, then keep it on as you serve your guests at the table—if someone happens to snap a picture of your cute self, so be it.