We independently source all of the awesome products and experiences that we feature on Thrillist. If you buy or book from the links on our site, we may receive an affiliate commission — which in turn supports our work.
There's no better time than the start of a new year to get your house in order—and that certainly applies to your home office. Whether you're a full-time WFH warrior or just need a designated space for reading mail and paying bills, an organized work area is a must. After all, nothing kills productivity faster than piles of clutter.
To kick-start your "new year, new you" journey of tidying up, we tracked down the best office storage and organization solutions on Amazon right now. These pencil holders, desk organizers, and charging stations (among others) all have excellent customer reviews, and all are guaranteed to create a home office that Marie Kondo would surely approve of.
Amazon
Sick of rummaging through drawers to find your favorite pen? This desk organizer will keep all your writing utensils separate and within reach, and its 360-degree rotating capability helps you find whichever pen or marker you need in a snap. It's divided into four sections, and it's bigger than it looks—reviewers claim you can fit 75-150 pens in there.
Amazon
Chances are you need to store more than just pens, which is where this desk organizer comes in handy. It has five separate compartments plus a sliding drawer to hold your pens, stationary, ruler, scissors, and basically anything else you'd normally have cluttering up your desk. The rose gold color is particularly lovely, but you can also opt for silver, gold, or black.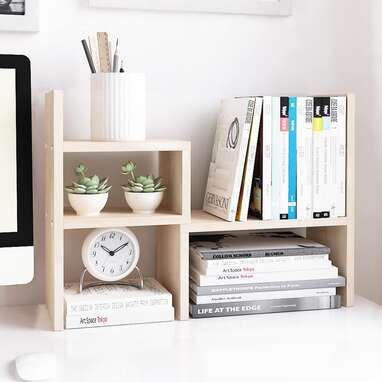 Amazon
If you don't have room in your office or desk nook for a bookshelf, fear not: This adjustable wood display shelf is just under 16 inches high and wide, and you can use it to store everything from books and office supplies to potted plants and knick knacks. Just place it on your desk and let the arranging begin.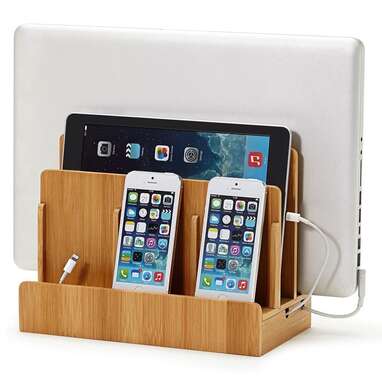 Amazon
When it comes to office supplies, electronics are just as essential as pens and paper. Keep all your tech organized—and, more importantly, keep all those cords untangled and hidden—with this multi-device charging dock, which can hold up to five gadgets. Simply tuck your cords in the dock's base and use the elastic bands to secure them in place. (The charging ports can stick out through holes for easy access.) After adding the lid, store your laptop, tablet, phones, or other handheld devices, and get back to work.
Amazon
Depending on the type of desk you have, surface space may be very limited. Instead of taking up prime real estate with a bulky magazine rack or letter tray, move your storage below the surface with this hanging organizer. Slip the unit onto the edge of your desk, then use the included wrench to tighten the screw until it's secured in place. The product is available with varying numbers of storage compartments, so choose the best option for your particular filing needs.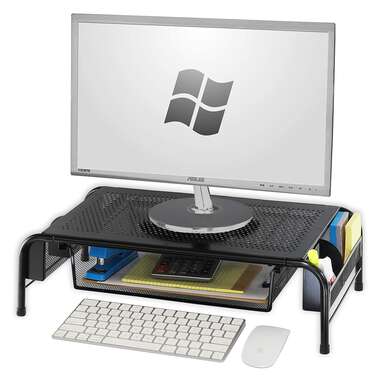 Amazon
Another clever way to make the most out of your space, this stand raises your computer monitor (or laptop) about six inches above desk-level, allowing you to store more stuff underneath. The riser features a slider drawer for files and letters, plus four side pockets for your cell phone, iPad, or any other basic office supplies. Another perk? Raising your screen a few inches will do wonders for your posture.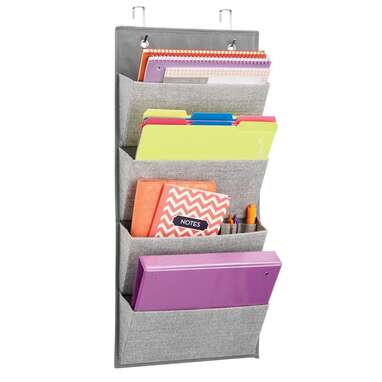 Amazon
If you've ever had to find extra storage for your zillion pairs of shoes, you're probably already familiar with the glory of over-the-door organizers. This one is specifically designed for office supplies, with four large cascading pockets that can fit all your files, notepads, and binders. There are also a couple bonus pockets in the middle section for smaller essentials, like pencils and reading glasses. The organizer comes with two hooks that fit over most standard interior doors.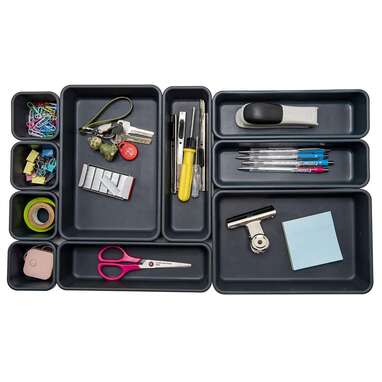 Amazon
Nothing ruins a state of organization-induced zen faster than an unruly junk drawer. While we wouldn't dare tell you to get rid of your junk drawer entirely, you can at least tidy up the chaos a bit with these desk drawer separators. The 10-piece kit (also available in a 36-piece set) features bins of various sizes that you can mix and match to fit any space. The smaller bins are perfect for items like paper clips and push pins, while the larger bins can fit staplers, scissors, and writing utensils.
Amazon
If you work from home full-time, you probably like to move around the house as opposed to staying in the same chair for eight straight hours. This handy utility cart can not only roll from room to room, but it supplies an insane amount of storage space—even if you decide to make it a static feature in your home office. (The wheels lock to keep it in place.) The cart has two main storage compartments, a sturdy plastic drawer, and a wood tabletop that gives the entire piece an elegant finish.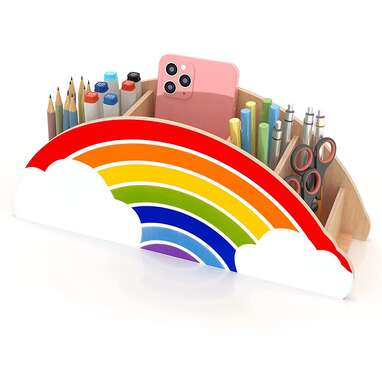 Amazon
Now that we've covered the basics, we're going to leave you with a few fun and unique organization options—ones that still get the job done, of course. This wooden rainbow supply caddy is perfect for a crafting station or children's room, or even for your everyday work space if you really need an extra dose of color. The caddy has six different compartments and requires absolutely no assembly to set up.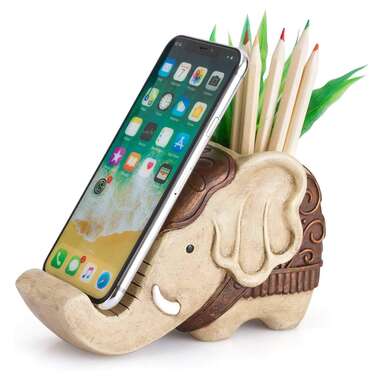 Amazon
This elephant-shaped pencil holder is both adorable and functional, serving as a phone stand in the front and a pencil holder in the back. The phone stand (i.e. the elephant's trunk) keeps your device upright and within reach, which is particularly helpful if you need to make a FaceTime call or join a Zoom meeting while keeping your hands free. The pencil holder isn't particularly big—it probably won't hold more than 7-8 pencils—but the pure cuteness of the product more than makes up for that.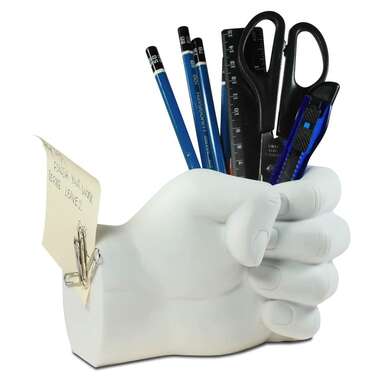 Amazon
If you need a pen holder that will really lend you a hand (heh), this Tech Tools organizer will certainly do the trick. You can fit writing utensils and scissors in the product's tight grip, and attach paper clips and other tiny supplies to the magnetic surface on the wrist. The holder is durable and lightweight (about 2.5 pounds), and it's certainly more interesting than storing your pencils in a boring black mesh cup.
Caitlin Morton is a travel and lifestyle writer based in Kansas City. You can follow her on Twitter @CaitlinMorton23.