We independently source all of the awesome products and experiences that we feature on Thrillist. If you buy or book from the links on our site, we may receive an affiliate commission — which in turn supports our work.
We ask a lot of our home speakers these days. At any given moment, they might contribute as a party starter, home theater, gaming oasis, or just a microphone for your virtual assistant.
Even from a purely musical standpoint, there's a huge range of media depending on your listening style. Maybe you're into the warm sound of vinyl, the crisp quality of CDs, the convenience of streaming, or even the recent reemergence of cassettes—you really can't go wrong. But however you choose to turn up, you need a setup that's worthy of your tunes.
The key is to find speakers that align with how you plan to use them. There are a ton of different directions you could go in, but we poked around for some of the best options available on Amazon right now. From all-in-one audio systems to homey bookshelf speakers, you'll be sure to find the perfect setup for your space and budget.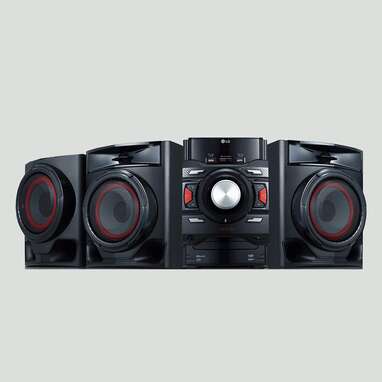 Amazon
If powerful, flexible sound is what you're after, the battery-powered LG XBoom audio system is worth looking into. It churns out 700 watts of audio and comes with easy bluetooth connectivity to wirelessly sync with your smartphone or smart TV.

It also has a built-in CD player, an Auto DJ feature that plows through the gaps between songs, and dual USB drives for quick access to mp3 files.

The main thing to consider here is space. It isn't exactly lightweight at nearly 40 pounds, and you'll need to be strategic about placement for optimal sound.
Amazon
A sleek system that won't take up too much space, this setup from Philips is a great multi-purpose option for your living room or bedroom. It'll work with any bluetooth-enabled device, and it comes with the option to play CDs, via USB, or FM radio.

The system has dual amplifiers to ensure deep, pure audio, plus MAX sound technology for enhanced bass-heavy tracks and overall sound performance. There's also an aux input, so you can wire in any device that's compatible.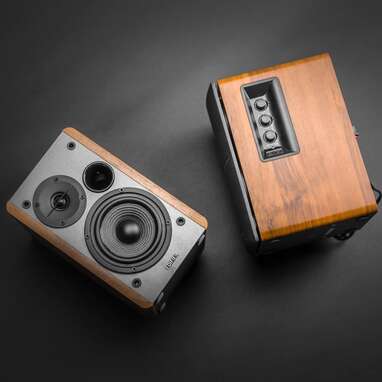 Amazon
Edifier makes some of the most popular and best-performing bookshelf speakers available. They look great, and produce some seriously good sound considering their size (and price).

These are a perfect choice for anyone who has a turntable with built-in preamp. The simple side control panel allows you to quickly flip between bluetooth and wired devices, and you can adjust volume from the couch with a handy remote.

Edifier also makes a (slightly) cheaper version that lacks bluetooth—but for those days when you can't be bothered to flip a record, you'll appreciate the option to throw on a looped playlist.
Dual Electronics
Odds are you have more than one area of your house that you want filled with music. If that's the case, you might want to consider mountable bluetooth speakers to spread out the sound.

These Dual Electronics speakers are weather resistant, making them a solid choice for indoor or outdoor use. They can be mounted either vertically or horizontally and come with swivel brackets for 120-degree range of motion to fit any space.
The speakers won't scratch a true audiophile itch, but in terms of multifunction use, they'll be just fine.
Amazon
At the convergence of price and performance, Polk Audio is a tough brand to top. These bookshelf speakers have a classic look that you can adjust by removing the grille, and they're easily mountable if you want to free up some space.

With Dolby and DTS supports, these are a great option if you're creating a home theater, but they can also push out concert-quality sound as part of a stereo setup. The only knock here is that they don't come with bluetooth, so you'll have to look elsewhere if you're looking to cut out the wires.
Bose
The Bose Home Speaker 500 has versatile, modern features without compromising on audio quality. A single speaker that'll crank wall-to-wall, stereo-quality sound, it has a color LCD screen and built-in Alexa and Google Assistant compatibility.

It's also friendly with any other products in the Bose smart family, so you can connect it with your soundbar for multi-room listening.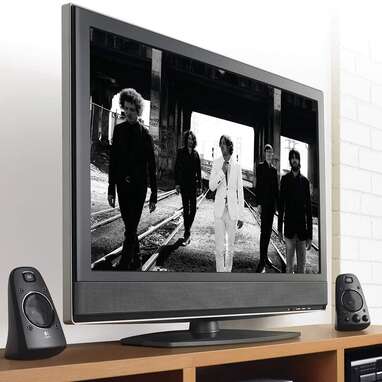 Amazon
Our final selection is one for any and all sounds, whether you're a music-lover, gamer, or film buff. This Logitech system is THX-certified and comes with two satellite speakers to complement its powerful subwoofer. It features RCA and 3.5 millimeter inputs, and you can connect up to three different devices at a time.

You also have a few different input options depending on how you use your speakers. The strictly analog version is great for wired devices, but you can also upgrade and add optical or bluetooth compatibility if you need it.
Chad Rafferty is a Thrillist contributor.