How to Transform Your Living Room Into a Mini Movie Theater
When you can't go to the movies, bring the movies to you.
We independently source all of the awesome products and experiences that we feature on Thrillist. If you buy or book from the links on our site, we may receive an affiliate commission — which in turn supports our work.
Please indulge me for just a moment: Close your eyes and imagine what your perfect home theater would look like. If I had to guess, I'd imagine it resembles a small movie theater. There'd be a few rows of plush recliners with cup holders -- likely brown or black. There'd be a large projector screen at the front, and overhead lights that dim (though it's hard to imagine where the dimmer switch would be, isn't it?). Are the walls red? The walls are always red in my imagination.
Our concept of a home theater is often magnificent and sometimes a delusion of grandeur, likely attributed to the setups we've seen in shows like MTV's Cribs, Lifestyles of the Rich and Famous, or any iteration of our voyeuristic fascination with how the 1% lives. But for most of us, creating a theater environment requires creativity and shrewdness. Especially now, when so much of our time is spent inside binging Netflix and finding comforts within our own spaces.
The goal here is to help you create create a theater-caliber experience at home with as little intrusion as possible. We achieved this by enlisting the help of a professional interior designer, Tina Rich (who's worked with numerous notable clients around NYC), as well Thrillist's own Entertainment Team -- who are literally expert movie watchers -- to guide you through what to buy and why. Let's get right into it.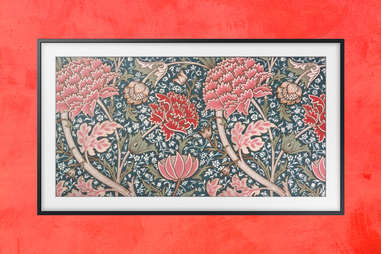 Devices
A sizable TV
Let's get the obvious out of the way. You're going to need a big TV (or projector!). And since it's 2020, you're going to want a flatscreen that boasts UHD 4K resolution (this is going to date itself so bad in five years). Lucky for you, the TV market is saturated with quality screens that come in at all price points. For instance, I opted for this 58" Westinghouse when it was on sale for $299.99. It's by far the best value I've ever seen for a sizable TV with great resolution. That said, our experts recommended something 65" or larger. This Samsung fits the bill and hits at a price that isn't too extravagant.
And with that, our first Tina Tip™: "I always suggest mounting a TV, even if you have a credenza below. It's a much more elevated look. The Samsung Frame TV allows you to display artwork within its perfectly simple "frame". You can even surround it with other pieces to create a gallery wall, and you would never know it was a TV."
A projector
If you have the space to adequately hang a projector, color me impressed. Once you've established that you do, in fact, have enough space (the easy part), you'll have to decide which projector to go with (the hard part). Projectors are not one-size-fits-all and they're certainly not one-price-fits-all. That said, one of the best deals under $1,000 is the BenQ Full HD Home Theater Projector for $699. For something slightly cheaper yet still impressive, check out Epson's line of projectors -- like the Home Cinema 2100 which is discounted to $549 right now (usually $850). If your budget is tighter than your high school letterman jacket, Vankyo has your back with a 1080p portable projector for only $108.
Something to support your streaming
When it comes to comparing the streaming device heavyweights -- Apple TV, Roku, Google Chromecast, and Amazon Fire Stick -- the decision is largely personal preference. I've used an Apple TV for what seems like eons now until I purchased my Westinghouse, which happens to have Roku built in. A couple of Thrillist's Entertainment staffers swear the Amazon Fire Stick is the best choice, while another uses a PS4 because it can also play their Blu-ray collection and be used for gaming (a double-whammy). Please note that an Xbox can also do this!
At the end of the day, my pick goes to Apple TV for its intuitiveness and user experience. But I'll give Roku the runner-up (as well as a special shout out to the Roku Smart Soundbar with built in streaming).
An Echo or Google Home
The future most certainly is now. If you were to tell me 10 years ago, I could walk into my room and say "Alexa, theater mode" and the lights would dim and the cool intro jingle to 20th Century Fox would play, well I'd say something along the lines of "2020 sure sounds rad!" And hoo boy would I be wrong. But, I digress. If you add an Echo or Google Home into the mix, you'll be able to control lights, music, power outlets, and numerous other devices with just your stern yet brilliant voice.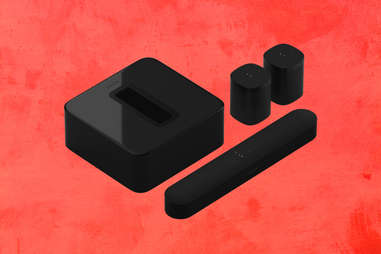 Sound
Getting a 60" TV without a soundbar or speaker system is like getting an iPod without headphones or purchasing a convertible when you live in Seattle. Sure, it technically still works, but what's the point? The simplest solution here is to find a soundbar that fits your needs. Bose makes an excellent product that's under $200. If you want to level up, check JBL's soundbar/speaker/subwoofer combo which will give you an easy entry into the world of surround sound. Now, if you're looking for the gold standard, Sonos makes an absolute unit of a sound system. It's all wireless with deep bass, clear mids and highs, and will deliver a true theater experience directly into your ears/brain. Plus, it's totally customizable.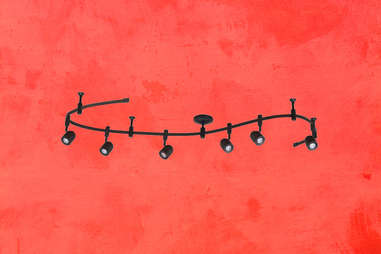 Lighting
This is important! Let's start with the basics: lamps. Personally, I love a good floor lamp (like this tree lamp or this tripod lamp). They're easy, good looking, and -- if you take the time -- can be controlled by a dimmer, which Rich also puts to good use in our third Tina Tip™. "In my own home, we have everything on dimmers so we can adjust the lighting levels as needed." As for how to light the living room? She's a big fan of sculptural lighting, like these sets from Yuko Nishikawa.
If you happen to have overhead lights already installed in the room, a set of Phillips Hue bulbs is the move. They can be controlled via smartphone (or Alexa/Google Home) and even change colors to set the vibe. If you don't want to take that route, install a dimmer. The other option is to install track lighting in your ceiling. It's not the simplest solution, but it'll provide a more theatrical experience. For a set you can install yourself, Catalina has you covered with a modern and functional design.
Lastly, backlighting. Backlights can reduce strain on the eye and help with contrast, both of which are essential to a pleasurable viewing experience. There are two routes here. The easy road is to get a USB plug-in version that wraps the back of your TV (as seen here). The pricier (though more dramatic-slash-cinematic) choice is to set a couple of Philips Hue LED bar lights behind your set up. Or you could try one behind the sofa, one behind the TV. Your house, your rules.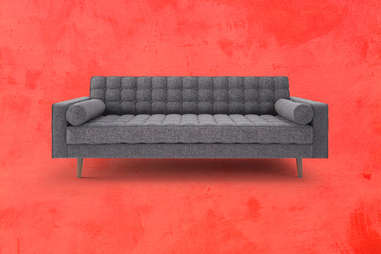 Furniture
If I could do things my way, I'd go into my living room, get rid of my couch, and line up two rows of four reclining chairs that'd take up, well, the entire space and probably piss off my partner. Some would call this ineptitude. Because of this, Tina Tip™ #2 comes in. With her gifted eye for arrangement she knows how to achieve a theater-like atmosphere without pissing anyone off, and after all, that's the conceit here. Rich loves things like this vintage '80s high style sofa from Cherish, particularly because "the upholstery is in great condition so you won't have to pay to re-upholster."
If space/funds are an issue, AllModern can help out with something like this mid-century square arm sofa for $666. If you decide this is what you want, I'd highly encourage you to consider an ottoman to throw your feet up on. And this one from Kelleia Darrow looks like it'll get the job done.
Another thing you might want to snag is a TV tray or table. If you dim the lights -- or turn them completely off -- it'll kind of mimic the dine-in experience of places like Alamo or iPic (I said almost!) The benefit of this versus a coffee table is that you'll have your own space to eat and spill popcorn on, rather than arguing with your roommate about where those watermarks came from (I know it was your beer, Tevin). And of course you can add more stuff, like this incredibly cool recliner from Shelby, but consider the above recs the bare necessities.
Food & Drink
The perfect home theater needs to be equipped with only the finest of cinematic delights. For starters, let's take a look at this vintage popcorn machine that makes 10 cups of the good stuff per batch. And after eating 10 cups of that popcorn all by yourself watching Contagion for the 50th time, you'll need a drink. Enter: The vintage mini fridge from Frigidaire that'll fit a sixer of your favorite beverage or one very large bag of wine. Having company over and need a little extra? Throw a Soda Stream into the mix and create your own colas (or mixers!). And as you're entertaining and making your way through all the best movies of 2019 you missed, you're definitely going to want a fully-stocked home bar. Oh, and a marg making machine for good measure, naturally.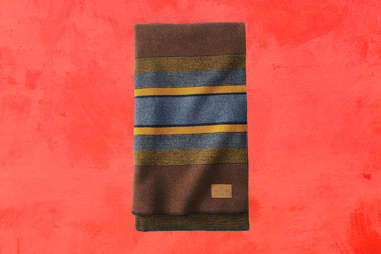 Everything Else
Okay, you've got the requisites. A TV, comfortable sofa, good lights, and the food & drink is on point. What else is there? The small stuff, my friend. Let's start with window treatments (assuming you have windows to treat). Our expert Tina can take the lead on this one: "Window treatments go a long way to finishing off a space. I love a sheer curtain and suggest doing them wall to wall, rather than just framing the window. This gives the appearance of a much bigger space. The Shade Store is a great resource."
You'll also want to think about cord management. A $1,000+ TV with cords dropping down the wall isn't a good look. Luckily, this is an inexpensive fix and you can find a slew of options on Amazon.

Want to watch the Liam Neeson flop Cold Pursuit without waking your partner in the other room? Throw on a pair of wireless, noise-cancelling headphones. I wrote all about those here. And because that movie is set in the mountains outside of Denver, go ahead and grab a throw blanket to keep you real cozy. I'm a big fan of this one from Pendleton (because it can also come camping with me), but if you want something that'll stay on your sofa indefinitely, check out Huckberry. Then, choose your toppings to complete the setup (read: throw pillows). Now all that's left is to get comfortable, turn off your cellphones, and stay tuned for the feature presentation.
Want to know more about our favorite products and services, and get great deals on cool stuff? Sign up for the weekly Thrillist DealMail.