The Best Gifts for People Who Love to Throw Parties
Some are functional, some are fun, but all will be appreciated by the born entertainer in your life.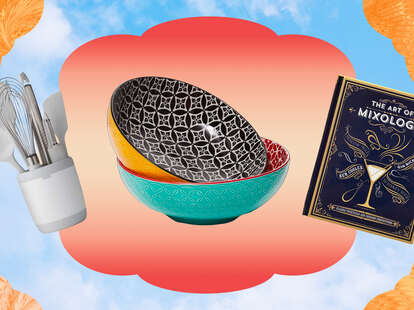 Design by Maitane Romagosa for Thrillist
We independently source all of the awesome products and experiences that we feature on Thrillist. If you buy or book from the links on our site, we may receive an affiliate commission — which in turn supports our work.
Let's be honest. Throwing a party can be stressful, between putting together a guest list, finalizing your menu, selecting music for diverse tastes, and figuring out all the minute logistics. But for some, the deep dive into the details is their time to shine.
We have rounded up a few cool gadgets, games, and other knick-knack options to help you figure out the best gift for the party people in your life. Some are functional, some are fun, but they'll all be appreciated at the next birthday, dinner, anniversary, Christmas, or "just because" party.
Design by Maitane Romagosa for Thrillist
Actually Curious is designed to build connections and bring people together, making it the ultimate party game. The original version of the card game encouraged having conversations with more empathy, with questions reflecting on values and perspectives on important issues. Subsequent iterations have put a twist on the initial premise. The Happy Hour edition deck conjures up the camaraderie of an after-work rendezvous, while the Culture edition puts a nostalgic slant on the game. Both are included in the Icebreaker Bundle.
Design by Maitane Romagosa for Thrillist
WHATEVER is not for the faint of heart. In fact, the boundary-pushing game might even make you blush. The game box includes 200 cards issuing challenges, drawing confessions, forcing showdowns, or doling out penalties for those who can't take the heat. Some of the tasks are on the racier side, so it's best for a crowd who feel comfortable being awkward together and are down to get real and unfiltered.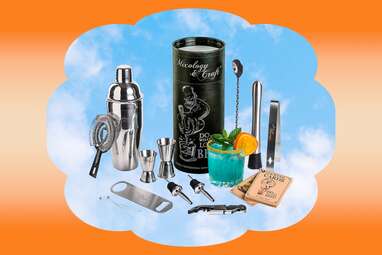 Design by Maitane Romagosa for Thrillist
This comprehensive toolkit has almost everything a host will need—minus the booze—to dazzle guests with their drink-mixing savvy at a dinner party. The stainless steel set includes a 24-ounce shaker with a built-in strainer that will yield at least three drinks in one go, a Hawthorne strainer, a handy Mojito muddler, a mixing spoon, liquor pourers, a double-sided jigger, cocktail picks, a bottle opener, a double lever corkscrew, and ice tongs all neatly tucked into a sleek cylindrical case. Get the party started with one of 20 recipes from the convenient stack of cocktail cards.
Design by Maitane Romagosa for Thrillist
Dragon Glassware's gravity-defying whiskey glasses are diamond shaped and sit solidly at a 50-degree tilted angle. They are perfect for whiskey, scotch, and bourbon, though they really could make just about any drink on the planet sexier. These glasses are also a great conversation piece, and not just for their unique shape. They made a notable appearance on Late Night with Seth Meyers as part of his Day Drinking segment. His guest that night? The bad gyal herself, Rihanna. Meyers whipped up "Diamonds in the Rye" for Riri, which the two sipped out of the innovative goblets.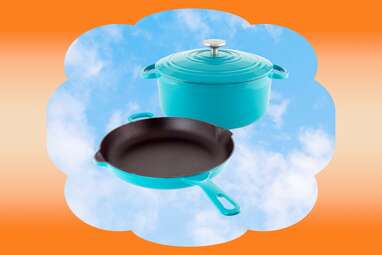 Design by Maitane Romagosa for Thrillist
Every home cook needs a durable cast iron cookware set. And with over 40 years in the business, Chantal knows a thing or two about producing high-quality cookware. The interchangeable lid in this set pulls double duty on a 5-quart Dutch oven and a 10-inch frying pan. Their collections are characterized by bold, dramatic colors guaranteed to uplift any kitchen, including sea blue, cobalt blue, fade grey, and Chantal's new commemorative color, marigold. This enameled set needs no pre-seasoning, so you can fire it up and start preparing meals immediately.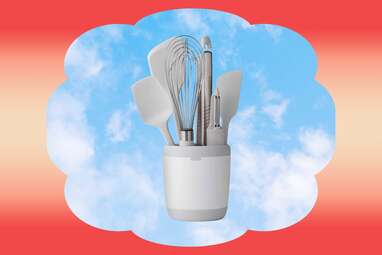 Amazon
GIR's 7-piece tools set is an instant kitchen utensil upgrade. The platinum silicone set is non-stick and includes baking and cooking essentials like a whisk, spoonula, spatula, flip, flat peeler, tongs, and a modern storage container. The color palette ranges from muted grays to a kaleidoscope of bold hues.
Design by Maitane Romagosa for Thrillist
Who doesn't love a multi-faceted tool? This culinary version of a Swiss army knife is a triple threat that converts to a Dutch oven and produces a perfect roast. The cover also transforms into a grill pan when placed on the stovetop or an oven-ready casserole dish. Other features include a tempered glass aroma lid, which provides a conduit to pour liquids easily and safely into the pot. The versatile roaster is compatible with any cooking surface.
Design by Maitane Romagosa for Thrillist
Master the magical world of mixology with this collection of popular cocktails. The detailed guidebook is ideal for both novice and experienced mixologists. Get tips for essential home bar equipment from shakers to highball glasses, learn various mixing methods, and become an expert on how to add flair and flourish to the final product. The delicious concoctions span several categories, including gin- and vodka-based cocktails, bubbly drinks, and mocktails, as well as classic favorites like Mai Tais and Tom Collins.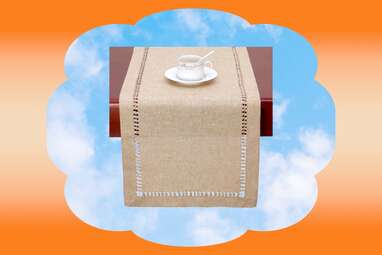 Design by Maitane Romagosa for Thrillist
The simple, classic design of Grelucgo's table runner can take your dining room from drab to fab with minimal effort. The sophisticated fabric runner is handcrafted, available in multiple sizes, and can be purchased as a singular piece or alongside matching napkins, placemats, and cushion covers.
Design by Maitane Romagosa for Thrillist
Presentation is a critical component of party planning, and Vancasso's ceramic dinner plates will help transform your table into an elegant spread. But this isn't your typical dishware. The Bonita Dinner Plate set is a showstopper available in various cool blues, warm earthy tones, and unique print patterns. The sturdy quality will keep these in rotation for the foreseeable future.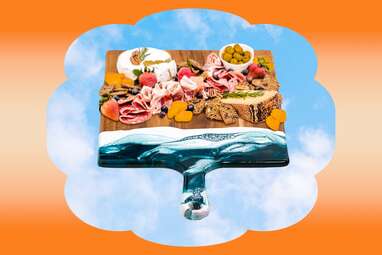 Design by Maitane Romagosa for Thrillist
Lynn & Liana's Cheese Boards are functional art. Each piece is handcrafted from sturdy Acacia hardwood with a gorgeous finish. But the pièce de résistance is the resin accent that coats the handle and spills onto the board for a pop of color. Engraving is available for a more personalized touch, and the beautiful serveware will add glamour to any charcuterie spread.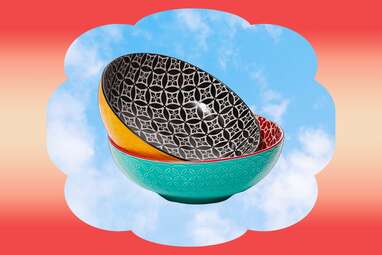 Design by Maitane Romagosa for Thrillist
These large porcelain serving bowls add a splash of pizzazz and vibrance to any table. The multicolored dishes feature a fun pattern; more importantly, they're incredibly versatile. Stack them up with heaps of salad, pasta, fruit, snacks, or even soup. The durable duo is also perfect for pre-party meal prepping. They're microwave-safe, making heating food a breeze, and dishwasher-safe for easy clean up.