11 Hotel-Caliber Towels and Bathrobes Worth Splurging On
Make every day feel like vacation.
We independently source all of the awesome products and experiences that we feature on Thrillist. If you buy or book from the links on our site, we may receive an affiliate commission — which in turn supports our work.
There's nothing quite like wrapping yourself in a soft towel or robe at the end of a long day—especially if you're staying at a hotel. Those terry cloth beauties just seem to feel softer, plusher, and more absorbent than the ones back at home. That's what makes it extra hard to leave them behind at the end of your trip, especially since we don't condone five-finger discounts around here.
To help make those vacation vibes last long after you return home, we decided to round up the best hotel-caliber towels and bathrobes available right now, from both trusted textile brands and in the online shops of our favorite hotel chains. Seeing as bath towels are a part of everyday life, it's worth splurging a little for some high-quality products. Plus, a great towel or bathrobe provides a quick fix of luxury, helping you imagine you're at your favorite spa instead of your cramped apartment bathroom.
Turkish Towel Company
The Turkish Towel Company makes the same kind of plush towels you'd find in actual luxury hotels, like Washington House Inn in Wisconsin and the Inn at Monticello in Virginia. All of the bath products are made with soft and absorbent Turkish cotton, and they're double-stitched along the sides to prevent fraying. The Zenith bath sheets are larger than average bath towels—perfect for wrapping you up in a big bear hug after you hop out of the shower.
Brooklinen
Brooklinen is one of the best textile brands out there right now, and their Super Plush Towels are among their most popular products. The extra-thick towels are made from 100% Turkish cotton, which means they actually get softer with every wash. Go ahead and cover all your bathroom bases with the Super-Plush Towel Move-In Bundle, which includes 4 bath towels, 2 hand towels, 4 washcloths, and a bathmat, all available in a variety of colors.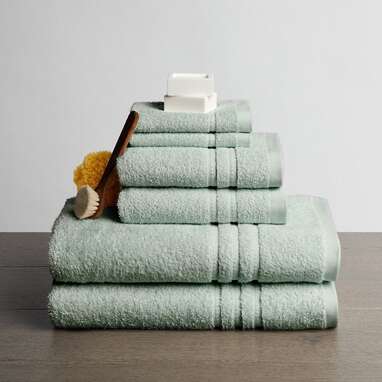 Four Seasons
Anyone who has stayed at a Four Seasons hotel is already aware of how luxurious these towels are. This 6-piece towel set (2 bath towels, 2 hand towels, 2 washcloths) is just as plush and soft as the ones you'd find in the hotels, made from 100% cotton and available in a range of colors.
Parachute
Waffle towels are often seen in spas, as they trap moisture better and dry quicker than most other types of towels. If you want to recreate the spa experience at home, you can't do much better than Parachute's waffle towels (the set comes with 2 bath towels and 2 hand towels), loomed from 100% long-staple Turkish cotton. They are soft and bouncy, and the waffle texture will give a dash of European classiness to your home bathroom.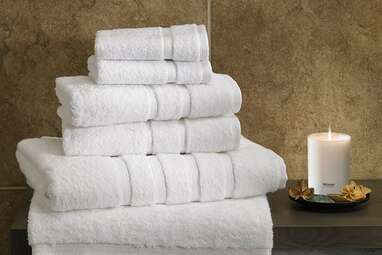 Westin Store
Westin is another hotel brand known for its plush bath towels. Head over to the Westin Store to pick up your own set, which comes with 2 bath towels, 2 face towels, and 2 hand towels. Each product is made from 100% cotton with a hollow core yarn—that makes them more absorbent and quicker to dry than average towels, and it means they get softer the more you wash them.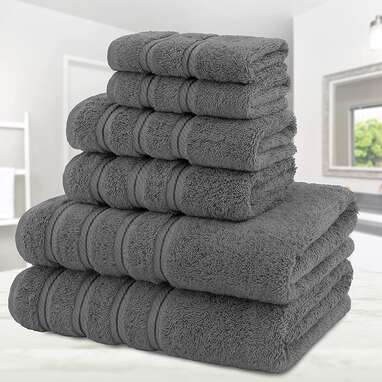 Amazon
With more than 12,800 five-star reviews on Amazon, these best-selling towels are praised for their softness, durability, and extra absorbency. Made from 100% Turkish cotton, the towel set comes with 2 bath towels, 2 hand towels, and 2 washcloths, but feel free to mix and match with different sizes and colors (you have 15 options) depending on your specific needs.
Amazon
Bath towels may be a necessary staple, but bathrobes are what really take your post-shower routine to the next comfort level. And comfort is exactly what you'll get with this 100% cotton robe from Frette, an Italian company that supplies linens to some of the world's best hotels. The thick velour terry robe (unisex) has roomy sleeves and two deep pockets, and customers claim the packaging is almost as nice as the robe itself.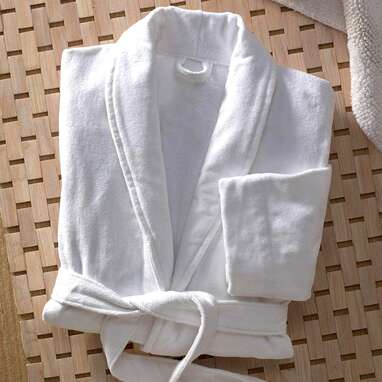 Amazon
Marriott also sells their bathrobes to online shoppers, this time in a swanky terry velour. The plush robes feature full-length sleeves, a self-tie belt, and two front pockets—perfect for drying off after a shower or simply lazing around the house.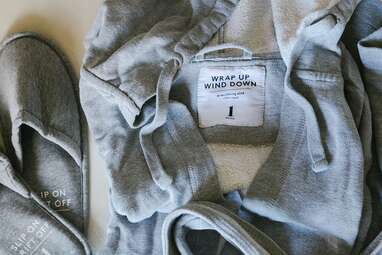 1 Hotels
With locations around the world, 1 Hotels are known for their dedication to both extravagance and sustainability. The brand ticks both boxes by stocking their bathrooms with Kassatex robes, made with 100% organic cotton. This robe has a hood for added coziness, and you can throw in a matching pair of slippers to complete the next-level loungewear look.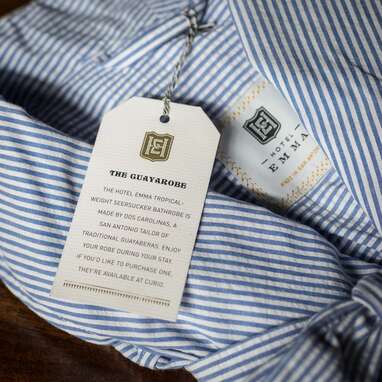 Hotel Emma
Hotel Emma is a five-star property located in San Antonio, Texas, known for its elite clientele and fabulous amenities. That sense of opulence even extends to its exclusive robes, made with 100% cotton seersucker in blue and white stripes. The robes are made locally in San Antonio, and the preppy pleats and self-tie belts will make you feel dressed up—even if you never leave your couch.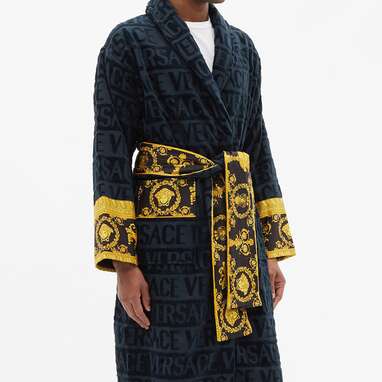 Matches Fashion
If you like your luxury to border on ridiculousness, this Versace robe is probably right up your alley. You can find robes exactly like this in the Palazzo Versace hotels in both Dubai and Australia, though the product itself is handmade in Italy. The robe features the fashion brand's signature Medusa logo, is made from 100%, and comes in four different colors: red, white, black, and yellow.
Caitlin Morton is a travel and lifestyle writer based in Kansas City. You can follow her on Twitter
@CaitlinMorton23
.