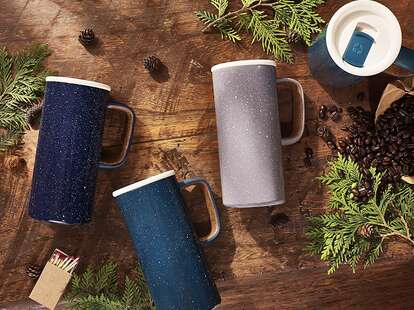 We independently source all of the awesome products and experiences that we feature on Thrillist. If you buy or book from the links on our site, we may receive an affiliate commission — which in turn supports our work.
Here's a challenge for you: Name a fall activity that isn't made better by bringing along a hot cup of something.
I won't wait, because there are none—think foliage hikes, tailgates, city strolls, apple picking, even your chilly morning commute—whatever your thing is. From hot chocolate and hot cider, to hot toddies and beyond, you'll be hard pressed to find an autumn adventure that doesn't have the perfect fall drink to pair with it.
Of course, you need a reliable vessel to house those precious liquids and get them from bottle to bloodstream without worrying about spills or lukewarm sips. Enter: your best fall friend, the insulated travel mug. There are endless options to choose from, but lucky for you, we've done the work to round up the best mugs to keep your liquids hot and safely housed. You can find them all on Amazon, so whether fall means Spooky Season or Football Season to you, you can show up for it prepared.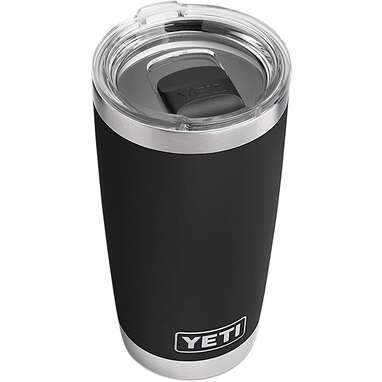 Amazon
Yeti offers a ton of different mugs and tumblers that are worth your attention, but the 20-ounce Rambler is a standard-issue option that's perfect for commuters and campers alike.

Its magnet-powered lid protects against spills and it's built to fit in most standard cup holders. The Rambler's double-wall stainless steel body will keep your drink's temp right where it should be, so you're covered whether you're looking to warm up or stubbornly stick to iced coffee all winter.
Amazon
Sunwill products are made with a stylish aesthetic in mind, and this 14-ounce mug should fit right in at the campground or as your go-to Zoom meeting accessory. Its minimalist design is paired with a BPA-free, straw-friendly lid, plus a full loop handle.

There are 20 different colors to choose from, and you won't have to worry about it scratching or fading thanks to its powder-coated stainless steel finish.
Amazon
If you're the type of person who is constantly losing the lid for everything that comes with one (guilty), the Contigo SnapSeal might be your safest bet.

A leak-proof snappable lid is built into the mug, and with a textured body and slim build, you can pull off easy one-handed drinking on the go. The SnapSeal keeps drinks hot for up to nine hours and cold for up to 21, and comes in 16-, 20-, or 24-ounce models.
Amazon
Think of this Juro tumbler as a more affordable alternative to ultra-popular but somewhat pricey Yeti products. Like the Rambler, it's made with double-walled stainless steel and should fit in your car cup holder, and it'll keep your drinks hot or cold for several hours after pouring.

Plus, it comes with two different lids and a reusable steel straw. The slider lid is perfect for quick access and frequent sips, and the flip lid is there when you're ready to down the whole thing.
Amazon
Simple Modern's Voyager mug embodies the brand's name, with a basic but contemporary look. It comes with vacuum-sealed insulation and a copper-coated interior and its double walls will help you avoid leaving rings on your desk.

The Voyager comes with two reusable straws and a single twist-on lid. It's available in four different sizes ranging from 10 to 24 ounces, and there are a variety of color options to choose from.
Amazon
For folks who require three to four cups of coffee, the 52-ounce Bubba Classic is the perfect solution to keep you highly caffeinated all day long. It also works well for sharing, if that's something you're into.

Plus, it will come in handy when you want to keep plenty of cold ones on hand at the tailgate, which you could probably tell from its not-so-inconspicuous keg shape design. The Bubba Classic has a durable exterior that will keep it protected against any drops, and its dual-wall foam insulation regulates temperatures while preventing a sweaty mug.
Amazon
If you want the look of a vintage mug but the high-level performance of a modern, smash-proof, anything-goes bottle, you're in luck.

The Ello Campy is billed as a water bottle, but it looks, feels, and functions like a top-tier travel mug. Its sealing slider lid is completely leak-proof, and its handle is lined with cork to ensure a confident grip. It'll keep your hots hot for five hours and your colds cold for 10, and comes in two sizes and eight colors.
Amazon
Zojirushi's stainless steel mug is a no-frills, well-designed product that comes with a non-stick coated interior, a tight-fitting flip lid, and a safety lock to keep it from popping open unexpectedly. The focus here is to keep things compact with a shape that maximizes liquid capacity while not taking up too much space. Think of it as the tiny house of travel mugs.
Chad Rafferty is a Thrillist contributor.