We independently source all of the awesome products and experiences that we feature on Thrillist. If you buy or book from the links on our site, we may receive an affiliate commission — which in turn supports our work.
Juicing has carved out a nice little spot for itself in the pantheon of trendy diets, and for good reason. Most Americans don't get quite enough nutrients from their everyday diet, and a good juicer can set you up with a quick, easy, enjoyable infusion of the good stuff.
It's also a great way for picky eaters to get all of the vitamins they need to function without enduring the chore of chowing down fruits and veggies. While the medical benefits of juicing are frequently debated, some claim that fresh juice can help those nutrients enter your system faster, and that a juice cleanse can rid your body of harmful toxins. That said, I'm not a doctor or a scientist, and my individual advocacy for juicing is almost entirely based on one basic principle—fresh-squeezed juice is delicious.
Lucky for you, you can see what all the fuss is about with a quick trip to Amazon. We've combed through the multitude of offerings there and narrowed things down to find the best and most popular options that will help you turn your fruits and veggies into a tasty pulp.
Amazon
When it comes to at-home juicing, there are two main types of juicers to choose from: Centrifugal Juicers and Masticating Juicers. Centrifugal juicers are fast and noisy and can liquify your produce in just a couple of minutes. Masticating juicers, also known as cold-press or slow juicers, will take a lot longer but tend to produce more (and often better) juice.

This Hamilton Beach centrifugal juicer is easy to set up and clean and comes with an extra-large three-inch chute that can fit whole fruits and vegetables. Its removable parts are BPA-free and dishwasher safe, and with 800 watts of power, you'll be sipping in seconds.
Amazon
This Jocuu masticating juicer comes with two speeds, Hard and Soft, which refer to the firmness of the produce that you're trying to juice. It's easy to disassemble and clean with a one-button release, and it separates juice and pulp to ensure the highest quality final product. Plus, it offers a reverse function to take care of any blockage, comes in 7 different colors, and is made with food grade stainless steel.
Amazon
Even though it's on the smaller end, the Mueller Ultra has enough power to produce a 16-ounce glass of juice in a few seconds—without taking up a ton of space in your kitchen. It's designed with an anti-drip function and an extra-large feeding chute, making it a fairly fool-proof everyday appliance. Plus, if you have a little extra time, you can switch it to low speed and it'll perform closer to a low-energy masticating juicer.
Amazon
The Juice Fountain Plus from Breville has an extra-wide chute, two speeds, and a micro mesh stainless steel filter basket. If that doesn't mean anything to you, the main takeaway is that it makes good juice, quickly. It also has an integrated froth separator to make sure that your glass is full of juice, not foam. The juicer comes with a 35-ounce jug and a cleaning brush, and it's easy to store with detachable pieces and a wrap-around cord.
Amazon
Omega products definitely exist on the pricier end of the juicing spectrum, but if you're serious about your juice, this is one of your best options.

The Omega Vertical is the first patented juicer with Slow Squeezing Technology, and takes its time to extract the absolute most out of whatever you throw into it. Its heavy-duty dual-edge auger ensures a high yield from every press, and with 15-year coverage on parts and performance, you can rest assured that you'll be ready to start a cleanse for years to come.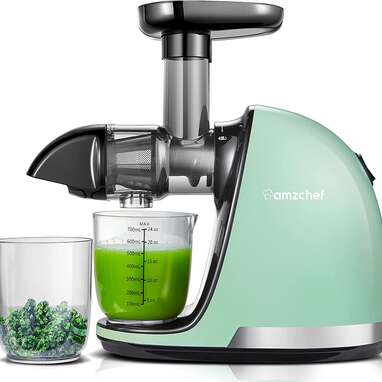 Amazon
This juicer from Amzchef has a 7-segment spiral masticating system that aims to create the most juice possible while retaining as much nutritional value as it can. It works with all different types of fruits and veggies, easily separates juice from pulp, and is made out of anti-oxidation materials to help preserve freshness. It's available in six different colors, and comes with a bunch of optional attachments.
Amazon
This centrifugal juicer from Koios is small and portable, but comes with the capabilities of a much bulkier option courtesy of its 1300 watts of power. There's no need to pre-slice anything thanks to a three-inch feed chute, and its 13-row saw blades produce a ton of juice in basically no time at all. It has two speeds, plus a pulse mode, so you can tailor your juicer to whatever flavors you're going with.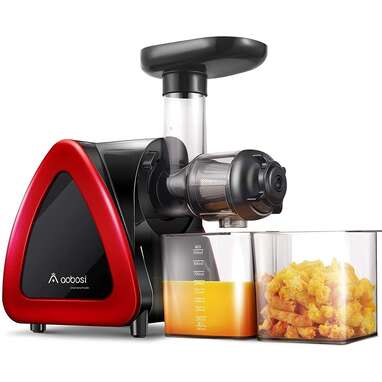 Amazon
The Aobosi Slow Masticating Juicer comes with all of the benefits of a good cold-press option—it's quiet, high-yield, and moves slowly to keep heat down and prevent oxidation. Plus, it looks pretty cool.

It also has a handy safety lock, a reverse function for cleaning, and easily detachable parts that you can toss in the dishwasher. Aobosi products also come with lifelong technical support and 24-hour service, so there's always someone looking out for you and your juice.
Chad Rafferty is a Thrillist contributor.