How to Recreate Karaoke Bar Vibes at Home, According to the Experts
We tapped karaoke bar owners to help you stock all the right booze, snacks, glassware, decor and more to recreate your favorite karaoke joint at home.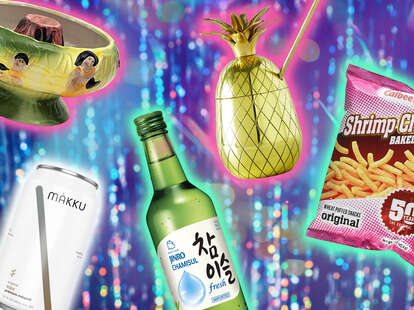 Maitane Romagosa/Thrillist
We independently source all of the awesome products and experiences that we feature on Thrillist. If you buy or book from the links on our site, we may receive an affiliate commission — which in turn supports our work.
If you're anything like us, one of the biggest things you're missing about "normal" nights out (apart from, well, everything), is the fact that a late-night karaoke pit-stop definitely isn't in the cards. And yet, that's all the more reason to fully embrace these strange times and try to recreate the experience at home.
Securing the audio gear you'll need to do so is simple enough, but perhaps even more important is setting up your home bar with all the appropriate beverages, snacks, and accoutrement to cultivate the vibe of your favorite karaoke joints. To help you do just that, we tracked down a couple karaoke bar pros to help you out: Paul Devitt, co-owner of Sid Gold's Request Room (with locations in NYC, Detroit, and soon Nashville), and Yong Shin, partner and chef at Insa, a spectacular Korean BBQ restaurant and karaoke bar in Brooklyn.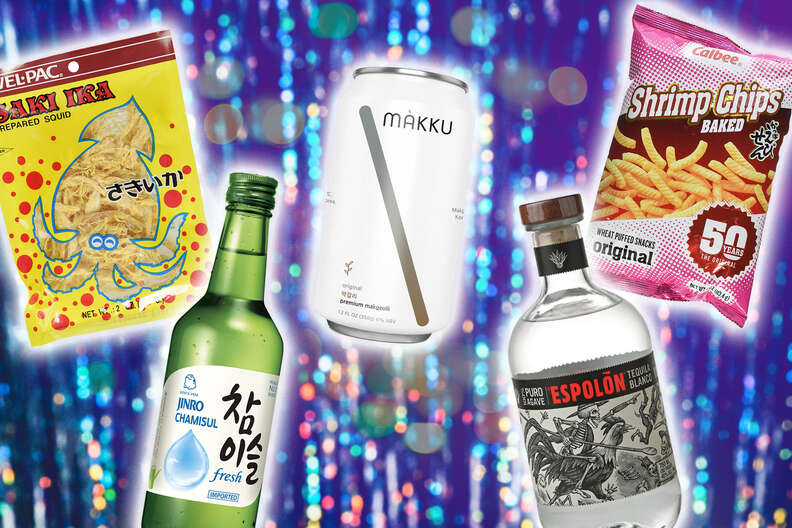 The Booze
Free-flowing alcohol isn't necessarily required to fuel a karaoke night, but… OK who are we kidding, yes it is. And sure, you're free to stock your home bar with whatever you'd like to keep your guests well-quenched, but we asked our karaoke bar proprietors what they recommend to mimic the vibe of their establishments.
"Obviously the stronger the drinks the better the singer (not really) but they will sound better and people will be game to sing more if they're a little tipsy," said Devitt. "I think a specialty cocktail is a good idea to keep it simple with an option of some beer and/or wine for non-spirit drinkers." The La Bamba is the most popular cocktail at Sid's, and you can easily recreate it at home (or, if you're being extra Covid-conscious, make ahead in a batch).
How to make the La Bamba from Sid Gold's Request Room
Muddle 2 slices of English cucumber with .5 ounce simple syrup and 1-ounce fresh lime juice
Add .5 ounce elderflower liquor and 1.5 ounce Espolon tequila
Add ice and shake vigorously
Strain into rocks glass and add 4 dots of Peychaud's bitters
Garnish with slice of cucumber
Shin advises some Korean standbys like Soju and Korean beer (if you're looking for specifics, try Jinro and Makku), and even serving cocktails in punch bowls if you're feeling particularly ambitious. Most importantly, though, is to let your own tastes drive your creativity. If you're looking for a simple way to mix things up a bit, he also recommends adding a Korean "twist" to traditional cocktails.

"That could mean there's kimchi juice in your bloody mary, sesame oil washed whiskey in your old-fashioned, or gochugaru infused in rum," says Shin. "There's no exact parameter in terms of how we create something delicious, whether it's in the bar or kitchen. It's gotta feel right for you."
The Glassware
Adult beverages are critical, but giving some thought to the glassware you're serving them in is an easy way to up the authenticity of the karaoke experience. For instance, Devitt recommends a big old fashioned rocks glass (10-12 ounces), which he likes for mixed drinks, beer, or even wine. However, if you're looking to make a punch or other large-batch cocktails, you may want to opt for a kitschy bowl to serve it out of. At Insa, Shin says they use large plastic bowls with a ladle (with some decorative flowers and seasonal fruit in it), and include a stack of tea cups. Fortunately for you, there are plenty of fun scorpion bowl-style vessels (and stylishly colorful stackable glassware) available online. Rather offer everyone their own sippy cup to avoid cross contamination? These kitschy pineapple-shaped tumblers and monkey tiki cups are a great, fun choice.
The Snacks
With all the tippling, you'll want to ensure your guests have plenty to nibble on. But you can surely do better than some chips and dip. At Sid's the most popular bites are pigs in a blanket ("Hebrew National and don't forget the frilly toothpicks," says Devitt) and deviled eggs, both of which you could easily whip up ahead of time.
And while Insa is a full restaurant with an extensive menu of delicious Korean offerings, Shin says it's all about stocking some go-to Korean snack foods at your place.
"Snacks in Korean karaoke spots will typically be a variety of cut fruit, umami-packed chips (shrimp flavor is very common), jerky (usually squid or cuttlefish), mixed nuts, fried mozz, and more recent fads like skewered foods, Korean tacos etc," he said. "But one should not feel obliged to follow tradition." To that end, Shin said that if he were to throw a socially-distanced karaoke party right now, he'd "probably get a bucket of chicken from [my] favorite chicken spot, a spread of antipasto like pickles of all the kinds (including kimchi and pickles from around the world), a variety of mezze like hummus, tabbouleh, and za'atar chips, tinned fish, preserved anchovies, and seasonal veggies cut simply to go with all the dips." Put simply, "it's all about the least amount of effort with the largest impact in flavor," he said.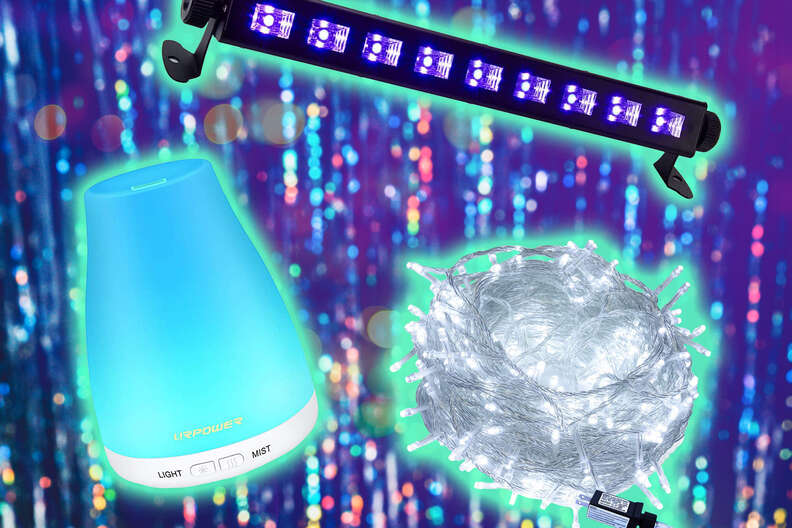 The Decor
Once the booze and snacks are accounted for, you're going to want to pay extra attention to the little design details to bring the IRL karaoke vibe to life. In many ways, this is all about lighting. Devitt recommends going all in with some inexpensive smart lights (think Philips Hue bulbs that fit into normal sockets and can change color via smartphone app) or simply some blinking Christmas lights.
Similarly, Shin says aim to make your space "moody" and "keep it sexy," much like Insa does with its themed rooms, which take inspiration from the likes of jungles, outer space, and the deep sea (most of them also feature a disco ball, of course). "However, if you're trying to throw a karaoke party in your home, I'd advise keeping it as relevantly fun for you and your pod," he said. "No point in trying to be something you have to put too much effort in for unless it's really your jam to redo your whole living room situation. Christmas lights, black light, a little aromatherapy cloud in the corner...keep it simple, keep it fun!"

Frankly, we couldn't agree more.
Want to know more about our favorite products and services, and get great deals on cool stuff? Sign up for the weekly Thrillist DealMail.