The 7 Essentials That Should Be in Every Home's Cutlery Drawer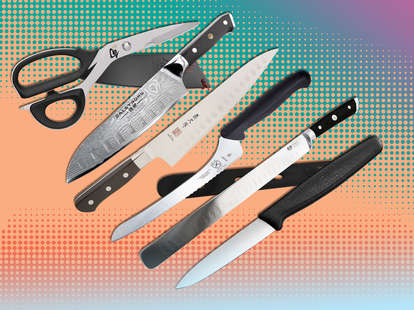 Danna Windsor
Danna Windsor
We independently source all of the awesome products and experiences that we feature on Thrillist. If you buy or book from the links on our site, we may receive an affiliate commission — which in turn supports our work.
We've all walked into sprawling kitchens stocked floor-to-ceiling with pans, pots, and knives galore. Steamers, colanders, and cutting boards adorn the walls, a massive island for meal prep sits in the middle -- it's the sort of dream setup fit for the likes of Ina Garten or Thomas Keller. And sure, some culinary pros do require all those bells and whistles, but you don't need to gut and renovate your space to elevate your cooking skills -- you just need to invest in the right things.
And the best place to start? Cutlery.
Knives can be expensive, but you don't have to buy stock in Wusthof or sell a gold filling to get everything you need. All it takes is a few quality essentials, and you'll be slicing, dicing, and chopping with the best of them. A couple different-sized chef knives, a paring knife, a bread knife, a carving knife and a decent pair of kitchen shears are really all you need to make a killer cutlery station.
Here are seven best cutlery essentials every home kitchen should have.
The do-it-all kitchen workhorse
Zwilling J.A. Henckels 10" Professional S Chef's Knife
Price: $179.95
Any cook will tell you that their chef's knife is the single-most important tool they work with. It's the workhorse of the kitchen, and can handle everything from cutting and mincing vegetables to laying into some perfectly grilled chicken. A good chef's knife will come with a drop-point blade with a curved edge, so it can be rocked back and forth for tasks like hard cutting and mincing.
A 10-inch blade might sound like a bit much, but the longer blade leads to longer, more efficient strokes and, by design, more precise cutting. A smaller blade will be good for smaller cuts, but if you're going to be doing any kind of slicing (think steaks, tomatoes, etc.), you'll want a 10-inch.
The 10-inch Professional S Chef's Knife by Zeilling J.A. Henckels is one of the best chef's knives you can own. It's forged from a single piece of high carbon stainless steel and features an ice-hardened friodur blade that clocks in at a 57 on the Rockwell scale (meaning it's decently hard, won't take too much effort to sharpen and maintain, and will keep an edge for a long while). It's comfortable in the hand, handsome, and comes precision-honed from the factory, which means it's ready to cut right out of the box.
Is it the cheapest knife you can own? Nope. But, we've said it once and we'll say it again -- you get what you pay for, and cutlery is no exception.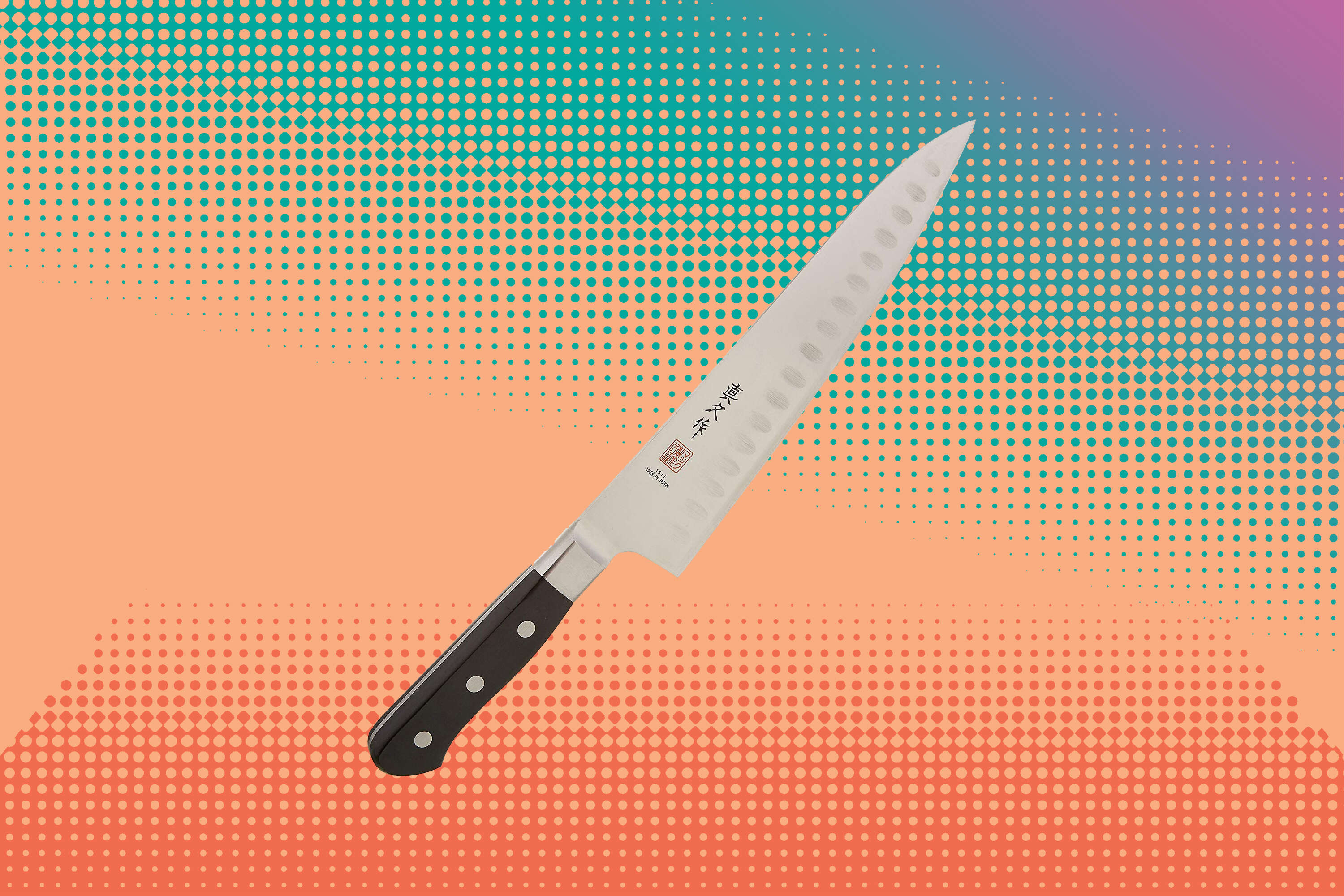 The do-most pack horse
Mac Knife MTH-80 Professional Hollow Edge Chef's Knife
Price: $144.95
Remember what we said above about a good chef's knife? It's all true for an 8-inch blade, too. Rather than get yourself one or the other, it's best to have one of each. A heavy-hitting 10-inch blade for the big lunky stuff that requires a longer edge, and an 8-inch blade for, well, everything else. If you have smaller hands or just work with smaller veggies and meats, an 8-inch blade will get you where you need to be without making you feel like a serial killer in the process.
MTH-80 from Mac Knife is our hands-down favorite 8-inch chef knife for a few reasons. The first -- and most obvious -- being its dimpled blade. Dimpled blades (known as hollow edges or Granton blades) aren't revolutionary. The dimples make it easier to get clean slices on traditionally sticky foods like potatoes, tomatoes, squash, etc. Essentially, all the smaller, stickier, more tedious foods you're going to cut are the kinds of foods you should have a hollow edge to cut.
The Japanese-made Mac Knife's blade is also super thin (2.5mm) and comes rigged to a genuine Pakka wood handle that's comfortable and solid in the hand. The only real drawback is that it's not dishwasher friendly.
For times when a chef's knife is a bit too much
Victorinox Swiss Army Cutlery Paring Knife
Price: $7.21
When your chef's knife is simply too big to do the job right -- for things like mincing garlic, peeling fruits and veggies, deseeding peppers, de-veining shrimp, etc. -- a paring knife is your best friend. Essentially, a good paring knife is crucial for any kind of precise cutting in the kitchen.
They're excellent because they're generally between three and 3.5 inches long and feature tiny handles, which make precision cutting and slicing easy. Anywhere your big chef's knife can't go, a paring knife can.
Victorinox's world-renowned blades don't just stop with their Swiss Army Knives. Their simple paring knife is simple, sleek, and unencumbered, and features a European steel blade that's double-ground to hold a sharp edge longer and a lightweight non-slip handle to ensure you never lose your grip.
Oh, and at less than eight bucks a pop, you can pick up a couple without breaking the bank.
The bread knife that's good for a lot more than just bread
Mercer Culinary Millennia Wide Wavy Edge Bread Knife
Price: $18.03
It may not seem like it by name, but a sturdy bread knife is good for much more than slicing through crusty loaves. A good one usually comes with a thinner blade for making precision cuts and a sharp-toothed serrated edge to make light work out of heavy crusts. Used effectively, that means they can be great for carving up meat and poultry or even things like tomatoes, which have a thicker skin and soft innards that dull chef's knives can make messes of.
The Millennia Wide Wavy Edge Bread Knife from Mercer Culinary features a 9- or 10-inch Japanese high-carbon stainless steel blade (which you can get in either a pointed or rounded off tip), a Santoprene-polypropylene blend handle for a comfortable and safe grip, a protective finger guard to prevent "whoopsie bleedsies," and comes razor sharp and ready to cut right out of the box.
It's also budget-friendly, priced at under 20 bucks a blade.
The secret weapon when it comes to carving
Dalstrong Gladiator Series Slicing/Carving Knife
Price: $79.67
People commonly mistake bread knives for slicing/carving knives, and while their purposes are similar (and many bread knives can be used for carving), a good slicing/carving knife has one simple, dedicated use: Carving up meat.
Just pulled off that 10-hour smoked brisket? Need something big enough to carve up a delicate salmon filet? Trying your best not to botch the ceremonial trimming of the Thanksgiving turkey? That is where a proper slicing/carving knife comes in.
While slicing/carving knives do commonly feature serrated blades, we like smooth blades because they do the job without mangling the finished product. Like bread knives, they generally feature longer thinner blades for more precise, delicate cutting, so whether you're gently working your way through an onion, cutting your own Sunday morning bacon, or aiming for paper-thin corned beef and pastrami, a slicing/carving knife is going to be one of your best friends in the kitchen.
Dalstrong is another world-renowned blade brand, and their Gladiator Series Slicing/Carving Knife is one of the best in the business. This razor-sharp knife features a super thin, hand-sharpened 12-inch blade that's honed at 14 to 16 degrees per side for paper-thin cutting and is made from high-carbon imported German steel. The blade also features a hollowed edge (like the 8-inch Mac Knife above), which means whatever you cut, no matter how thin you cut it, won't stick to the blade. It also features an ergonomic and comfortable Pakka wood handle that adds some weight to the blade and gives it a sturdy feel.
If you're looking for a slicing/carving blade, this is your huckleberry.
A bona fide Japanese steel blade
Dalstrong 7" Santoku Knife
Price:$119.91
We've already covered chef's knives, but we also think every self-respecting chef -- both hobbyists and pros alike -- should have a good Santoku blade. Santoku blades are just the Japanese variant of the Western chef's blade, but a good one can quickly become an irreplaceable piece of your cutlery arsenal.
In Japanese, "Santoku" allegedly means "three virtues." In the case of these knives, those virtues are chopping, mincing, and dicing. By design, Santoku knives are supposed to provide balanced ergonomic superiority over other chef's knives, and you can feel it the minute you handle one for the first time. Their curve is generally more delicate than those of standard chef's knives, and their points are generally more angular. Their blades are distinctly broader, and we have zero reservations about saying they're some of the most aesthetically appealing knives you can find in a kitchen.
The Dalstrong Shogun Series Santoku is a picture-perfect example of everything a good Santoku knife should be. The 7-inch blade is Japanese damascus "super steel" and scalpel sharp from the factory (it's honed at between 8 and 12 degrees per edge, making it very, very sharp). It also clocks in at an astounding 62 on the Rockwell scale, meaning edge retention is second to none.
If you're looking for the kind of knife you'll pass down to your children as sharp as the day you bought it, this is it.
When you just need a quick cut
Shun Premium Kitchen Shears
Price: $79.95
Some of you may think we're joking, but a quality pair of kitchen shears is a 100% necessity. Whether you're cutting twine while trussing a turkey, cutting strips of bacon, cutting open packaging, trimming fat off a roast, cutting through bone and cartilage, or any of the other dozens of tasks this integral tool serves, it's worth it.
A good pair of shears should be easily detachable into two parts for easy cleaning, as the crevices between blades are breeding grounds for bacteria and gunk. They should be made from stainless steel, feature some kind of non-slip grips, and have genuine cutting power.
Shun's Premium Kitchen Shears are all that and more. The shears feature two high-carbon, molybdenum-vanadium stainless steel blades, an interlock to adjust blade tension to your preference, and a gentle notched blade to cut through the toughest bones, roots, or whatever else you can think of.
Want to know more about our favorite products and services, and get great deals on cool stuff? Sign up for the weekly Thrillist DealMail.