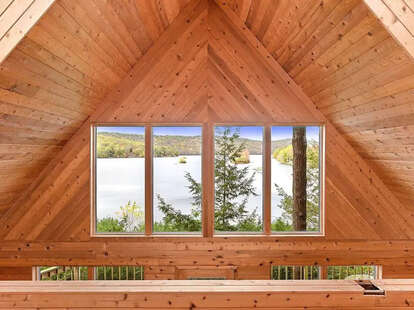 We independently source all of the awesome products and experiences that we feature on Thrillist. If you buy or book from the links on our site, we may receive an affiliate commission — which in turn supports our work.
It was bound to happen eventually: You need a break from life in NYC. And sure, you could follow the crowds to the Hamptons, or hop a flight to a far-off place, but there's a third—perhaps better—option that's worth your consideration: renting a lake house close to the city. It might not sound like much, but we promise you'll feel a world away!
We combed Airbnb to find the best vacation rentals that have direct lake access and waterfront views—and better yet, they're all within a 5-hour drive from New York (if traffic cooperates). Whether you want to a dock or private beach for activities like swimming, boating, or paddleboarding, a tranquil home base for day hikes, or just a really special view, these houses are the perfect places to chill and listen to the sound of water lapping against the shore. Better yet, while a lake is obviously a prime location for a summer escape, plenty of Airbnb reviewers mention cozying up in these homes during the colder months and reveling in the winter scenery, which means you can book your stay for any time of the year.
From Hudson Valley A-frames to Adirondack cottages, sprawling 16-person abodes to small two-bedroom homes, these are our top ten recommendations if you're trying to rent a lake house near NYC.
Airbnb
10 guests/$1,000 per night
It's not hard to imagine hosting a book club weekend, bachelorette getaway, or any other occasion to drink wine with friends at this beautiful five-bedroom cottage on Cayuga Lake, about 4 hours from the city. With lots of natural light and nooks with a view—from a hippie-chic living room surrounded by windows to a screened gazebo with hammocks and a dining table—there are plenty of places for your group to look out on the lake from sunrise to sunset. Reviewers say they thoroughly enjoyed cooking and eating meals in the spacious kitchen and dining areas, jumping off the private dock, and visiting wineries and restaurants on the nearby Finger Lakes. One thing to note: you can rent kayaks, inner tubes, and other lake gear to enjoy while you're at the lake house, but it will cost an extra $300.
What guests say: "O'vr Water Cottage is really lovely and felt plenty spacious for our party of 8. When you walk in you almost feel like you are on a boat with water on three sides. The kitchen was incredibly well stocked for serious cooking. Katie was quick to respond and checked in during our stay. We were gifted delicious fresh eggs, garden goodies, and flowers from their farm. Towels and even toiletries were plentiful."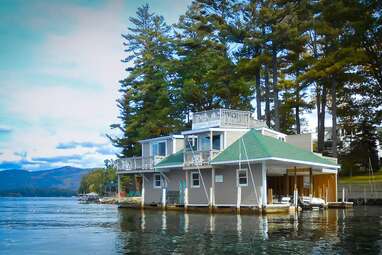 Airbnb
4 guests/$425 per night
Considering this boathouse is situated directly on the edge of Lake George (under 4 hours from NYC), it's ideal for those looking to spend the entirety of their vacation in a swimsuit. While the two bedrooms are tiny and the common space minimally decorated, this five-star Airbnb has multi-level balconies that look out over the famously clear waters of Lake George, plus sliding doors that allow guests to listen to the water splashing against the boathouse at night. The itinerary: reading on the patio chairs, catching sun on the floating dock, and enjoying activities like ping pong, rowboats, and swimming off the home's private sandy beach.
What guests say: "This place is fantastic. The views are incredible! It feels like you are out on boat in the middle of the lake. The location is very peaceful and extremely relaxing. It felt as if time had slowed down."
Airbnb
12 guests/$871 per night
This group-friendly property on Cayuga Lake comes equipped with 120 feet of peaceful, private beach and two houses for sleeping (one of which has one bed and is closed during the winter season), in addition to a boathouse with a lofted living room. Kids and adults alike will be happy here with a floating dock, swing set, and included kayaks. Meanwhile, adults can fish on the dock, have happy hour on multiple porches and decks, and take advantage of the grill and firepit. Nearby adventures abound, too; admire the animals at the Lively Run dairy goat farm, sample ciders at neighboring breweries, or hike to the 215-foot waterfall at Taughannock Falls State Park. It's not the quickest drive from New York, but you can get there in a little over 4 hours.

What guests say: "We love this house!! It is cozy, comfortable, clean, and in a great location. We enjoyed the decks for relaxing, sipping wine, and sunsets. Our group enjoyed trying out all of the cool places to hang in around the house and paddle in the kayaks on the lake. The house is close to waterfalls, wineries, and Ithaca and Trumansburg. But when you are there you feel miles away from everything!! It was hard to leave!!!!"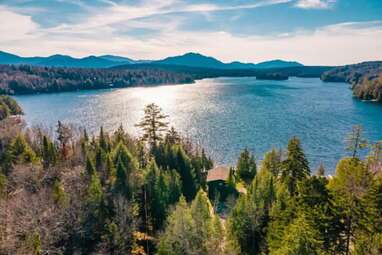 Airbnb
8 guests/$520 per night
Not to jinx you, but if one of your lake days gets rained out, you'll be glad you booked this five-star four-bedroom in northeast New York. With a trifecta of exposed wood, cozy rugs, and endless windows overlooking Kiwassa Lake, this home is decked out for puzzling or reading with a breathtaking view—just pick a nook on the screened porch, family room (with a game shelf and air hockey table), or cozy living room. In better weather, you can relax on the comfortable deck or lakeside cluster of Adirondack chairs. Other outdoor activities include taking the canoes for a paddle on the lake and chatting by the fire pit. Wherever you look, you'll see crystal waters, green pines, and the peaceful rise and fall of the Adirondacks—and you'll forget that your NYC life is waiting just around 5 hours away.
What guests say: "Had the perfect family vacation on this pristine lake in the Adirondacks. The house has everything you could need for your stay and the location was perfect. Secluded, yet close to town, tons of games and a screened-in porch for rainy days, fire pits and all the water equipment and chairs you need (and wait until you see the sunsets!). Communication was great. Would DEFINITELY stay here again."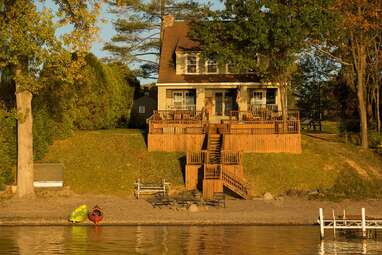 Airbnb
10 guests/$725 per night
When you're all tuckered out from a day on the water, you'll be happy to come back to this inviting four-bedroom lake house with cushy leather furniture and custom woodwork throughout. Stairs off the back porch lead to a private beach with an expansive view of Keuka Lake, and the house is fully equipped with everything you need to enjoy it, including a dock and swim platform, rafts and floats, multiple kayaks, a small sailboat, and a rowboat. The "yard" is actually 5 acres of private woods and a horse farm next door, and it includes a private volleyball/badminton court. It might seem like there's no reason to bother leaving the property, but you won't want to miss out on the award-winning Keuka Spring Vineyards (located within walking distance) or nearby waterfall trails at Watkins Glenn State Park. At dinnertime, the host can arrange for a private chef to whip you up a meal paired with local wines. If this all sounds incredible to you, go ahead and book the place—just be sure to factor in about 5 hours to drive there.
What guests say: "My family loved everything about our stay at Todd's house. It's a cozy old home with lots of great modern updates. The beds are fabulous, the lakefront is gorgeous, and the porch space has got to be some of the best on the lake. We ate almost all of our meals outside. Todd was a fabulous host, and he leaves a fabulous list of local recs."
Airbnb
4 guests/$350 per night
Though you'll only be an hour away from the city, you'll feel one with the woods in this updated cottage surrounded by towering trees. Tall windows overlook Lake Oscawana for incredible views, and a large fireplace keeps things cozy. Start your day with a sunrise paddleboard or breakfast on the picnic table before hiking or horseback riding close by. Reviewers warn that the kitchenette isn't the best for cooking (there's no oven or stove) but offer several solutions: picking up takeout from nearby Mahopac, hitting up the Cold Spring farmers market and cooking the loot on the outdoor grill, or even ordering a top-rated breakfast or dinner cooked by the host's family.
What guests say: "We stayed here with our dog and had a great time! Tony is a great host who is very welcoming and easy to reach. The cottage and its scenery are beautiful. Having access to the lake was really great for paddle boarding and kayaking."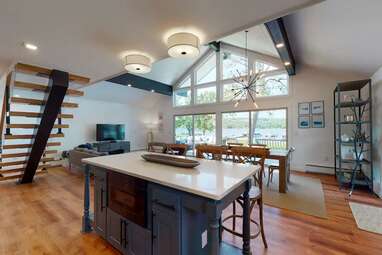 Airbnb
6 guests/$407 per night
Despite its neighboring houses and docks, most reviewers say this newly renovated Lamoka Lake home—located less than 5 miles from NYC—feels remarkably serene. A neat green lawn and fire pit (with heaps of firewood for s'mores) look out over miles of gentle waters. That wide-open-spaces vibe continues indoors with high, airy ceilings and a connected cooking, dining, and living area. Perhaps a key highlight of this stay is that there's no need to go into town for a boat rental; just ask the host about renting their eight-person pontoon.
What guests say: "We thoroughly enjoyed our stay and hope to return. The lake is beautiful, and renting the boat was totally worth it! The views and sunsets were amazing, and the proximity to gorgeous hikes was icing on the cake. Hosts were incredibly responsive from booking through our stay."
Airbnb
8 guests/$657 per night
A 45-mile drive from Manhattan lands you at this yellow house with modern-yet-cheerful decor, which overlooks Greenwood Lake near the border with New Jersey. Spend full days on the water with the provided paddleboards and kayaks (bring fishing poles if you'd like—former guests say they've had good luck with catches), then return before sunset to grill on the patio or cook dinner in the fully equipped kitchen. Nearby highlights include a laid-back nature walk on the Appalachian trail boardwalk and apple-picking around the small town of Warwick.
What guests say: "The home felt just cozy and sizable enough to accommodate our family of 5 and a dog. Ada decorated everything tastefully... The beds were comfortable, and the reading attic/nook was perfect for my kids. It was a record heat in the area, and being able to dip in the cool lake water with almost-complete privacy, without anyone else off the deck, was SO nice. It was magical being able to be in the water, having conversations, watching the dusk settle into the evening darkness. We also fished right off the deck and in short time, caught two sizable fish - one was a perch, the other a walleye - marked the first time my son caught a fish! In a short week, we created a lot of memories - just 1 hr away from NYC."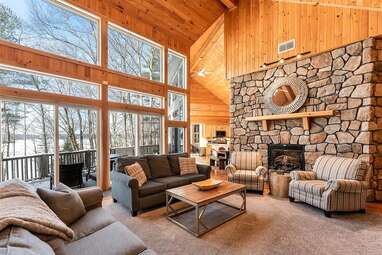 Airbnb
16 guests/$1,393 per night
If you're looking for a sprawling spot for a family reunion, corporate retreat, or celebration with friends, this Adirondack property—located less than 4 hours from the city— should fit the bill. Three interconnected homes in a wooded area give guests some privacy, while large common spaces (a seven-person hot tub, huge dining deck, and living rooms with smart TVs and several sofas) allow everyone to come together. The house comes with 110 feet of rocky beach on Great Sacandaga Lake, but the lake itself measures 29 miles long, providing plenty of shoreline to explore from the Airbnb's six kayaks, canoe, and pedal boat. For anyone who wants a day on the town, Saratoga Springs—with its famous horse racetrack, spas, and restaurants—is 30 minutes away.
What guests say: "We enjoyed a wonderful stay! All three families had plenty of space to stretch out and lots of options to spend our time! The home is immaculate. Lots of amenities. The dock and view are amazing!"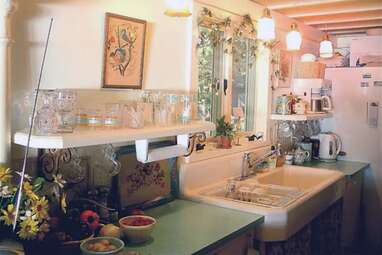 Airbnb
6 guests/$250 per night
If you've always dreamed of staying in Kate Winslet's English cottage from The Holiday, this charming two-bedroom in the southern Adirondacks may be the best option within 4 hours of NYC. Though the home's western-facing deck gives you the ideal spot to watch the sky change colors in the evening, you'll have just as much fun taking in the views indoors. There's an aquamarine-colored 1950s kitchen range, white woodburning stove, and custom birch bed frame, to name a few particularly delightful elements of the decor. When you're not reading on the deck's swinging bench or cannonballing into Pleasant Lake from the diving board, you can continue to relax with the home's plentiful supply of CDs, boardgames, and birdwatching spots. If all the house's vintage dishware makes you want to go shopping, there's antiquing nearby, too.
What guests say: "What a perfect and relaxing stay in this cozy cottage. Decorations are charming and the house comes with everything you need to unplug and enjoy. Our favorite things: the gorgeous sunsets, falling asleep to the sounds of the lake, waking up and watching the hummingbirds feed."