We independently source all of the awesome products and experiences that we feature on Thrillist. If you buy or book from the links on our site, we may receive an affiliate commission — which in turn supports our work.
Vegas is the ultimate bachelor and bachelorette party destination for good reason. Raucous pool parties, nightclubs with VIP table service, gambling and drinking 24/7, fantastic restaurants, luxurious spas, sports betting venues with more TVs than your brain can even process, party busses, golf, ATV tours, helicopter rides, and shows of all kinds *wink wink nudge nudge*. Needless to say, there's something for every type of bride and groom, and while it's always fun to stay in a hotel, sometimes it's a whole lot more fun to stay in a house or penthouse together and/or have a sanctuary with a pool and other amenities to ensure maximum recovery opportunities. In that case, you can't go wrong with any of these Airbnbs, all of which have fantastic amenities and are either a short walk or drive from the Strip.
Airbnb
8 guests/$1,450 per night
This (3BR, 2.5BA) penthouse condo with unobstructed views of the Strip is in a building connected to the Palms casino resort, so if you want to try your luck at the tables, you won't have to go too far. You'll also have access to the Palms Place swimming pool and spa, but you're probably going to want to do most of your soaking in the private jacuzzi housed on a (bulletproof) glass balcony 500 feet in the air. (If you're scared of heights, fret not; there are two other jacuzzis in the suite.)
What guests say: "The views were second to none, the inside was incredibly spacious, and there's an infinity pool/jacuzzi 400 ft in the air overlooking the Vegas skyline—how much more luxury can you get?"
Airbnb
12 guests/$862 per night
It'll be hard to pull yourselves away from this (4BR, 2.5BA) "estate," but if you manage to do so, it's a short ride from the Strip and also walking distance to a small casino and restaurants. But with a solar-heated swimming pool, waterslide, hot tub, steam and sauna cabin, half basketball court, putting green, giant chess set, and outdoor BBQ, you might just want to hang out at the house all day. In need of a nap? Take one in your bed or, even better, in the "pagoda nest" or the hammocks in the "Zen bungalow." Want to get out of the sun? Inside you'll find a pool table, shuffleboard, darts, fireplace, and huge TV in the living room so you can have the game (or the Housewives) on at all times.
What guests say: "Every inch of the house has been remodeled, and it's extremely comfortable and luxurious inside. The backyard is the real star, though, and between the pool, gardens, basketball court, hammocks, etc., you'll find yourself spending almost all of your time out there soaking up the sun. The location is also great, as it's close to all of the restaurants and events in Summerlin, and an easy 15-ish minute trip to the Strip!"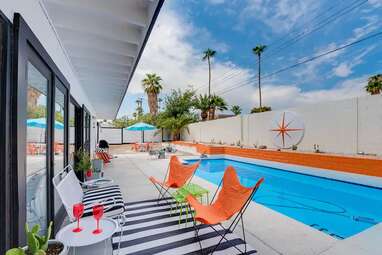 Airbnb
6 guests/$123 per night
Travel back to a time when Vegas was all about glitz and glamour, the Rat Pack, sexy showgirls, and mob owners running it all at this retro home that has been completely remodeled with a luxe mid-century aesthetic. Bright pops of colors add a funky, fun vibe throughout and offer plenty of Instagram opps any bachelorette crew will appreciate. (There are even Elvis- and Marilyn Monroe-themed bedrooms.) All in all, the perfect place to relax all day after a long night of eating, drinking, and dancing.
What guests say: "What a fun place to stay! The house had everything we needed. We loved the decor and small touches that each room had. The backyard is amazing and great for sunbathing and playing in the pool. The location is also great, just a short Uber/Lyft trip to the Strip. If you are thinking of staying off-Strip, this is the house for you!"
Airbnb
8 guests/$835 per night
Spend the day at this modern (5BR, 4BA) house lazing away by the pool in between practicing your putts on the five-hole putting green, playing volleyball on the sand court, winning cornhole competitions, and cooking burgers and dogs on the grill. While everyone's getting ready to go out for the night, sip cocktails while playing a game of pool or practicing your poker skills on the table from the Flamingo Hotel. There are huge flat-screen TVs in pretty much every room, but the Strip is super close if you prefer to place a couple of bets and watch whatever games are on at a casino.
What guests say: "Wow. Very impressed with this beautiful home. We came with a group for March madness and ended up staying in the home more often than going to the Strip because there were so many activities. Very clean, comfortable beds, lots of amenities (pool table, volleyball, pool, jacuzzi, mini-golf, etc.) Great communication with the owners. Highly recommend."
Airbnb
12 guests/$606 per night
Any good trip to Vegas requires copious amounts of downtime in order to prepare for another wild night. This roomy hacienda-style (4BR, 3BA) home that's just 10 minutes from the Strip is perfect for exactly that. Located on a discreet cul-de-sac, this spacious home has a magical desert-chick backyard with a heated pool, jacuzzi, waterslide, firepit, gigantic teepee with couches, covered outdoor dining and cocktail-drinking area, koi pond, and huge barbecue area.

What guests say: "Escape the hustle & bustle of the Vegas Strip at this exclusive property! It has everything to offer from complete privacy, fire pits, and swimming pool. The property is huge and inviting."
Airbnb
16 guests/$4,196 per night
Vegas short-term rental laws don't allow for more than 16 guests, but doing the math (16 bedrooms with 27 beds and 8 baths) makes us think that you might be able to squeeze a few more people into one of the three houses on this high-tech compound. There's nearly 40,000 square feet of outdoor space and 5,000 square feet of indoor space with everything you'd imagine: a fully-stocked kitchen, a large swimming pool, cabanas with TVs, a terrace with daybeds, and a game room with old school video games, gaming consoles, and even a virtual reality system (okay, so maybe more than everything you'd imagine). The property is designed to come alive at night when all of the artwork and sculptures light up, which you should definitely take time to appreciate before you hit the town.
What guests say: "To anyone searching for a place of this nature, here's what you can expect: The best of the best technology available can be found throughout this strikingly stylish high-tech mansion. It's a clean and stylishly comfortable experience."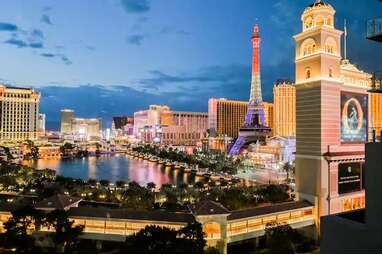 Airbnb
16 guests/$452 per night
This penthouse is located between the Bellagio and the Cosmopolitan and has views of the Strip, including the famous Bellagio fountains. There are "only" three bedrooms, but there are six queen beds and two queen sofa beds, so you can sleep plenty as long as people are cool bunking up together. You'll also get direct access to one of the Cosmopolitan's pools, hot tub, and gym.
What guests say: "We stayed here in a group of 10 for a bachelorette. The penthouse was very spacious. It was important to me that we didn't feel cramped, and that was the main reason I booked this Airbnb. It's located on the strip, which is convenient, and the view is amazing in every room! The room looked exactly as pictured. It was clean, and I received a quick response any time I had a question."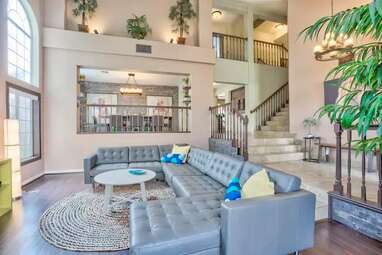 Airbnb
12 guests/$744 per night
Settle into this (5BR, 3BA) villa that feels like a mini-resort with a cozy backyard and everything you could need: a mini putting green, swimming pool, jacuzzi, and a covered area with a dining table, barbecue, and cozy couches around a firepit. The floor plan is open with sizeable bedrooms and bathrooms, a huge TV in the living room with all of the sports channels, and best of all: an Irish pub-style game room with a pool table, dart boards, TV, bar, card tables, and comfy seating. BYO whiskey.
What guests say: "The house is everything advertised and more. Clean, spacious, and close to the strip. We spent a lot of time in the game room, just hanging out. The fire pit was my favorite place to chill during the evening. If you come to visit Vegas with a group, this is a perfect place to stay."
Airbnb
12 guests/$500 per night
Designed by architect Fred Doriotin in the 1980s, this ornate 3,685 square-foot Spanish-style home has plenty of shared spaces for entertaining and hanging out, perfect for pre-gaming or chilling out during the day. The details are endless: a formal entry with 18-foot ceilings, beamed ceilings, handpainted ceilings, a basement with an enormous wine cellar, massage tables (and the host will arrange for a masseuse), wood-burning adobe fireplace, ornate tile, exposed brick, an indoor and an outdoor bar, a pool table in a covered indoor/outdoor area, and a backyard with a pool, outdoor kitchen, firepit, and shower. Oh, and it's just three miles from the Strip!
What guests say: "This house was amazing!! The pictures do this house no justice; it was GORGEOUS. We will definitely book again."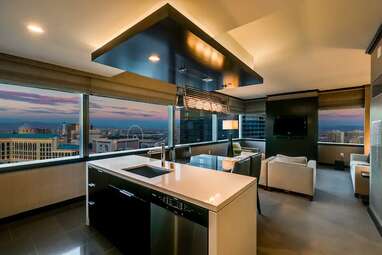 Airbnb
6 guests/$727 per night
Feeling a little fancy? The Vdara Hotel and Spa has boutique hotel energy adjacent to all of the crazy Vegas energy, but without a casino (or the stench of cigarettes). When you're not enjoying the penthouse views of the Strip and the Bellagio fountain (there are full-length glass windows on three sides), hang out in a cabana at the secluded rooftop pool and lounge or get a massage at the award-winning spa. Want to check out the casinos? Take your pick. The Vdara is connected to the Bellagio and adjacent to The Cosmopolitan and the ARIA Resort & Casino and is also close to high-end shopping and gourmet restaurants.
What guests say: "VIEWS VIEWS VIEWS. Every single night we saw the beautiful show of the Bellagio fountains with a perfect unobstructed view! Great location, just a short walk to the Cosmopolitan and Aria. The condo was extremely spacious for all 6 of us. The rooms were gorgeous and the bathrooms were perfect."
Daisy Barringer is an SF-based writer who has never not regretted that third night in Vegas. Follow her on Instagram
@daisysf
to see where her travels take her next.