Airbnb
Airbnb
We independently source all of the awesome products and experiences that we feature on Thrillist. If you buy or book from the links on our site, we may receive an affiliate commission — which in turn supports our work.
When looking for one-of-a-kind rentals, Airbnb is a great place to start. From unique domes to the coolest shipping containers, there are plenty of options to choose from depending on the type of experience you're searching for. If you're looking to stay near the beach, we have an idea for you: lighthouses. These navigational towers offer spectacular views, and many are full of interesting history to appeal to any type of traveler.
While staying in the lighthouse itself is not always possible, some of these rentals include the keeper's house which are perfect for larger groups. Since their locations are usually on the shore, you can also plan a full day of outdoor activities like kayaking, fishing, hiking, and more.
Ready to book a memorable stay? We've rounded up some of the best lighthouses from the U.S. to Europe that are available on Airbnb.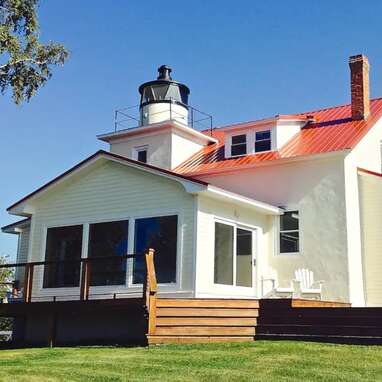 Airbnb
Eagle River, Michigan, United States
6 guests, $500 per night
This 1850s gem has been restored and turned into a modern rental filled with all the amenities to enjoy the most amazing vacation getaway. It boasts three bedrooms and two and a half bathrooms, perfect for up to six guests. Plan a day of activities around Keweenaw and come back to unwind with the scenic views of Lake Superior and Eagle River from the front deck or the tower.
What guests say: "Beautifully updated home with breathtaking views. Beds were super comfortable and the heated floors in the bathrooms were a nice bonus. Great stay!"
Airbnb
4 guests, $283 per night
If you're looking for a unique experience in Spain, this lighthouse rental in Pancha island is the perfect location for you. Located in the northwest side of the country, this apartment comes with one bedroom but can welcome up to four people, thanks to two additional sofa beds. Traveling with a larger group? You can also book the second apartment on the island that also houses up to four guests with the same amenities.
What guests say: "Absolutely incredible! Most gorgeous, unique stay. Beyond the two amazing lighthouses, the room is outfitted beautifully with a bathtub, snacks etc. Loved the island, the lighthouse and everything. 10/10.
Airbnb
Argyll and Bute, United Kingdom
4 guests, $196 per night
This lighthouse cottage is located in Scotland's Davaar Island, an incredible setting for a vacation retreat. This cozy rental welcomes up to four guests in two bedrooms (one with a king-sized bed and the other with two single beds). Since the island can only be crossed by car at low tide, the hosts will advise on the best crossing times and will drive you and your belongings to and from the island. Once you arrive and make yourself comfortable, head over to the Activity Shed where you'll find plenty of gear for fishing, snorkeling, and foraging.
What guests say: Lighthouse Cottage is probably one of the best places to stay in the country, let alone in an Airbnb. The location is unique, the cottage has everything you will need and more, and the hosts Ned and Toni are super helpful and friendly. We cannot think of anything negative about our stay. We only wish we could've stayed longer.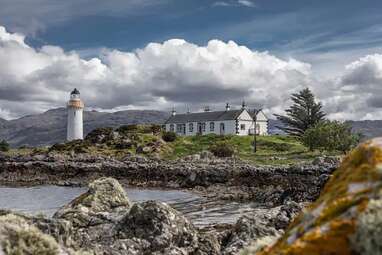 Airbnb
Isleornsay, Scotland, United Kingdom
8 guests, $552 per night
This incredible cottage is nestled on a private island that offers peaceful scenery with postcard-like views. It boasts four bedrooms, all with queen-sized beds and en suite bathrooms, perfect to accommodate the whole crew. Prepare a delicious meal in the fully-equipped kitchen, curl up with a book in front of the fireplace, or adventure outdoors to explore the rocky shore. However you plan to spend your stay, this location will satisfy every type of traveler.
What guests say: "The lighthouse property was amazing. Very rugged coastline, changing tides, and scenery. At low tide, the sheep cross over and graze outside your window. The cottage is tastefully decorated with modern amenities, yet retains a rustic natural feel. It was nice relaxing by the fire and listening to the wind from the sea. Overall it was a great adventure, and a highlight of our trip to Scotland. We recommend being fit and able to do the crossing in the boat, as this was the most exciting part."
Airbnb
8 guests, $429 per night
Dating back to 1838, this lighthouse sits overlooking the place where Salmon River meets Lake Ontario, a perfect location for people who enjoy fishing. The structure is a fully-equipped house with three bedrooms and two bathrooms, plus a lighthouse beacon at the top where you can enjoy beautiful views. The property also has a backyard with a grill and outdoor dining area, and access to a private beach.

What guests say: "The lighthouse is a truly unique experience! We loved the proximity to the marina, private beach, antique furniture and access to charter fishing boats. Only 1 hour or less to Thousand Islands, Syracuse, Oswego and Fairhaven."
Airbnb
6 guests, $1,393 per night
If you're heading over to Alaska, consider staying in this luxurious two-bedroom lighthouse nestled on a private island near Sitka harbor. Built in 1983 by a local veterinarian, the property is registered as a navigational beacon by the Coast Guard, but has been a vacation rental ever since it was finished. On the first floor, you can find a bright open area where the kitchen, living room, and full bathroom are located. A staircase leads you to the master bedroom on the second floor, and the second bedroom with two bunk beds on the third floor, where you have another stair that leads you to a third room with 360-degree views. The property is also surrounded by different outdoor areas where you can grill, enjoy dinners al fresco, or soak in the perfect nature views.

What guests say: "From start to finish, our stay at the Sitka Lighthouse was well-planned and executed, hospitable, and an absolutely unique and special experience. In surprisingly luxurious accommodations, you'll find peace and solitude, expansive views, and plenty of things to see and do."
Airbnb
8 guests, $885 per night
Previously owned by the Coast Guard, this newly renovated historic property at the tip of Wings Neck Point in Cape Cod is the perfect spot to enjoy a few days relaxing with your crew at a private beach. The lighthouse is attached by a breezeway to a spacious keeper's home that boasts three bedrooms, one and a half baths, an eat-in kitchen, a family room, and a laundry area. Spend a day at the beach and exploring the rocky slopes around the property, then make your way up to the mahogany spiral staircase in the tower to catch the sunset views over the Atlantic ocean.

What guests say: "This is a once-in-a-lifetime vacation rental. The keeper's house is terrific, the lighthouse is spectacular and the views are superb, day or night, rain or shine. It's a really special place, pretty far off the touristy roads. You can really appreciate what Cape Cod was like before it became a hot tourist spot, yet it's close enough to all the tourist amenities to serve as your vacation central."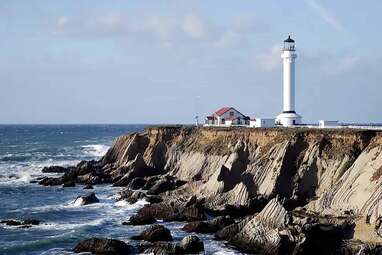 Airbnb
4 guests, $304 per night
This remodeled keeper's house sits on 23 private acres with postcard-like views of the Pacific Ocean. Although you won't actually be able to stay in the lighthouse, you can tour the 115-foot tower to learn more about its history dating back to 1896 and stay for the panoramic views. The house welcomes up to four guests with two bedrooms, one bathroom and a fully equipped kitchen.

What guests say: "We loved staying here! The location is unbeatable. You have serene hikes and whale watching during the day and amazing star gazing at night. The space was spotless, the kitchen was fully stocked, and they even welcomed us with a small bottle of wine. So thoughtful! Would absolutely stay again!"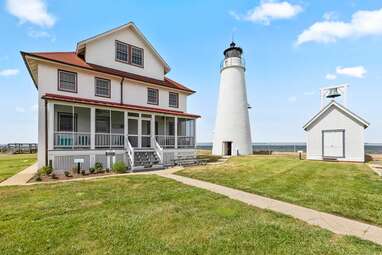 Airbnb
8 guests, $333 per night
This keeper's house was built in 1828 and expanded in 1925 to welcome two keepers and their families. Today, the property serves as two separate rentals that can be booked together or separately, depending on how many guests come together. Both sides have three bedrooms, a living room space, and a fully equipped kitchen. The lighthouse's base and surroundings are open to guests and the public to tour and learn more about the history of the oldest operating Light Station in Maryland.

What guests say: "If you need to refresh, restart, or renew your soul, this is the place for you. Perfectly clean, private, beautiful, spacious, and modern. We had beach walks, outdoor picnics, and good night sleeps all with this comfortable house."