We independently source all of the awesome products and experiences that we feature on Thrillist. If you buy or book from the links on our site, we may receive an affiliate commission — which in turn supports our work.
Some might say that packing is a chore, but I maintain that, done correctly, it's both an art and a science — particularly if you're just traveling for a few days and need to fit all the necessities into a smaller bag. The truth about effective packing is that while technique matters, having a really good piece of luggage makes it so much easier. And who better to recommend the best luggage for a weekend trip than Thrillist staffers? I spoke to members of our Travel team to ask what they personally like to carry when they're off on a short getaway, and trust me, the recommendations are truly impeccable.
Different types of luggage are going to make sense for different types of travelers, so it's important to consider what you need before you settle on a specific bag. A rolling suitcase is an excellent option if you're going to be spending time in an airport, and if you won't need to drag it over cobblestones or rough terrain. Duffel bags can be frustrating to carry long distances, but tend to feel super roomy — and some come with wheels to make them more comfortable to use. Opt for a backpack if you need a bag you can take just about anywhere; a large travel pack should have plenty of room for everything you want to bring, while a smaller one gives you the option to pack super light and can easily double as a daypack.
Beyond bag type, look for any other features that you think might be useful, whether you'd like something made of rugged, waterproof fabric for outdoor adventures, a backpack that folds up into a fanny pack, or a structured suitcase with hard sides to protect your belongings. Whatever you need, know that the bags listed below are ones we've tested out on the road. Here's hoping you love them as much as we do!
Backcountry
Travel writer Vanita Salisbury's longtime favorite wheeled duffel from Patagonia is a perfect pick for weekend trips, especially if you need something a bit more rugged. The carry-on-friendly 40-liter bag tackles the perennial problem of duffel bags — how unwieldy they can be to carry — and solves it by adding wheels and a telescoping handle.
Like the rest of Patagonia's Black Hole line, the bag is also made from super durable ripstop fabric that's coated so it's ultra-waterproof. It has pockets inside and out for the sake of organization, plus compression straps, and Salisbury promises it can fit a virtually endless amount of stuff.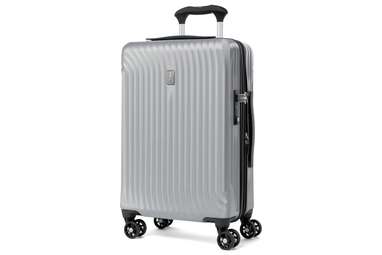 Travelpro
If your weekend travels require a rolling suitcase, travel editor Danielle Hallock is a big fan of the Travelpro Maxlite Air. While other hardsided luggage weighs in on the heavier side, Hallock assures me that this isn't a problem with the Maxlite Air, which she says "is so light that I can pack my heaviest items and still be able to lift it easily up stairs and across town." The carry-on version of this luggage weighs just over 6 pounds, with the medium size coming in at 8.5, and the large barely breaking 10.
But there's more to the Maxlite Air than its lighter-than-air status. It also makes organization easy, with an interior made of recycled plastic bottles that has a compartment on each side of the case (zip up the dividers to keep everything separated!) as well as an accessory pocket. Finally, explains Hallock, "The hard shell exterior protects everything inside, plus it's expandable and has four wheels, so it's easy to maneuver."
If you're not sold on the splurge, know that Travelpro provides comprehensive buyer protection against damage, including a lifetime limited warranty and a Trusted Companion Promise, which covers damage caused by airlines and other carriers during the year after purchase.
You can buy this luggage directly from Travelpro, but it's also available on Amazon if you'd prefer.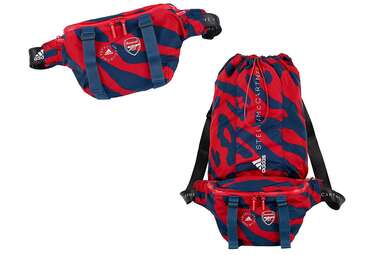 Arsenal Direct
An adaptable option for Arsenal fans on the go, this bag is a collaboration between Stella McCartney, Adidas, and the Arsenal Football Club. It's also a favorite of Thrillist Travel's editorial director Meredith Heil, who loves it not just because it's a way to represent "the greatest football club of all time," but because it's super versatile, too. The 26-liter backpack has plenty of room for all kinds of weekend necessities, but folds down into a fanny pack that's easy to shove into a suitcase or use casually once you reach your destination.
Heil also advises that the recycled polyester bag is ideal for traveling dog parents, explaining, "I go most places with my dog, and it's the perfect size for holding everything we need to explore a new city: hand sanitizer, phone, headphones, keys, collapsible dog bowl, treats, tennis balls, and even a snack for the humans."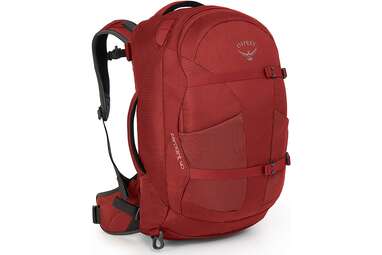 Amazon
If you want to buy one travel pack that will work for just about every excursion, make it the Osprey Farpoint 40. I own this bag and can tell you that it's big enough to live out of for an indefinite amount of time, but small enough to carry onto most airplanes. When you're just using it for a weekend, you can either feel free to pack way too much stuff (guilty!), or simply underfill it and use the two outer straps to compress the whole thing down.
There's a lot to love about this backpack, including its multiple storage pockets, breathable mesh back, and the way it zips open like a suitcase rather than loading from the top, but my favorite thing is that it has a real suspension system, so you can more comfortably distribute the weight across your hips. It's also a pretty versatile bag, since it comes with a flap you can use to zip away the shoulder straps so it's easier to load the bag into an overhead compartment, or so you can transform it into a duffel with the included carrying strap.
REI
Whether you're packing very light for a weekend away or bringing a daypack for your adventures, you'd be hard-pressed to find a better option than this 25-liter one from Patagonia's Black Hole series. Salisbury has been using this backpack for a long time, taking it with her on all kinds of sporty adventures. Like the other pieces from this line, the backpack is made from a durable coated ripstop fabric that's incredibly waterproof, so your stuff stays dry in any conditions. The bag comes with a 15-inch laptop sleeve that can also be used to hold a hydration bladder, stretchy waterbottle pockets on the sides, and a few small internal and exterior pockets. A breathable back pannel and padded straps keep it comfy to carry. If you don't like the all-black look, this pack also comes in solid or patterned shades of blue.
REI
A few years before I became a senior shopping editor at Thrillist, I spent the better part of a year backpacking across Europe. When I returned, I was entirely too familiar with the shortcomings of the luggage I'd used, and was determined to replace it with something better. Specifically, I wanted a backpack that was water resistant and had external pockets to hold my water bottle. What I ended up getting was Fjallraven's Raven backpack. I couldn't decide which size made the most sense, so I scooped up both the 28- and 20-liter versions and ended up keeping them both.
While the 20-liter pack is a great daypack, the 28-liter Raven really shines when it comes to packing for a weekend trip, surprisingly spacious and well-organized for a bag that's objectively not that big. It has two really roomy compartments with some smaller pockets inside, plus a front zip pocket and a padded one on top that's theoretically meant to hold sunglasses, though I find it most helpful for anything small that I need to access regularly. The back of the bag houses a separate padded compartment that zips open. It's designed to hold a 15-inch laptop, but it has two sleeves inside, and I find it can fit my laptop, iPad, and Kindle with room to spare.
Truly, this is the bag that keeps on giving, with seemingly endless space. I'm not a particularly light packer, but I find this bag makes it easy to skip the larger luggage. And, yes — it has side pockets for water bottles, and the waxed fabric keeps the bag's contents dry in any weather.