These Themed Crates Make Great Gifts for the Tough-To-Shop-For Guys on Your List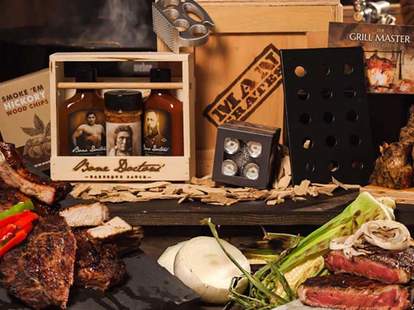 We independently source all of the awesome products and experiences that we feature on Thrillist. If you buy or book from the links on our site, we may receive an affiliate commission — which in turn supports our work.
There's always at least one person on your holiday shopping list every year who leaves you stumped. Maybe it's your father-in-law, or your sister's new boyfriend, or that neighbor you feel weirdly obligated to buy for since they always get you something. It's never easy, but if you're still struggling to figure it out this year, you may want to consider going with an expertly curated assortment of stuff from Man Crates.
Man Crates stocks a huge variety of themed (literal) wooden crates, packed with a selection of on-theme items -- everything from meaty snacks, boozy accessories, and barware, to grilling gear, sports merch, and DIY kits -- that the recipient opens with an included crowbar. They're a bit of a novelty, sure, but they're a big step up from your average impersonal gift basket.
There are over 100 different crates to pick from -- many of which allow you to add personalized touches -- but we've plucked a few of our favorites here. And, if you feel compelled to grab one for a couple different people on your list his year, now's a good time to do it thanks to a special buy-one-get-one half-off promotion that's running right now.
Man Crates
The Whiskey Appreciation Crate
Price: $160
Although the whiskey fans on your list will certainly appreciate a bottle of actual whiskey, why not make your gift a bit more thoughtful with a full cache of goodies to help them savor their sipping a bit more. This crate's stocked with a personalized (handmade) whiskey decanter, two personalized heavy-bottom rocks glasses, two ice sphere molds, two slate coasters, a "whiskey drinking journal," and even an assortment of nuts. 
Man Crates
The Jerky Cane
Price: $20
Candy canes are...fine. One or two per holiday season is more than enough. But a jerky cane? We're on board year-round, especially if it's this one, which comes filled with a selection of eight different beef jerky varieties: classic, black pepper, honey bourbon, garlic, root beer, root beer habanero, whiskey maple, and Japanese.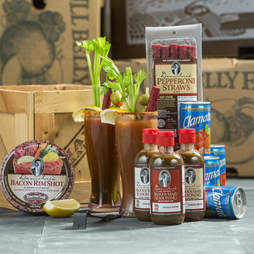 Man Crates
The Personalized Bloody Mary Crate
Price: $80
Every bloody mary aficionado has their own idea of the perfect version of one, whether it's wildly garnished, dangerously spicy, or any combination thereof. Frankly, though, the best bloody marys are the ones you make yourself, which is why this Crate makes for an excellent gift, coming packed with two personalized Collins glasses, a bacon rimshot, pepperoni straws, six cans of Clamato juice, and a trio of different seasonings from Demitri's (classic, chilies and peppers, and extra horseradish).
Man Crates
The Exotic Meats Crate
Price: $110
For the enthusiastic carnivore on your list, Man Crates' pack of exotic meats is a true smorgasbord of unique jerkies made from animals you won't find available in your average butcher shop, like wild boar, alligator, pheasant, ostrich, buffalo, elk, and more.
Man Crates
The Pitmaster Crate
Price: $120
Perfect for person who's ideal day involves spending hours tending to a low-and-slow barbecue station, this pack of essentials will arm them with all the tools they'll need to become a true master of fall-off-the-bone meat. In it, you'll find stainless steel "meat claws," premium leather gloves, a collapsible grill fork, silicone basting brush, cast iron sauce pot, two different sauces (one honey sweet and one "touch of heat"), a barbecue meat rub, and two packs of wood chips (hickory and mesquite).
Man Crates
The Bacon Crate
Price: $60
A crate full of bacon? Few phrases will delight folks who obsess over delicious pan-fried pork fat as much as that one. This kit comes filled with different speciality products that are (or contain) pieces of bacon, including jalapeno bacon jerky, old fashioned maple bacon jerky, bourbon bacon seasoning, Sir Francis Bacon peanut brittle, and a special hot pepper bacon jam from Terrapin Ridge Farms. 
Man Crates
The Personalized Growler Crate
Price: $80
Craft beer fiends can be a bit touchy about the brews they'll actually drink which can make gifting them actual beer a little tricky. Instead, opt for some gear that'll make sipping their favorite suds a bit more enjoyable with this Personalized Growler Crate, which features a personalized 64-ounce insulated mini-keg growler, two classic pint glasses, a special "beer tasting journal," and a bag of Brew Candy, which takes flavor inspiration from popular craft beer varieties.
Want to know more about our favorite products and services, and get great deals on cool stuff? Sign up for the weekly Thrillist DealMail.