OnurDongel/iStock/Getty Images
OnurDongel/iStock/Getty Images
We independently source all of the awesome products and experiences that we feature on Thrillist. If you buy or book from the links on our site, we may receive an affiliate commission — which in turn supports our work.
Although many of us avoid checking baggage at all costs, sometimes you don't have a choice—especially when you're traveling with a bunch of bulky winter clothes and gifts for the fam. For that reason, we recommend traveling with a medium-sized piece of luggage (roughly 24-27 inches) that's big enough to easily accommodate your stuff but won't be subject to annoying "oversize bag" fees. It's also important to find a bag that's sturdy and durable, lest you discover it cracked open at baggage claim.
To help you pick from the seemingly infinite options out there, we tracked down some of the top-rated and best-selling checked luggage you can buy on Amazon right now. From elegant hard-shell designs to expandable options equipped with pockets, here are some standouts to consider.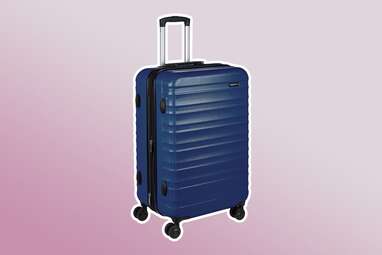 Amazon
With nearly 28,000 five-star reviews, this Amazon Basics bag promises to be a solid option for most travelers. One reviewer (who happens to be a flight attendant) claims it rolls so smoothly that "it feels like it's floating." Another enthusiastic reviewer added she was surprised by the quality of this suitcase: "It seems sturdy enough, wheels all work, and it's easy to maneuver when you get out of baggage claim and surprisingly not that heavy—I packed for a month in LA and this wasn't too hard for me to chuck into the SUV." All that for under $100? Sign us up.
Amazon
If you need a bit of help to stay organized while traveling, consider this option from SwissGear. With multiple exterior and interior pockets and dividers, all your things will have a designated space for neat and tidy packing. Also, reviewers agree that this suitcase is very sturdy and durable. "My children abuse these bags but no other brand can hold up as well as this one," writes one satisfied customer, who says she takes several flights a month with seven people using this suitcase.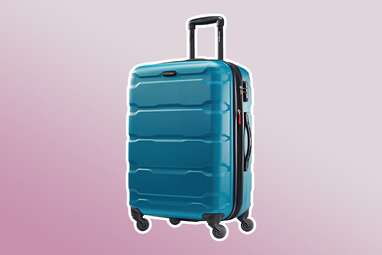 Amazon
If you're familiar with Samsonite, you know that the brand's suitcases are as sturdy and durable as they come—and this one is no exception. One reviewer who travels weekly said that this suitcase is a "great, durable bag that has now made it through around 25-30 flights since I bought it. Still going strong and no signs of significant wear or damage." It comes with a 10-year warranty, so we believe the hype.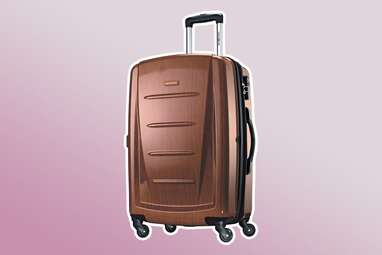 Amazon
We love the sleek, futuristic look of this Samsonite bag, but its appeal lies far beyond pure aesthetics. It comes with the expected bells and whistles—dual handles, spinner wheels, etc.—plus TSA locks to keep your belongings nice and safe. The fact that it comes with a 10-year warranty and has an expandable design to give you an extra 1.5 inches of space are added perks. You can also choose from more than a dozen color options, ranging from classic black and navy to rose gold and cactus green.
Amazon
The expandable suitcase from Travelpro has a lightweight yet durable honeycomb frame system that lets you pack more than you'd think you could without exceeding weight limits. Its exterior boasts a retractable handle, handles on the side and bottom, and two zip-up compartments, while the inside features a full-length pocket, side accessory pocket, and adjustable straps to prevent your belongings from moving around in transit. Also, the exterior is fashioned from polyester with a stain-resistant and water-repellant coating for maximum protection and durability.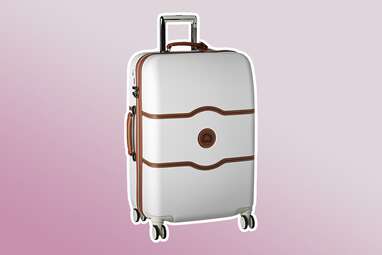 Amazon
With its elegant white exterior and faux leather details, this Delsey Paris hard-shell suitcase looks a lot more expensive than it actually is. It also has some legitimately cool features, like a TSA-approved lock and a brake system that locks the front wheels and prevents your bag from rolling away. Plus, reviewers rave about its durability—one customer wrote that she dropped this bag down the escalator at an airport, and when they went to retrieve it at the bottom they found "no dents, no cracks, handle fully intact, barely a scratch."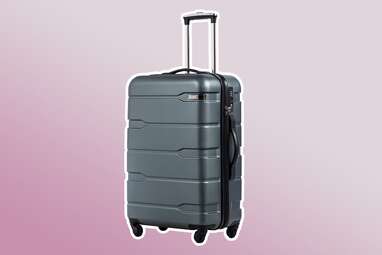 Amazon
For a 24-inch piece of luggage, this Coolife suitcase is surprisingly spacious thanks to its expandability. It's also fully lined with multi-use pockets along the interior, making it easy to pack everything neatly. A satisfied reviewer wrote that "[it is] so big, much more than it seems, and the material is so resistant, it almost has no scratches. The handle and the wheels work so smoothly. It's a bit on the pricey side, but totally worth it!"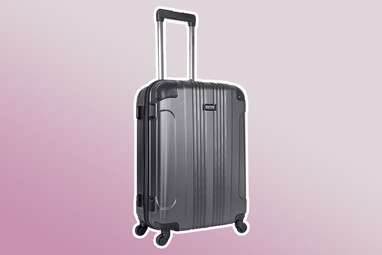 Amazon
This elegant hard-shell bag boasts four multi-directional spinner wheels for easy maneuvering, a spacious fully lined interior, top and side handles, and various organizational add-ons like zip-up pockets and compression straps. It's also very lightweight, so you can pack more than you think without subjecting yourself to extra fees.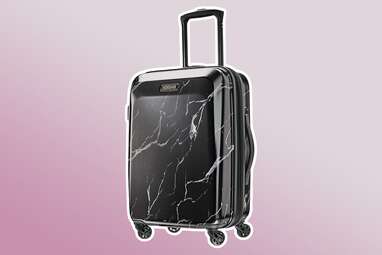 Amazon
If aesthetics are a top priority, this stunning hard-shell suitcase from American Tourister should be on your radar. It features a lightweight and expandable design that lets you pack a lot more stuff, and it also boasts multi-directional spinner wheels for easy mobility. Plus, its marble-inspired design provides an elegant twist that helps it stand out on crowded baggage carousels—a nice hack for finding your luggage fast!