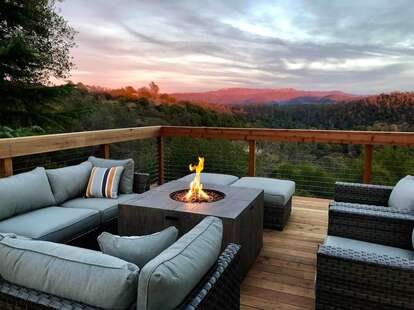 We independently source all of the awesome products and experiences that we feature on Thrillist. If you buy or book from the links on our site, we may receive an affiliate commission — which in turn supports our work.
A beach vacation is great and all, but if you're looking for peace and quiet, as well as adventure, you can't beat a mountain escape. The breathtaking views, crisp, clean air, and calming effect of nature are reason enough on their own. Add in year-round non-stop opportunities for outdoor adventures, like skiing, hiking, fishing, waterfall-hunting, kayaking, mountain biking, and a million other adrenaline-boosting activities, and a trip to the mountains is pretty much a no-brainer. And when you throw in an Airbnb with a hot tub, fire pit, plenty of room for you and your friends, and more of those stunning views? Suddenly it's tough to imagine choosing seagulls, sand in every bodily orifice, and the inevitable sunburn instead.
Still not convinced? We're confident that these 10 amazing Airbnbs, all in laidback mountain towns, will do the trick.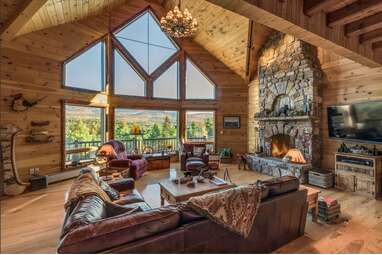 16 guests/$2,028 per night
Take in views of the Adirondacks as you soak in the hot tub, sit around the outdoor fire pit, cook dinner in the gourmet kitchen, swim in the brand new pool, or just kick back on the porch with a beer in hand. Whispering Pines Lodge is an 8,000 square foot home that sits on 100 acres and has all of the amenities you and your friends could want: an all-season hot tub, sauna, pool table, ping pong table, wood-burning fireplaces, outdoor fire pit, chef's kitchen, and non-stop mountain views. Go skiing at Whiteface Mountain in the winter, swimming in Lake Placid in the summer, or foliage-spotting in the fall—if you can drag yourself away from the property, that is.
What guests say: "Whispering Pines is the perfect Adirondack getaway for family and friends. The house is spacious and offers countless amenities for all. The views are spectacular too, especially with a dusting of snow and a fire crackling in the background."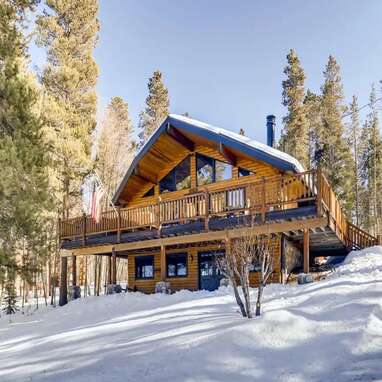 10 guests/$479 per night
Whether you want to hit the slopes in the winter or laze the day away in a hammock in the summer, this newly-remodeled Breckenridge cabin delivers. Just five minutes from the slopes and downtown shopping and dining, this mountain getaway sits on a private one-acre lot and has a chef's kitchen, wood-burning fireplace, and a hot tub on a wrap-around deck with views of the Tenmile Range. When the weather warms up, you can also enjoy a nap in the hammock, a game of horseshoes, and flipping burgers on the grill.
What guests say: "This is the most amazing cabin you could possibly stay at in Breckenridge. The views are absolutely outstanding. Prime location. Every amenity you could ask for. The cabin itself is so beautiful. The owners did a spectacular job at keeping the original charm but also adding high-end modern updates. We thoroughly enjoyed every night soaking in the hot tub, all while admiring the gorgeous winter wonderland views! We will never stay anywhere else while in Breckenridge!"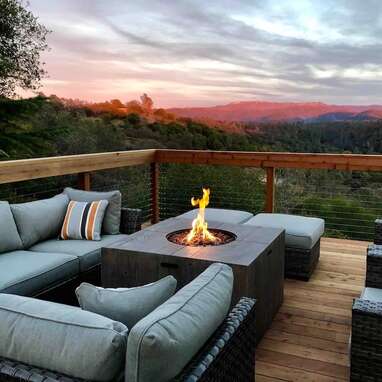 8 guests/$599 per night
Yosemite National Park is one of the most magical places in the world, and what better place to relax after a day of enjoying its trails, waterfalls, vistas, and giant Sequoias than in a hot tub with views of the Sierras? This secluded hilltop home sits on 22 acres and has a swimming pool, hot tub, redwood deck with a fire pit and comfy seating, large stone fireplace, horseshoes, cornhole, game room, outdoor grill, and views whichever way you turn.
What guests say: "Absolutely gorgeous location! Stunning views all around. The pool is a joy on a hot summer day. The shaded hot tub is so relaxing. And all within driving distance to Yosemite. A perfect getaway!"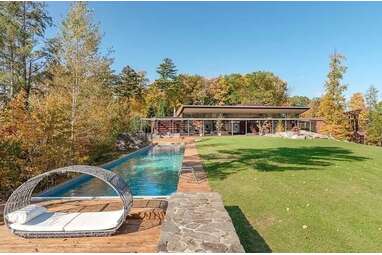 Great Barrington, Massachusetts
16 guests/$3,500 per night
The Berkshires is known for its impressive fall foliage, hiking trails, and New England charm, and you can enjoy all of that—plus more—at this villa oasis surrounded by 120 acres of nature. The property has an outdoor pool, hot tub with mountain views, fire pit, gigantic modern kitchen, floor-to-ceiling windows for maximum view enjoyment, hiking trails, and more. You probably won't want to leave, but if you do, there is also skiing nearby in the winter, waterfalls to find in the spring, and great restaurants nearby year-round.
What guests say: "We loved our weekend at [this] house in the Berkshires. There was plenty of room for our group of 13 people and three dogs. The caretaker was responsive to all our requests; the grounds were spacious and well-kept; the pool and hot tub provided endless hours of fun; the drive to and from the site was spectacular. I cannot recommend this weekend retreat more."
Asheville, North Carolina
4 guests/$289 per night
Located on eight acres just 10 minutes away from downtown Asheville, this serene treehouse is a perfect getaway for a couple—or two couples that don't mind a cozy space. This house is definitely a treehouse, but it's also a legit house in that it has a bedroom with a double-sided fireplace, a large bathroom (you know, for a treehouse), a three-sided wraparound deck, and expansive windows that show off views, views, and then more views. Build yourself a nest on the outdoor swing bed—the perfect perch for diving into a good book.
What guests say: "Every aspect inside and outside is as perfect as it looks in the pictures. The setting and view are over the top. And yet, it's very close to grocery shopping as well as the myriad of fun activities of Asheville, so you could hang out here the whole time or use it as a base camp for touring breweries, seeing live music, hiking, or whatever."
13 guests/$893 per night
A modern mountain cabin is even better when it comes with a side of lake. This particular one comes with a side of Georgetown Lake, which is nestled between three mountain ranges at 6,425 feet above sea level. There you can boat, fish (ice and regular), swim, and even windsurf. In the winter, there's also skiing and snowmobiling, but if you want to really maximize your enjoyment of this property, you'll probably want to go when the weather is a little warmer so you can take advantage of the house's proximity to the lake by jumping off of the dock all day long.
What guests say: "Such an amazing spot with an incredible view, even on the dullest of days. The furnishings are modern, tasteful, and extremely comfortable, while the kitchen is fully equipped and sure to satisfy the most discerning of cooks. We were there for just a few days and found the two local restaurants with good food and amazing service. In the evenings, the hot tub was a grand way to slow down and enjoy the sound of the loons (and watch a pair building their nest!) Highly, highly recommend this home."
8 guests/$444 per night
If you want to be in the mountains without being in the mountains, this ranch home with adobe walls just north of Taos is perfect for you. This home is all about the outdoor space—a huge brick patio with comfy seating, a gas grill, a hot tub, and views of Taos Mountain. While you're there, visit Taos Pueblo, a Native American community with multi-story adobe dwellings, go skiing at Taos Ski Valley, go river rafting on the Rio Grande, hike to a waterfall, visit art museums, or just eat and shop in the historic Taos Plaza. Whatever adventure you choose, it will make coming back to that hot tub with those views even more amazing.
What guests say: "Location, location, location!!! What more can be said. It's a short drive to the heart of Taos or the ski valley. Every room has outstanding views, with privacy. The kitchen has all modern, high-end appliances. All around, it's a beautiful home that's kept immaculately clean and gives you a fantastic atmosphere to unwind after a day of skiing or shopping."
8 guests/$499 per night
Located right at the base of Alyeska Resort (Alaska's largest ski area) and only about 30 miles from Anchorage, this cozy chalet is the perfect basecamp for an Alaskan adventure. Take advantage of the "steep and deep" ski trails in the winter, hike and mountain bike in the summer when the resort transforms into the world's northernmost rainforest, and take advantage of the spa year-round. You'll also have access to everything one wants to do when in Alaska, including glacier and wildlife cruises, heli-hiking and rafting, cat-skiing, and more before coming home and enjoying a soak in the hot tub followed by a short walk to dinner and/or a beer from the local brewery in town.
What guests say: "Great location! Amazing hikes right outside the front door. The updated bathroom and shower were lovely. The bed and pillows were comfy. The perfect kitchen, bar, and dining space for entertaining. And who doesn't love a hot tub with a mountain view!?"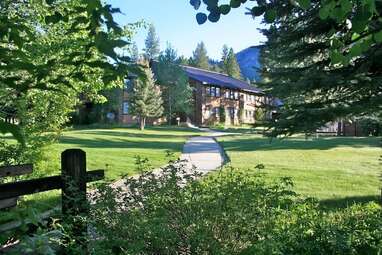 16 guests/$2,500 per night
After you arrive at this massive property, you'll never want to leave. That's okay because this place IS the vacation. This property—which was once "homesteaded" by the dude who started Coors Brewing Company—has 18 suite (also "sweet') bedrooms (29 beds total), but don't plan on spending much time sleeping since there's also: a natural hot spring pool and hot tub, tennis court, volleyball court, private lakes (yes, plural) with fishing, paddle boating, paddle boarding, and canoeing, a par three golf hole, tons of hiking and mountain biking trails, horseshoes, croquet, ATVs and snowmobiles, and more. Want to skip the 3.5 hours drive from the Boise airport? No problem. The property has a 4,000-foot private runway. You'll just need to provide the plane.
What guests say: "This place is an absolute paradise. We got on the lake with paddleboats, walked to the Chattanooga Hot Spring, fished, swam in the pool, rode our RZRs on all of the trails, cooked s'mores in the fire pit, fed/pet horses and cows, saw the Milky Way, and got married at the base of the Sawtooth Mountains. I hope to come back again!"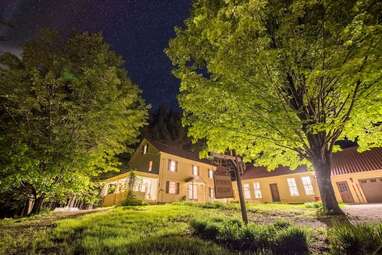 16 guests/$757 per night
Partake in the quintessential New England outdoor adventure experience in North Conway, New Hampshire, starting with a stay at this 1855 post and beam farmhouse with a covered porch, private brook, gardens, hot tub, fire pit, and pool table. Pumpkin Hollow, a former bed and breakfast, is close to phenomenal spots to take in the fall foliage, scenic train rides (including one that will take you to the northeast's tallest peak), tubing on the Saco River, several ski resorts, alpine slides, swimming holes beneath waterfalls, craft breweries, and Storyland, an old school amusement park. If that's not exciting enough for you, there's also ziplining, mountain climbing, moose safaris (!!!), and dog sledding.
What guests say: "This property had plenty of space to spread out. Perfect getaway spot, close to ski resorts/shops, but also plenty to do onsite. The brook is beautiful with its cascading waterfalls. We loved playing games in the pub, shooting pool, and relaxing in the hot tub. The kitchen is well equipped, and all bedrooms were comfortable."
Daisy Barringer is an SF-based writer with a 155-pound Saint Bernard who loves the mountains even more than she does. See where they are visiting these days on Instagram
@daisysf
.