The Best Airbnbs in Nashville for Bachelor and Bachelorette Parties
We independently source all of the awesome products and experiences that we feature on Thrillist. If you buy or book from the links on our site, we may receive an affiliate commission — which in turn supports our work.
Being asked to plan someone's bachelor or bachelorette party is as much an honor as it is a hellish exercise in organization and ego-wrangling. Depending on the size of the group (and the variety of pals or family members involved), figuring out where to go, where to stay, and what to do to keep everyone entertained is rarely a small order. But, if you've got your sights set on an epic bash in Nashville, we can at least help you figure out accommodations.
From sprawling country mansions with private fishing ponds to modern pads with game rooms and infinity pools, we've pulled together some of the greatest Airbnbs around Music City to host your group of revelers for every budget, vibe, and activity level. Even if Nashville isn't on your radar, some of these spots may convince you to change your mind.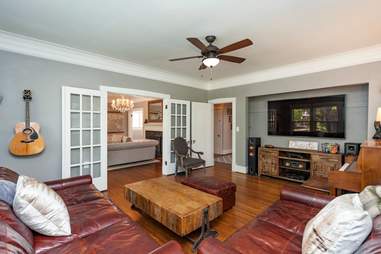 Airbnb
If you're looking for a backyard fire pit and and an indoor beauty bar
12 guests (5 bedrooms), $750 per night
East Nashville (5-10 minute drive to downtown)
Owned by touring musicians, this spot is just steps from a number of popular bars and restaurants in Nashville's Five Points neighborhood, though you'll be just as likely to want to stay put and enjoy the space. It's decked out with a front porch (with rocking chairs and a swing), lots of room to chill indoors, a full beauty bar for getting primped and polished, and a nice new fire pit (and grill) in the backyard to kick it after dark.
Best review:
"Stop looking for a house in Nashville because you've already found it. Kelly's MAGNIFICENT House was true perfection for my best friend's bachelorette weekend. I mean it has a stocked powder room for goodness sake! Honestly, the first thing out of everyone's mouth when we arrived was 'Holy Crap, this place is AMAZING.' More than one person described it as their 'dream house' and you had a lot of city gals in this group, so there's that!"
Airbnb
It you want a 41-acre country estate with a heated pool
12 guests (6 bedrooms), $1,000 per night
Franklin (~20 minute drive to downtown Nashville)
If your crew is cool with staying a bit outside Nashville, this quiet spot in nearby Franklin, Tennessee (20 minutes from the city) is a great option. Dubbed White Horse Farm, it sits on 41 acres (explorable with several walking trails), and even has two private ponds guests can fish in. In addition to the gorgeous heated infinity pool in back, there's also a small one-bedroom guest house (with its own kitchen) and even a heated barn that can be use for gatherings up to 100 people (for a fee).
Best review:
"Post card picture setting. Beautiful estate with great amenities. Comfortable sleeping arrangements & will definitely make this an annual getaway. Perfect location, ample parking, you will not be disappointed. Enjoyed the wild turkeys roaming the grounds. Definitely a 5 star property."
Airbnb
If you need a sauna, pool, hot tub, and tennis/basketball courts
14 guests (5 bedrooms), $1,000 per night
Franklin (~20 minute drive to downtown Nashville)
Though it's also technically in nearby Franklin, Tennessee, you'll be easily convinced to make your home base outside Nashville proper once you get a look at this place. With enough room to comfortably accommodate 14 people, it features a stunning solarium and deck overlooking the backyard, which itself is outfitted with a pool, hot tub, pool house, outdoor kitchen/grill, and sauna. And if you're itching to flex some competitive muscle while you're there, there's also a tennis court on the property that doubles as a full basketball court.
Best review:
"THIS IS AN ABSOLUTELY AWESOME HOME AND EXPERIENCE!! A truly unique property that the owners have lavishly and lovingly curated and restored. 100% + worth the long drive to/from Nashville for the rural experience, wonderful period furniture, and gorgeous surroundings (daily deer and turkeys amidst the corn and soybean fields)."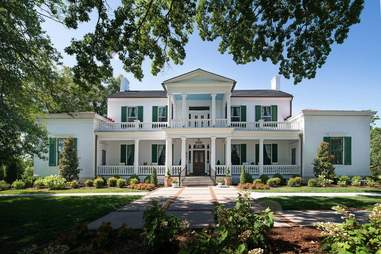 Airbnb
If you have huge group and want antebellum elegance
16+ guests (15 bedrooms), $2,500 per night
Donelson (5 miles from downtown Nashville)
An officially designated historic landmark, this antebellum mansion sits on six acres just five miles from downtown and is decked out with the sort of next-level old-school furnishings and decor that'll make it feel like you're elegantly living in the past. There are 15 bedrooms, each with its own bathroom, and a whopping 26 chandeliers scattered throughout the house. Though it's probably not the best spot for a rowdy crowd, it's still a great choice if your crew enjoys lounging in bygone luxury.
Best review:
"Our group of 18 loved this house! It was even better than we had hoped. The house was beautiful, clean, and had everything we needed. The owner was a dream to work with and provided great information regarding the city and sites. It is not easy to please 18 people, and The Music City Row Mansion did. Our group will will be going back!"
Airbnb
If you want a private 10-acre estate with its own poker room and horseshoe pits
10 guests (5 bedrooms), $1,000 per night
Franklin (~20 minute drive to downtown Nashville)
For folks interested in experiencing the grandeur of country mansion life, this 10-acre gated estate in Franklin, Tennessee more than covers the bases. It's perfect for a medium-sized group both inside and out. Indoors you'll enjoy the likes of a poker room, five fireplaces, a library, elevator, and third floor observatory & terrace featuring sweeping 360-degree views. Meanwhile, outside there's a huge infinity pool and lap pool, two horseshoe pits, and a guest house, all of which should keep you more than entertained when you're not out exploring Music City.
Best review:
"Beautiful views, wonderful pool & hot tub, friendly host, and an overall great stay!"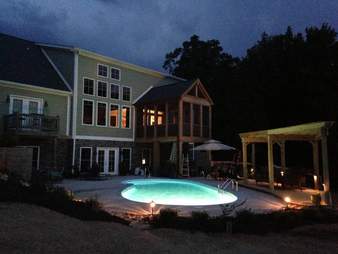 Airbnb
If you're on a budget but want a home theater, music room, pool and game den
16+ guests (7 bedrooms), $399 per night
Springfield (~25 minutes to downtown Nashville)
This is the group trip house dreams are made of, and one you can get for an insanely fair price. Set on 10 acres, it's three stories and packed with the sort of amenities that'll have you questioning whether it's even worth leaving to explore the city. Inside you have a home theater, pool & ping pong tables, and a music room, while outside there's a pool, patio, grill, tree house, bar, and fire pit directly accessible via the walkout basement. Plus, if you plan to be cooking at all, you'll be able to enjoy fresh eggs at breakfast thanks to the small chicken coop out back.
Best review:
"Pictures will never do justice to the overall experience of this amazing oasis. We came to Nashville to celebrate my friend's 30th and this house was the highlight of everyone's trip."
Airbnb
If you're looking for a very on-theme Nashville pad (with a roofdeck)
16+ guests (6 bedrooms), $544 per night
East Nashville (less than 4 miles from Broadway/downtown Nashville)
If you're headed to Nashville to fully embrace what it has to offer, this spot -- which is actually two side-by-side condo units -- should be on your radar. They're loosely themed around two country icons (Dolly Parton and Johnny Cash), and can comfortably accommodate up to 20 people. There are plenty of areas to lounge, drink, cook, and eat, including out on the big finished rooftop where you can watch the sun go down.
Best review:
"We just had a bachelor party for 16 people and used two side by side units. This was the perfect setup for such a large group. Ample sleeping, open main floors for group hangs, and less than 10 minutes to broadway. Oh, and the rooftop patios we really awesome. Would definitely book again."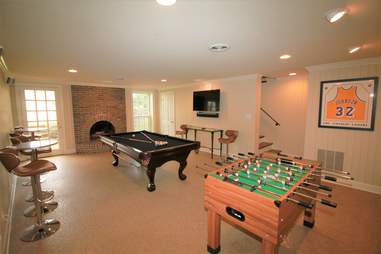 Airbnb
If you want a sprawling, 9,000-square foot smart home
16+ guests (7 bedrooms), $1,000 per night
Belle Meade (5 miles from downtown Nashville)
Though it's just a few miles from downtown, this house feels like a rural getaway because it's settled atop a hill on seven private acres. It's in the swanky Belle Meade neighborhood, and is decked out a suite of luxe amenities to keep you and your crew entertained including a spacious game room, a bar, salt water pool, two brand new full kitchens (one in the main house and one in the pool house), a Sonos sound system throughout the property, and a voice-activated smart lighting setup.
Best review:
"This is a truly amazing home! Can't say enough about it! Everyone in our group couldn't stop talking about how great the house was. Very roomy and comfortable with everything you could possibly need. The master bedroom/bath is out of this world! Great neighborhood close to all the action. Each Uber driver that picked us up remarked about the house being in one of the nicest areas of town. The pool was such a nice treat, with its very own pool house! There were so many rooms in the house to spread out, you never felt cramped!"
Want to know more about our favorite products, the most worthwhile sales, and exclusive deals on cool stuff? Sign up for our weekly newsletter, The Get.