Airbnb
Airbnb
We independently source all of the awesome products and experiences that we feature on Thrillist. If you buy or book from the links on our site, we may receive an affiliate commission — which in turn supports our work.
Thanks to its party bikes and wealth of honky-tonk bars, Nashville is often considered the country's top destination for bachelor and bachelorette parties. (Sorry, Vegas.) But as much heavy lifting as the city does when it comes to entertainment, it can still be tricky to find accommodations that work for large, oftentimes rowdy groups of people. That's where Airbnb comes in.
From sprawling country mansions with private fishing ponds to modern pads with vintage arcades, Airbnb has listings across Music City to fit every budget, vibe, and activity level. Even if Nashville isn't on your radar, some of these spots may convince you to change your mind. So grab your moonshine and cowboy boots, and start booking!
Airbnb
16 guests/$828 per night
This listing comes with two townhouses, each with 3 bedrooms and 3.5 baths. The open concept floor plans allow for tons of mingling, either in the spacious living room or full kitchen with dining table—or the rooftop deck, which has a TV, sun loungers, cornhole boards, and views of the Nashville skyline.
What guests say: "We had a bachelorette party of 14 people and the two townhouses accommodated everyone. The house was clean and the owners were very responsive and accommodated us with our different travel times for checking in and out."
Airbnb
12 guests/$634 per night
This modern home features 4 bedrooms and baths, a full kitchen, spacious living room, and rooftop patio with neon signs, cornhole boards, and bar seating. The home is within walking distance to The Gulch, and just a quick Uber ride away from Broadway.
What guests say: "Such a great place. It slept 17 women comfortably and we had a fabulous time! Gorgeous views from the rooftop."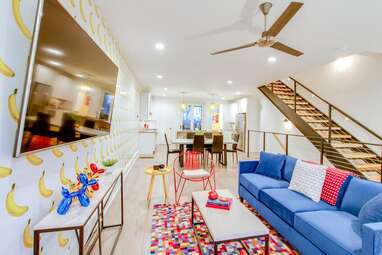 Airbnb
12 guests/$357 per night
Tap into your inner child at this five-story townhouse, which comes with wacky features like candy machines, vintage-style arcade games, and scratch-and-sniff banana wallpaper (yes, really). When you're ready to venture out, there are music venues, shops, and bakeries at the end of the block.
What guests say: "Great location. Theme and decor of the house was fun and made for some great pics. We would be happy to stay there again!"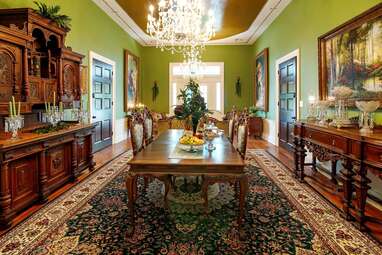 Airbnb
16 guests/$4,543 per night
An officially designated historic landmark, this antebellum mansion sits on six acres just five miles from downtown Nashville and is decked out with next-level elegant furnishings and decor. There are 15 bedrooms (each with its own bathroom!) and a whopping 26 chandeliers scattered throughout the house. Though it's probably not the best spot for a rowdy crowd, it's a great choice if your crew enjoys lounging in bygone luxury.
What guests say: "Our group of 18 loved this house! It was even better than we had hoped. The house was beautiful, clean, and had everything we needed."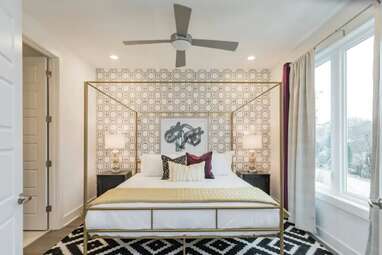 Airbnb
12 guests/$306 per night
This townhouse is basically like a private hotel that costs $25 per person, with 4 bedrooms with their own bathrooms, a living room with Smart TV and cool artwork, and a huge kitchen stocked with everything you could possibly need. There's even a cute little bar cart with holographic cups and board games.
What guests say: "This space was perfect for the bachelorette trip I hosted! It was a quick Uber trip to The Gulch and downtown; there is also a super cute coffee shop next door that was delicious!"
Airbnb
16 guests/$1,743 per night
Just a few miles from downtown, this house sits on seven private acres in the swanky Belle Meade neighborhood. It is decked out with a suite of luxe amenities to keep you and your crew entertained, including a spacious game room, bar, saltwater pool, two full kitchens (one in the main house and one in the pool house), a Sonos sound system throughout the property, and a voice-activated smart lighting setup.
What guests say: "This house was perfect. It is beautiful and comfortable with plenty of room for everyone."
Airbnb
16 guests/$638 per night
If you're headed to Nashville to fully embrace what it has to offer, this spot—which is actually two side-by-side condo units—should be on your radar. They're loosely themed around two country icons (Dolly Parton and Johnny Cash), and can comfortably accommodate up to 20 people. There are plenty of areas to lounge, drink, cook, and eat, including out on the big finished rooftop where you can watch the sun go down.
What guests say: "Both homes are spotless and have the perfect spots for the cutest pictures! I would definitely recommend staying here if you have a large crowd!"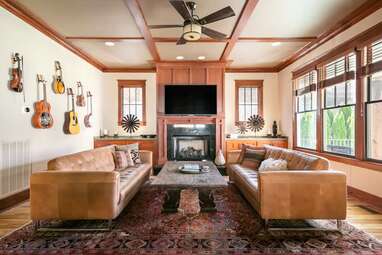 Airbnb
8 guests/$791 per night
This warm and cozy house in East Nashville (just two miles from Music Row and The Gulch) is as homey as they come, with comfortable beds, soaking tubs, a living room with fireplace and Smart TV, and guitars in several rooms that are free to use. If you want your bachelor(ette) party to be more relaxing than rowdy, this is definitely the place for you.
What guests say: ​​"I can't say enough about how beautiful and perfect this Airbnb is. Beautifully decorated, very comfortable in every way! If I could give more than five stars I would."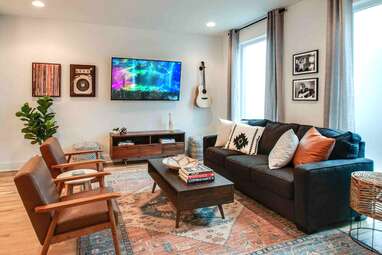 Airbnb
16 guests/$683 per night
This house is just a quick drive from the heart of Nashville, but you might not want to leave after you check out all the amenities. Aside from 8 bedrooms with their own bathrooms, the set of two townhomes features roof decks, wet bars, game rooms with ping pong and basketball, huge outdoor dining spaces, and even a karaoke room with a little stage.
What guests say: "Great place with an awesome amount of space for our group. We loved the rooftop hang-out area and were up there most of the time when we weren't downtown or sightseeing."
Airbnb
4 guests/$322 per night
Since not all bachelorette parties involve a huge group of people, this bubblegum pink cottage is perfect for a smaller group of gals. Practically every inch of this house is made for Instagram, from the pink kitchen appliances to the flamingo-print wallpaper in the bathroom. The best features are outside, however: think a fire pit, patio with pizza oven, and an outdoor theater area with projector, screen, and red reclining chairs.
What guests say: "I booked the Pinky for my best friend's bachelorette weekend and MAN did it impress. Can't say enough good things!!"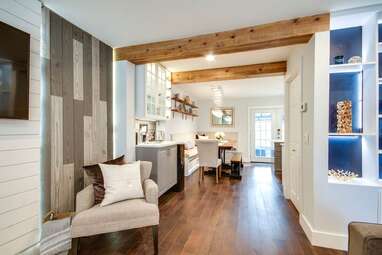 Airbnb
10 guests/$227 per night
The Tennessee Townhouse is located a mile from Broadway (just across the bridge) in East Nashville, with everything you need to relax between bar crawls. The living room has a wet bar and huge Smart TV, a kitchen with oversized table, three comfy bedrooms, and a private patio with string lights and seating.
What guests say: "Super cute, hip, convenient Airbnb. All of the common areas (outdoor patio, couches, huge kitchen table) make it a really fun and relaxing space for groups of friends to hang out."
Caitlin Morton is a travel and lifestyle writer based in Kansas City. You can follow her on Twitter
@CaitlinMorton23
.