We independently source all of the awesome products and experiences that we feature on Thrillist. If you buy or book from the links on our site, we may receive an affiliate commission — which in turn supports our work.
Even the mildest of coffee enthusiasts is familiar with Nespresso. The Swiss company launched in 1987, developing a range of espresso machines designed to turn any average kitchen into a fancy coffee shop. Nespresso machines are far less expensive than most high-end espresso machines (those can set you back about $800, while Nespresso's ​​VertuoPlus costs about $180), and they are way easier to use. Just grab a Nespresso pod, put it in the machine, and wait for the machine to do its magic. It's very similar to Keurig, but the drinks are tastier.
Now about those pods: There are a lot of them. The Nespresso company itself offers 30 different coffee blends, and then you can find countless other brands that have pods compatible with both Original Espresso and Vertuo machines. And while serious coffee drinkers could easily spend a small fortune on those addictive capsules, you certainly don't have to. In fact, many packs are available for under $10. We've rounded up some of the tastiest and most affordable Nespresso pods below, ranging in taste and intensity. (Note: The Vertuo pods are much pricier than the original pods.) You're sure to find one to fit your specific caffeine needs.
Compatible with Original Machines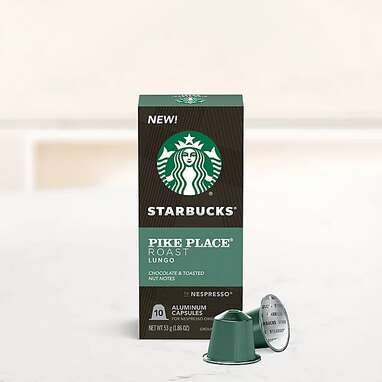 Bed Bath & Beyond
Save yourself an early morning run to Starbucks by brewing some Pike Place coffee right in your kitchen. The signature blend of Latin American coffees has subtle notes of chocolate and toasted nuts, and has a level 7 intensity based on Starbucks' scale of 4-12—that means it's stronger than blonde roast but weaker than dark roast. Goldilocks, this one's for you.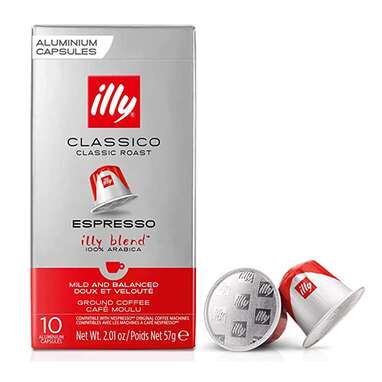 Amazon
Another classic roast from a beloved brand, this 100% Arabica coffee features a rich and balanced taste with delicate notes of caramel, orange blossom, and jasmine. If you're a fan of Illy but want a different flavor profile, the capsules are also available in dark roast, light roast, and decaf.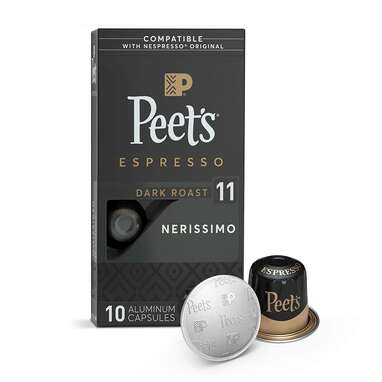 Amazon
If you just scoffed at the idea of drinking medium roast, you'll probably be the first to buy these Nerissimo pods from Peet's Coffee—the brand's absolute darkest roast (intensity 11…on scale of 1-11). "Black as night, sweet as a brûlée topping," is how Peet's describes the product, guaranteeing a strong and indulgent way to start your day.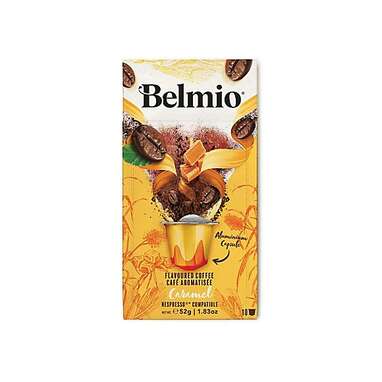 Bed Bath & Beyond
Belmio's aluminum pods are compatible with Nespresso's original machines, and they come in both classic blends and dessert flavors. Their Caramel Espresso capsules are as sweet as the name suggests, with a medium roast blend inspired by French delicacies. Belmio's website suggests making the drink even more flavorful by adding frothed milk to create a creamy cappuccino.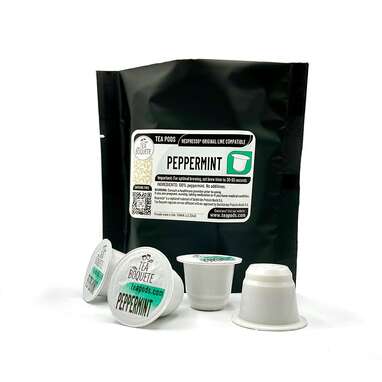 Amazon
Not a coffee drinker? You can still make use of Nespresso machines. These peppermint tea capsules work exactly the same way as the coffee pods, meaning you can have a piping hot cup of tea ready in under a minute. The Teq Boquete brand has many other available flavors at a slightly higher price, including English breakfast, hibiscus, green tea, and black tea.
Compatible with Vertuo Machines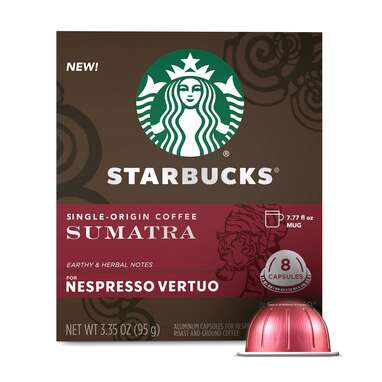 Bed Bath & Beyond
Nespresso's Vertuo line of machines offer more sizes (up to 18 ounces) of espresso with silky crema, and they scan each individual pod to maximize the brewing process. That means dark roasts—like the Sumatra blend from Starbucks—will taste even smoother and more flavorful. The level-10 intensity coffee features herbal and spicy notes with a deep earthy aroma, so you're definitely going to want to make those notes pop as much as possible.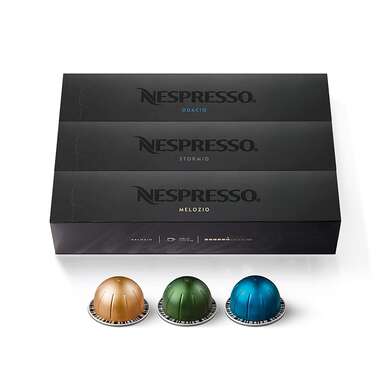 Amazon
If you're new to the Vertuo game, sample different medium and dark roasts with this variety pack ($1.20 per pod). The pack comes with 10 pods each of Stormio (Intensity 8), Odacio (Intensity 7), and Melozio (Intensity 6). The flavor profiles range from fruity to dark and spicy, so there's definitely a variety here.
Amazon
The ability to make sweet, flavored espresso drinks—similar to the ones your favorite barista whips up—is one of the main draws of owning a Nespresso machine. This variety pack ($1.25 per pod) features 10 pods each of the brand's new indulgent flavors: Caramel Cookie, Vanilla Custard Pie, and Hazelino Muffin. Each blend is made from Brazilian beans and roasted medium dark, with the flavors added in after roasting.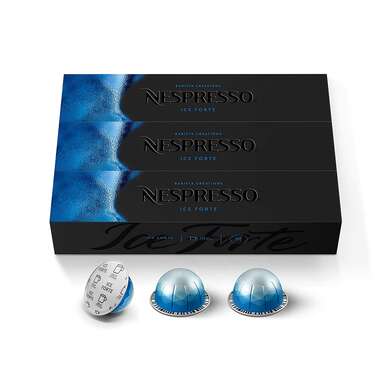 Amazon
Not every coffee tastes good over ice, but the combination of Colombian and Indonesian Arabicas in Nespresso's blend work perfectly. The dark-roast pods provide woody and peppery notes that don't dilute when you add ice cubes. Set your Vertuo machine to the 7.7-ounce setting for ideal balance.
Caitlin Morton is a travel and lifestyle writer based in Kansas City. You can follow her on Twitter
@CaitlinMorton23
.