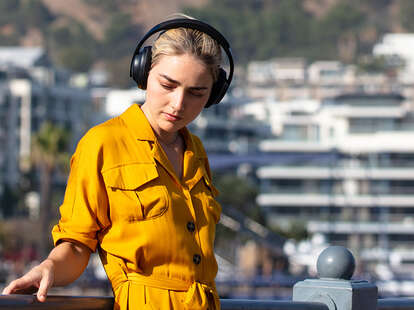 Amazon
Amazon
We independently source all of the awesome products and experiences that we feature on Thrillist. If you buy or book from the links on our site, we may receive an affiliate commission — which in turn supports our work.
As the holidays creep closer, you're probably gearing up for plenty of opportunities to tune out. Screaming children on the flight home, fruitless political arguments over Thanksgiving dinner, and the seemingly endless choruses of overzealous carolers—it's all part of the magic of the season, right?
While there is, of course, plenty of real magic to be found this time of year, it couldn't hurt to bring in some backup. There's always the age-old method of just leaning into the chaos and pretending that Christmas with the Kranks is funny, or you could do yourself a favor and invest in a high-quality pair of noise-cancelling headphones.
To score a deal on a top-tier set, all it takes is a quick visit to Amazon. To help you out, we did the tough part and picked out the best options. From big-name, over-ear favorites to minimalist earbuds, there's a perfect pair here for any budget. Now all you have to do is hit play and let the holiday spirit take over.
Bose
It's no secret that Bose is one of the biggest names in noise cancellation. This over-ear wireless set comes with 11 levels of active noise cancellation (ANC), plus a deep, balanced sound no matter how high you crank the volume up.

They're also compatible with Alexa and Google Assistant, and you can get up to 20 hours of battery life on a single charge. A pair of 700s comes in white or black, and the lightweight stainless steel design should serve you well at the office or on a plane.

They aren't cheap, but if you want a set that'll last for the long haul, this is a good place to start.
Amazon
Ever since the brand popped up in 2006, Beats has been making some of the best headphones around—period. The company was acquired by Apple in 2014, but it still churns out the same quality products with some upgraded tech features.

This pair uses Pure Adaptive Noise Cancelling technology to keep external noise out and produce the clearest possible playback. The soft, over-ear cushions fit like earmuffs, and their ergonomic design creates the flexibility to fit any head perfectly.

They're compatible with either iOS or Android, and you can expect up to 22 hours of playback with a full charge.
Amazon
If you're looking for a pair of headphones with a classic look and tech-age features, look no further. This pair from Sony employs Dual Noise Sensor technology, plus Edge-AI to control volume based on your surroundings. There's a touch sensor that allows you to move to the next song or answer a call without picking up your phone, and playback will automatically pause when you take the headphones off.

They also come with some of the best battery life available: A full charge will set you up with 30 hours of uninterrupted listening, and just a 10-minute charge will last for five hours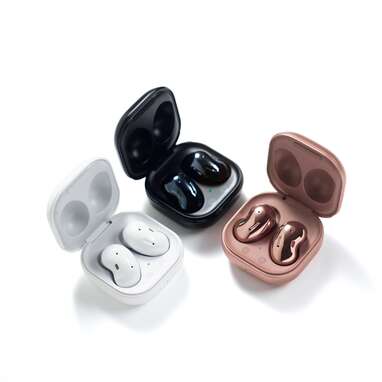 Amazon
If you prefer earbuds to over-ear headphones, it's important to note that you simply won't get the same level of noise cancellation due to a limited seal on external sounds.

That said, Samsung's answer to AirPods does a solid job. The Galaxy Buds Live come with ANC mode and studio-quality sound, and plenty of believers insist that the product has outdone their ubiquitous (and more expensive) iOS counterparts.

Galaxy Buds Live come in four different colors, and you can count on up to 8 hours of battery life when you charge them fully.
Amazon
For an affordable over-ear set that doesn't compromise on performance, you should check out Soundcore by Anker. This pair comes with hybrid active noise cancellation and hi-res sound that competes with sets that cost five times as much. The impressive battery lasts for 40 hours in ANC mode, and you can stretch it to 60 if you stay in standard.

They're also a great option for anyone who needs to feel bass in their bones. With Soundcore's BassUp technology, a digital signal processor analyzes frequencies in real-time so you can get the most out of bass-heavy genres.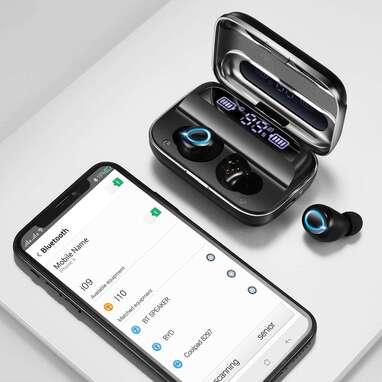 Amazon
If you're trying to drown out the muzak and grunting bodybuilders at the gym, these Donerton wireless buds are an affordable, high-performing option to get you in the zone.

They're lightweight and come with an ergonomic earhook design, so you don't need to worry about them falling out when you're really pushing it. They're also waterproof and have easy-to-use control buttons for phone-free skips and volume adjustments.

In terms of sound, you shouldn't expect the same level of performance as premium sets, but the stereo sound quality should be solid enough to get you through your workout.
Amazon
These headphones from Sennheiser are the no-frills, high-functioning, cost-effective set of your dreams. The battery is good for up to 30 hours, and you can take advantage of ANC mode, easy access to Siri or Google Assistant, and the connected Sennheiser app for updates and adjustments.

This set is also foldable for easy storage, and you can choose from either black or white color options.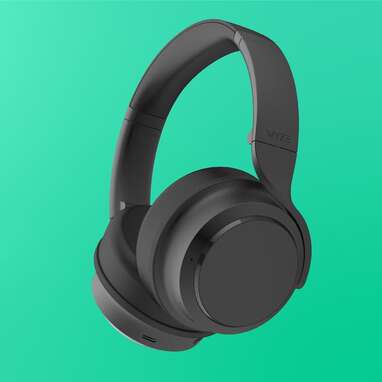 Amazon
Sleeping with over-ear headphones on might not be the first idea that comes to mind, but with 20mm of memory foam, this pair from Wyze at least presents you with the option.

And you won't have to trade sound quality for the sake of comfort. They come with a hybrid ANC option, and four noise-cancelling microphones ensure that outside noise stays outside.

The battery lasts for 20 hours, and you can utilize built-in Alexa compatibility (or whatever voice assistant you use on your phone).
Amazon
The Bose QuietComfort 35 IIs exist at the perfect intersection of performance and cost. They have a three-level noise-cancelling system, perfectly balanced audio performance, and easy bluetooth pairing with any device.
Apple
These are arguably the best set of noise-cancelling headphones on the market—an over-ear upgrade of Apple's insanely popular AirPods. It's up to you whether or not they're worth the added cost, however. The ANC mode and high-fi audio are outstanding, and the hybrid knit mesh and memory foam cushions make for a super comfortable fit.

The only area where AirPods Max fall short is the battery life. At 20 hours, they aren't terrible, but maybe not what you'd expect considering the price point. While they certainly aren't for the bargain shopper, you can still save quite a bit by grabbing them on Amazon rather than the Apple Store.
Chad Rafferty is a Thrillist contributor.