We independently source all of the awesome products and experiences that we feature on Thrillist. If you buy or book from the links on our site, we may receive an affiliate commission — which in turn supports our work.
Odds are you're planning to host at least one holiday brunch or full-blown feast in the next month or so. So if your current cookware arsenal is looking a little sparse, now is the perfect time for an early gift to yourself (and everyone you're planning to feed).
When it comes to new cookware, there's a lot to like about nonstick pots and pans. Even those of us who love to cook usually don't go nuts for doing the dishes, so products that aid in the clean-up process are all the more appealing. And let's face it: We'd all rather spend our time sipping seasonal cocktails than scrubbing at the sink.
Whether you need a full set, a couple of pans, or even a specialty item, there are plenty of nonstick cooking products on Amazon—and we've rounded up some of the best choices to help you make magic without the mess.
But before we get into it, a quick disclaimer on nonstick cookware: You've probably heard that Teflon, the original modern nonstick product, contained a chemical called PFOA, which proved to be harmful to both our bodies and the environment. Fortunately, the use of PFOA for nonstick hasn't been happening in the US since 2013, and all of the pieces included here are made of non-toxic materials—if you're still using an old Teflon pan, any of the following will make for a great upgrade.
Amazon
If your cabinets are currently bare and you're starting from scratch, you should consider this comprehensive and affordable set. All of the essentials are covered, with three frying pans, two saucepans, a lidded saute pan, a steamer, and a stock pot. The set also comes with cooking utensils, and you can tailor it to your kitchen's aesthetic with eight different colors to choose from.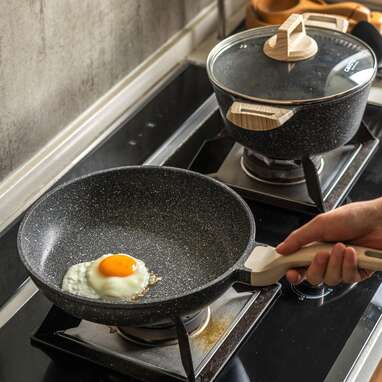 Amazon
On the other hand, if all you need is a reliable pan to whip up some eggs in the morning, this is your best bet. Perfect for omelets or quick dinners, this Carote pan is made from die-cast metal and granite. It also has a wooden handle that looks great and stays cool while you saute.

Just don't stick it in the dishwasher. Hand-washing almost always extends the life of nonstick pans, and the few seconds it takes to wipe the skillet clean are well worth it.
Amazon
This 12-inch Michelangelo pan is sure to become your new go-to. With professional grade materials and multi-layer, scratch-resistant nonstick coating, it's built for everyday use. An aluminum alloy and copper build ensures even heating and no hot spots, and the pan is also oven safe up to 450 degrees, making it a veritable Swiss Army knife in your kitchen.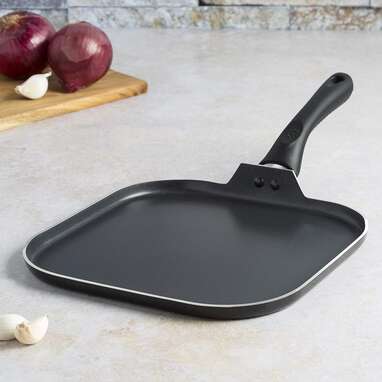 Amazon
Once you start using a griddle pan, you'll have a tough time understanding how you lived so long without one. Aside from taking your pancake game to the next level, you can use it to cook everything from burgers to quesadillas.

This Ecolution griddle comes with bottom rings to encourage even heat distribution, plus a long silicone handle for a comfortable grip. It's dishwasher safe, and its water-based nonstick coating is built to last.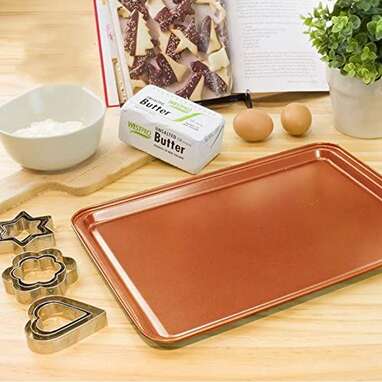 Amazon
Those who spend more time in the oven than on the stovetop should also look into nonstick bakeware. This CopperKitchen set can handle muffins, sandwich loaves, or pies, and it requires absolutely no pre-greasing.

Each piece is made from carbon steel and safe to use at temperatures up to 500 degrees. They're also dishwasher-safe, and you can feel good about their durability with a lifetime money back guarantee.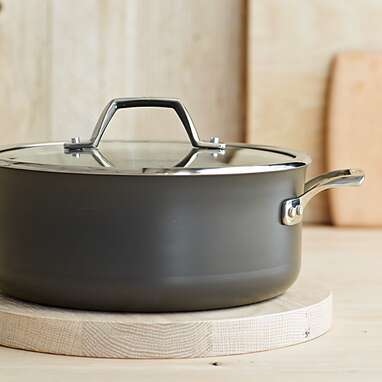 Amazon
Whether you're making cold-weather stews or trying to produce Insta-worthy sourdough bread, kitchen life will become a lot easier if you add a Dutch oven to the mix.

While some swear by cast iron when it comes to Dutch ovens, this (much more affordable) nonstick option will still do the trick. Hard anodized aluminum and a tempered glass lid keep heat inside, and interior measuring marks will help you stick to the recipe. It comes in 5- or 7-quart sizes, and is safe to use in the oven up to 450 degrees.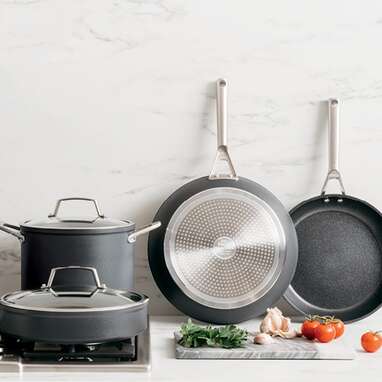 Amazon
This 8-piece set from Ninja will serve you well for years. Ninja pans are produced at up to 30,000-degree temperatures, so you never have to worry about them losing their nonstick capabilities if you crank the heat for a sear.

The modern, slate gray design will give your kitchen a professional look, and you can always opt for a 3- or 5-piece set instead.
Amazon
Who could forget about pasta? With this pot from Rachel Ray, you'll never leave a single strand of spaghetti behind. Its convenient oval shape allows you to boil pasta without breaking noodles in half or cooking them unevenly, and at 8 quarts, you have enough space to satisfy even the hungriest of customers.

It isn't the cheapest pot on the market, but can you really put a price on perfectly al dente pasta? We think not.
Chad Rafferty is a Thrillist contributor.