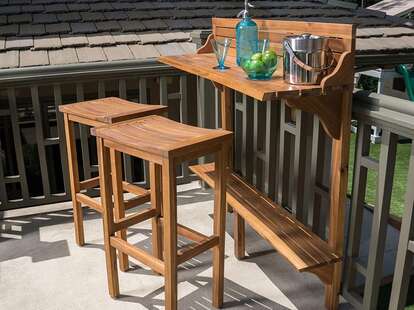 We independently source all of the awesome products and experiences that we feature on Thrillist. If you buy or book from the links on our site, we may receive an affiliate commission — which in turn supports our work.
With great power comes great responsibility—so if you've found yourself with an outdoor space in your custody, it follows that you're fully obligated to host all of your friends (and probably a good number of your B-list acquaintances) on as many summer occasions as possible. Sorry, we don't make the rules.
Once you've got the space, though, heroic party host that you are, you've also got to figure out how to outfit your yard/patio/sprawling stoop with the necessary accoutrements for a whole summer of memorable bashes—assuming you don't have a landscaping architect on speed dial (or whatever the cool, contemporary reference is). Lucky for you, we've got an easy, affordable solution: An outdoor bar set.
Not only will an al fresco drinking arrangement keep your B-list pals out of your actual home, but it'll allow you to spend more time drinking/dining/conversing/drinking with friends without having to run inside to refill glasses every 10 minutes. And, whether you're using your new high-top seating as an added remote work space, a dinner party hub, or merely a snack table for a full-scale yard party, it'll surely help elevate your outdoor area. So, go ahead and check out our picks for the best outdoor bar and dining set-ups available on Amazon—then order ASAP for maximum usage before the summer weather runs out.
If you're not a master gardener, make up for the lack of flora and fauna in your yard with an equally vibrant, colorful bistro set. This weather-resistant canary yellow table (with chairs!) is an excellent maximalist centerpiece to any yard soiree—plus, it's easy to clean, no matter what kind of damage you do.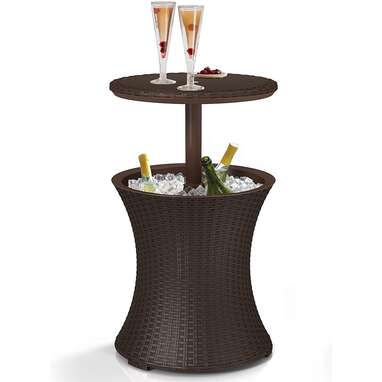 This is essentially your home goods Swiss army knife. On any given day, use it as a standard, rattan side table. Then, come party time, raise the surface into a high-top standing table, and use the base as a cooler. The thing has 7.5 gallons of drink storage capacity, so you've just got to fill it with ice, then pack in the beverage of your choosing (in large, large quantities).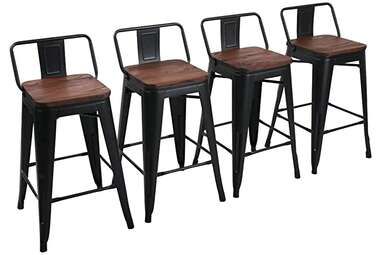 Naturally, you'll need some bar stools to pair with that high-top cooler-meets-side table. We'd recommend something minimalist and classic like this 4-piece set of sturdy, metal counter-height stools from Yongchuang. They're durable as hell—but they're also light, so you can move 'em around all you like to accommodate your guests.
We know you may not actually own a pool. But that's no reason to hold back from purchasing something entitled "Poolside Gossip Chair." It's kitschy, it's fun, it'll make for a great WFH desk-alternative, and best of all, it'll provide a necessary intimate space for proverbial poolside convos at your next al fresco rager.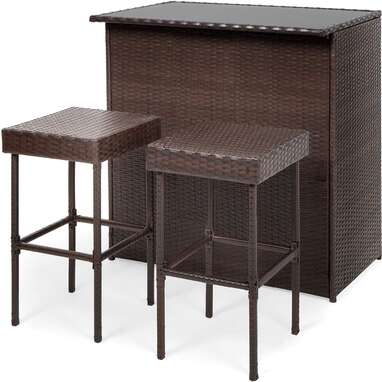 For a more proper outdoor mixology experience, this bonafide full-scale bar set-up will surely do the trick. Made of weather-resistant wicker, the thing comes with two stools, a glass table top, and ample built-in shelf space for bottles, tools, ice buckets, you name it. Certainly not the worst place to enjoy a mid-afternoon Aperol spritz.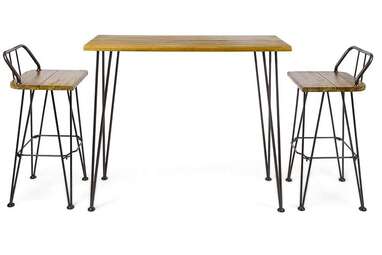 In the realm of sultry bar seating, this wooden Christopher Knight set feels just like the sort of high-top you might occupy at some upscale cocktail lounge downtown—had you actually left the house (obviously, if you've got a yard, you need not leave the house ever again).
For more mobile drinking scenarios, this industrial-inspired black iron-wrought bar cart will make drinking in any alcove of your al fresco haven as easy as possible. With tempered glass, a low level shelf, and a set of wheels, it's your to-go cocktail treasure trove.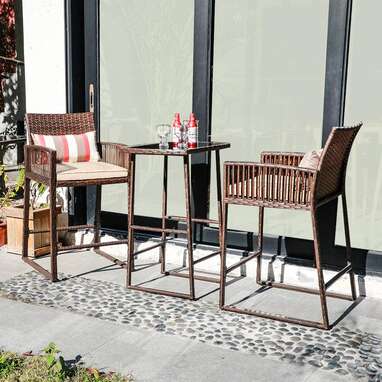 In all fairness, this seating arrangement is likely far nicer than any pub table you've occupied in the recent past. But that's not a bad thing. Complete with foam-cushioned stools and a glass-plated high-top table, the set is actually as comfortable as it is chic. Plus, it's all made with UV-resistant, natural-looking wicker—so it won't look like it's been to war by the end of this summer.
Of course, you can't go wrong with a standing bar. And this classic, shelved, number—with a counter-height tabletop and a shelf for added fixings—is easily adaptable to any backyard set-up. Plus, the wood all comes in a nice, natural finish, so you can tell your guests you built it yourself as a quarantine hobby.
Eliza Dumais is a former staff writer at
Thrillist
. She now works as a lifestyle editor at
Refinery29
.