11 Products That Will Keep You Cool While Traveling—Even During a Heat Wave
Beat the heat this summer with these clever products, from portable fans to water bottles that stay cold for 24 hours.
Marco Bottigelli/Getty Images
We independently source all of the awesome products and experiences that we feature on Thrillist. If you buy or book from the links on our site, we may receive an affiliate commission — which in turn supports our work.
There are many wonderful things about summer vacations, from diving into a luxurious hotel pool to reliving the joyful, school-free days of our youth. But for all its pros, there is also a huge challenge that comes along with traveling between the months of July and September: keeping cool in hot temperatures.
While beating the heat is tricky even while staying home, it becomes even harder when venturing to places unknown—especially with heat waves currently blasting throughout Europe and North America. Aside from traveling to the Southern Hemisphere (where it's currently winter), there are plenty of ways to stay cool during your next sun-filled escape, even if you don't have 24/7 access to a pool or air conditioning.
Need some tips? We reached out to some expert travelers—as well as a few medical professionals—to get their tried and true methods for keeping body temps down while spending time in the great outdoors. Here are their suggestions for products that will keep you cool while traveling, all of which can easily fit inside your backpack or carry-on bag.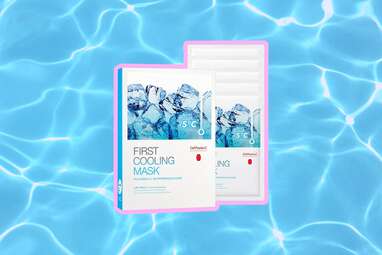 Getty Images/Amazon
"In the summer heat, your body circulates a higher volume of blood to your skin which causes your temperature to rise and you to sweat," says Dr. Jacob Steiger, head of Steiger Facial Plastic Surgery in Boca Raton, Florida. So keeping one's face, where blood is closer to the surface, free from heat is crucial. This hydrating mask is great for on-the-go refreshment, with calming ingredients that keep you cool for up to 30 minutes. It's the closest thing to instant relief you'll find without dumping a bucket of water on your head, and the added hydration might help stave off some summer sun wrinkles, too.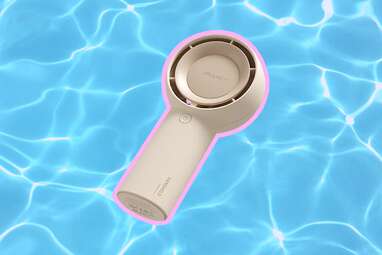 Getty Images/Amazon
"Portable fans are one of the best things to bring with you on these hot summer travel days," says Michael Belmont, owner of The Park Prodigy, an online travel agency dedicated specifically to the Disney and Universal theme parks. "If you're planning on being outside a lot—say you're waiting in line for rides, going on hikes, or even just sitting on a patio for dinner—having a personal fan with you can feel like a real lifesaver." He personally recommends this one from Jisulife, which provides five different speed settings and lasts between 3 and 16 hours (depending on the setting). You can recharge the battery using a regular outlet or USB port, making it even more convenient for travel.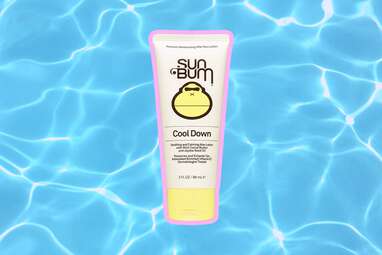 Getty Images/Amazon
We all know the benefits of slathering on sunscreen, but your skin needs care and attention after you spend time in the sun, too. This is particularly true if you're visiting a super hot destination, as exposure to UV rays actually depletes your skin of moisture—and your end goal is to stay as hydrated as possible. "If you plan to spend a day out in the sun, I suggest purchasing a bottle of after-sun lotion (preferably with aloe) and storing it in your hotel refrigerator," says Larry Snider, VP of Operations of Casago Vacation Rentals. "It's a great way to cool off fast and soothe sun-baked skin."
You can never go wrong with the "Cool Down" lotion from beloved brand Sun Bum, which features aloe, cocoa butter, and Vitamin E to instantly soothe your skin. This 3-ounce bottle will travel comfortably in your carry-on, but consider upgrading to the 8-ounce bottle ($11.99) if you plan on checking your luggage or want an extra stash to keep at home.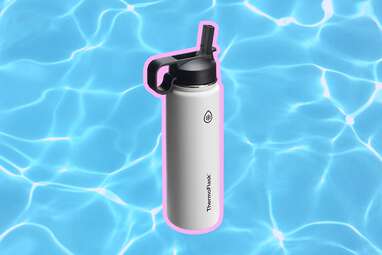 Getty Images/Amazon
The best thing anyone can do to stave off extreme heat is to stay hydrated. "It is so beneficial to be able to cool your body on a hot day with a cold drink," says Viktor Holas, founder of Wise Barber and outdoor enthusiast. The ThermoFlask is his "favorite water bottle that goes with me on all my adventures hiking, biking, and mountaineering." The insulated water bottle (which currently has over 35,700 five-star reviews on Amazon) fits in most backpacks and carry-on bags, comes with two leak-proof lids, and keeps beverages cold for 24 hours. Yep, that's an entire day of guaranteed refreshment.
Getty Images/Amazon
Mirela Letailleur, owner of The Travel Bunny, knows a thing or two about extreme temperatures. "I live in the South of France," she says. "In my village, it hasn't rained in months, and I can't remember the last time when we didn't have a heat wave warning when checking the weather." Aside from installing a silent fan over her bed, Letailleur claims that cooling towels are her biggest saving grace during the summer months. To activate each towel, simply get it wet, wring out the extra water, and shake it for a few seconds—it then magically stays chilly for about three hours and draws sweat away from your skin.
"You can wear it tied around your head, on your shoulders as a scarf, or spread over different parts of the body," says Letailleur. "Personally, I prefer to put it over my legs (including my feet), whenever the heat makes them feel too heavy." As an added bonus, the towels weigh less than 2 ounces each, so they occupy virtually zero space in your luggage.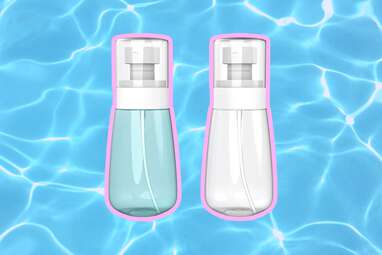 Getty Images/Amazon
There are tons of face mists on the market, but they tend to be expensive and not exactly eco-friendly (a tiny bottle only gets you so far before you have to buy another one). For a similar effect at a far better price point, sustainability expert Ashlee Piper recommends traveling with small, refillable spray bottles. "Fill [the bottles] with potable water (and some essential oil like peppermint, eucalyptus, or rosemary if you fancy, as they can add to the chilling effect), and place in the fridge," she suggests. "Before sleep, mist your bed to create an evaporative cooling effect that can help lull you to sleep significantly more comfortably. Plus, it's cheap and easy, and you can do it as much as you like."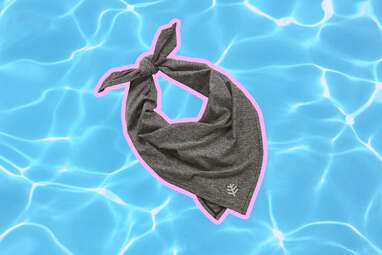 Getty Images/Amazon
Paleontologist Becky Barns and her geological intern Alyssa Schiwal get no breaks from the sun doing summer digs with the North Dakota Geological Survey. Hot prairie winds and humidity-breeding thunderstorms don't help matters, so finding ways to stay cool is a job essential. "I've always got a bandana on my head, all day," says Schiwal. "That's really the best form of sun protection." These Coolibar bandanas feature breathable, moisture-wicking fabric that not only keeps your sweatiness at bay, but also blocks out 98% of UVA/UVB rays.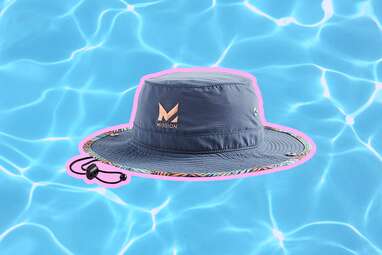 Getty Images/Amazon
Former Tennessee Titan and New Orleans Saint, Chris Valletta, learned a lot about keeping cool while enduring summer two-a-days in the deep south. "You'd run over to the sideline, take your helmet off, and they'd wring out an old towel soaked in ice water over your head," he says. "But you're dumping all this water on yourself, so while you're cooler you're also weighing yourself down and waterlogged."
After leaving football, he set out to develop towels and other apparel that could cool an athlete without making them heavier. The result is Mission's fabric, which quickly cools to 30 degrees below the average body temperature when activated with water—so just dip this hat in the pool or ocean, and enjoy all the benefits of wearing a wet towel without the added weight. Other pro athletes see the benefit too, as Mission counts Dwyane Wade and Serena Williams among its biggest fans.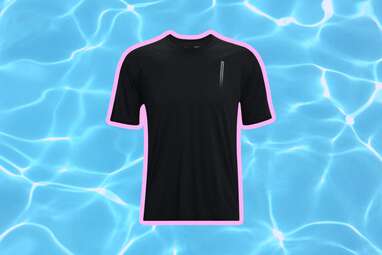 Getty Images/Under Armour
"A brother can't be worrying about sweat and chafing while facing a rattler, ya know?" says Jerome Williams, who trains K9s in the California desert to track and chase out rattlesnakes. "When I'm hunting rattlesnakes in 100+ degree weather, my UA shirt does the job of keeping me cool without distracting me with irritation." Under Armour's CoolSwitch shirts provide compression for rugged physical activity, but also include a special coating on the inside that pulls heat from the body. So even if you're just running to the beach—and not down a desert hillside—you can still feel flexible and cool at the same time.
Getty Images/Amazon
"A good cooling vest is one of my favorite items for staying cool while hiking/traveling long distances," says Ian Kelly, CEO of NuLeaf Naturals and Colorado-based travel enthusiast. "In particular, I'm a big fan of Ergodyne's cooling vest as it is very comfortable and practical to use—especially when traveling in nature." The process is extremely simple: Soak the vest in cold water for a few minutes to activate the cooling technology, then put it on and enjoy the chilly benefits for 3-4 hours. You can re-activate the vest by putting it back in cold water whenever you feel the heat creeping back in.
Getty Images/Camixa
Katie Caf is a travel blogger who has been full-time traveling over the past year and a half, including to very hot and sunny destinations in South & Central America and Southeast Asia. Her beat-the-heat suggestion? "I couldn't live without linen shirts—I travel with at least three of them at all times," she says. "Linen is super lightweight so you don't even feel like you're wearing a shirt, but it keeps the sun off of your skin so you don't get nearly as hot as you would even in just a bikini top. An added bonus is if your skin is covered by long-sleeves, you also get some protection from sun damage."
This Camixa shirt checks all the boxes, and it comes in a variety of colors that would look equally at home in a nice restaurant as they would on the beach. You can shop around for different options, but Caf says to make sure they are 100% linen or you won't get the cooling benefits.