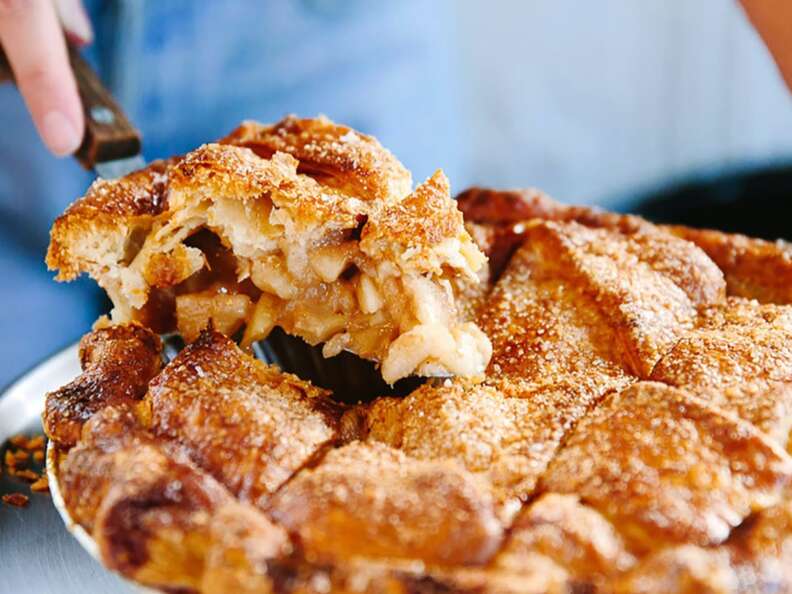 We independently source all of the awesome products and experiences that we feature on Thrillist. If you buy or book from the links on our site, we may receive an affiliate commission — which in turn supports our work.
In case you didn't know, March 14 is Pi Day, a celebration of the mathematical constant pi (π = 3.14). While we're not particularly passionate about numbers, we do celebrate with what we do know best: eating pi(e). Dad jokes aside, this day has slowly become a day dedicated to eating America's favorite dessert and we're not mad about it.
Want to celebrate Pi Day (or any day really) with a delicious dessert? Lucky for you, Goldbelly is offering up to $15 off your first $50 order with the code GetInMyBELLY! Choose from a selection of the most famous pies around the country—and they all ship free. Although not all of these pies will get to you by 3/14, they will arrive fresh for you to enjoy in the comfort of your own home. Below we've rounded up some of our favorite picks, but make sure to check out all their pie offerings on their Pi Day deals page.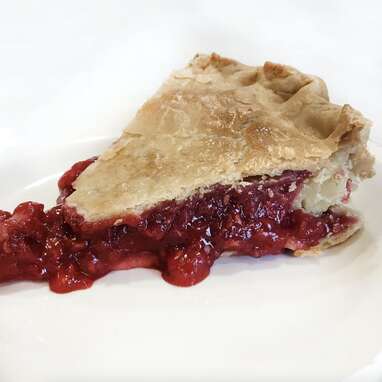 Goldbelly
Bread and Roses Bakery is committed to sourcing their ingredients from local Maine farmers and making their pies the old fashioned way. Their Raspberry Pie is made from scratch with small batches of raspberry filling stirred by hand on the stove top and a rich pate brisee crust, resulting in a mouthwatering pie that's hard to stop at one bite.
Goldbelly
You can never go wrong with a classic apple pie, especially when it's a Blue Ribbon-winning recipe. Slice Pie Company's founder, Michael Mullins, spent years perfecting it with his famous flaky pastry crust that was passed down through his family for generations. This top-selling item is made with more than three pounds of the freshest local apples peeled by hand, stuffed into a blanket of their signature crust and secret spices.
Goldbelly
This is THE pie that put Four & Twenty Blackbirds on the national map. It's created with a delicious buttery caramel inside and topped with a sprinkle of Maldon sea salt. It's often been deemed one of the best pies in Brooklyn. The final products measure 9.5 inches and will serve 8-10.
Goldbelly
Every pie made by Michele's Pies is made by hand at Michele Stuart's pie shop in Norwalk, Connecticut. This maple pumpkin pie is made by pureeing fresh pumpkin and adding in Vermont maple syrup and cream, which gives the filling a rich and creamy texture. Then everything is poured into a super flaky pie crust made using an old fashioned recipe. That's all topped with a generous layer of pecans and dusted with brown sugar and cinnamon. The pie is 9 inches and will serve up to 8.
Goldbelly
The bourbon gives this classic pecan pie a Southern kick. The alcohol evaporates when the pie is baked, leaving a flavorful sweetness with a baseline of vanilla that plays well with the pecans and delicious flaky crust. Just one bite will leave you craving more.
Goldbelly
La Newyorkina has been making Mexican desserts since 2010, and this is the company's Mexican take on an American classic. They started making paletas (Mexican popsicles) and have expanded into a wide range of sweet Mexican treats, including cheesecakes, ice cream, and traditional panadería-style baked goods. This pie is loaded with lots of pecans and a decadent Mexican chocolate filling. Plus, it comes with two pints of ice cream of your choice (Oaxacan Chocolate, Chiapas Coffee, Horchata, Mexican Vanilla, Coco Choco, and/or Tres Leches).
Goldbelly
This box contains Tiny Pie's best selling pies, including Apple, Cherry, Sweet Texas Pecan, and Texas Two Step (pecan and chocolate brownie). Amanda Wadsworth and her mother Kit Seay specialize in creating tiny pies with old family recipes using the highest quality ingredients, and have fittingly become a local legend in Austin.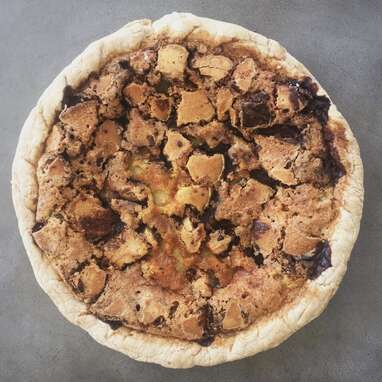 Goldbelly
This pie features Berger cookies—a fudgy Baltimore staple. In the oven, the cookies melt down and swirl into the creamy vanilla base and form a crust of fudge on top. The final product is a gooey 10-inch chess pie that's able to serve up to 8 people...and was featured on Food Network's "Best Thing I Ever Ate."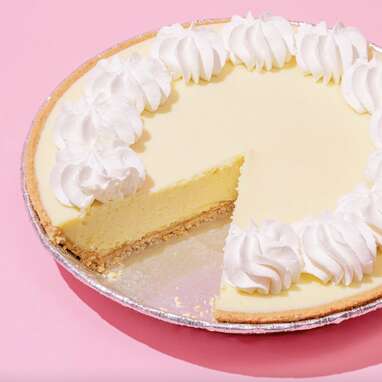 Goldbelly
Kermit is an actual man who started making pies in Key West in 1993. To this day, people come from all over to see him and eat his delicious confections. The pies are made with in-house key lime juice and topped with fluffy whipped cream. The crust is a traditional graham cracker crust that's loaded with a rich, tart filling. The pies are 9 inches and will serve 8-10.
Want to know more about our favorite products, the most worthwhile sales, and exclusive deals on cool stuff? Sign up for our weekly newsletter, The Get.