9 Popular & Easy-to-Use Pizza Ovens to Whip Up Homemade Pies in No Time
Sure, you could order delivery, but where's the fun in that?
We independently source all of the awesome products and experiences that we feature on Thrillist. If you buy or book from the links on our site, we may receive an affiliate commission — which in turn supports our work.
Impress your friends and family with homemade, perfectly fired pizza at your next outdoor gathering. Sure, you could order delivery, but where's the fun in that? You can cook crowd-pleasing pies in no time with a pizza oven that suits your needs. If you already have an outdoor grill handy, a compact pizza oven outfitted to fit over the grates might be your best bet. If you're looking for a freestanding oven, you might prefer a countertop oven or a larger upright option.
Regardless of what you choose, most pizza ovens boast efficient and versatile functionality, allowing you to sear meats and vegetables in addition to cooking pizzas. You can also choose from a variety of gas-powered and wood-chip options, depending on your preferences for taste and cleanup. A pizza oven is the perfect addition to any outdoor get-together—not only will you have a delicious meal, but constructing personal pizzas is a fun activity for all ages. We've assembled a list of the most beloved pizza ovens you can snag from Amazon right now to help you whip up fresh pies with ease.
Amazon
This pizza oven boasts a sleek stainless-steel design and impressive efficiency, firing up a pizza in just 90 seconds. Powered with wood pellets, the Big Horn oven can reach temperatures up to 860°F in less than twenty minutes and is capable of roasting meats and vegetables in addition to pizza. What's more, at just 25 pounds, it's lightweight yet durable, so it's a great addition to your backyard and portable for your next barbecue.
Amazon
Ditch mediocre delivery pizza with the U-MAX oven, outfitted with everything to make your next party a breeze. Conveniently featuring a built-in thermometer, thermo-resistant handle, storage cabinet for firewood, and accessories like a pizza stone and peel, this oven is ideal for any gathering. Unlike some other options, this versatile oven is freestanding, so you don't need a grill or countertop to enjoy its functionality.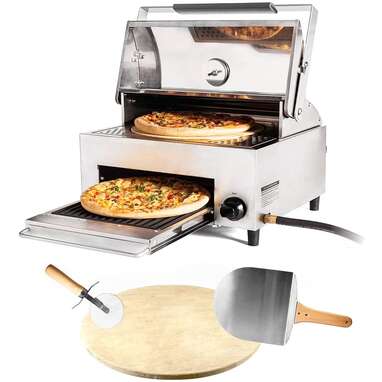 Amazon
The Capt'n Cook oven takes pizza-making to a whole new level—literally. This double-decker pizza oven features two tiers, so you can cook toppings on the bottom and fire up a pizza up top. What's more, this oven is packed with convenient features like a drawer grill, thermal convection design, and temperatures of up to 900°F. Powered by built-in gas ignition and capable of cooking a wide range of foods, this oven promises to change the game when it comes to outdoor cooking.
Amazon
At a slightly higher price point than some of the other options in our roundup, the Roccbox delivers on super-high temperatures and adaptable fuel options. This oven offers both gas and wood fire functionality, depending on your preferences, as well as a built-in thermometer and retractable legs. What's more, the Roccbox features a family-friendly silicone cover to protect against skin burns. Not only is this portable oven a fuel-efficient and safe choice, it also promises a perfectly puffed crust and lightly charred base for any pizza you desire.
Amazon
Unlike upright, freestanding options, the Bakerstone functions as a portable grill accessory, converting almost any large grill into a gourmet pizza oven. This pizza oven box can reach temperatures up to 800°F to perfectly cook pizza, sear meats and vegetables, and even bake cookies and breads. In just twenty minutes you can transform your grill into this versatile tool suited to many outdoor cooking needs.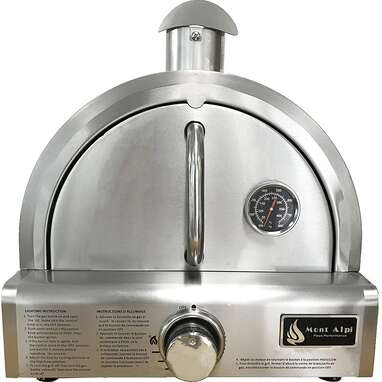 Amazon
A fantastic addition to any backyard get-together, the Mont Alpi oven is a tabletop option that functions similar to an indoor oven. From the Thanksgiving turkey to cheesy pizza pies, there's nothing this oven can't do. Just set the oven on a safe surface and fire it up—you'll be eating in no time. Even better, Mont Alpi includes a pizza stone and is simple to clean with its accessible inside arch and convenient slide-out tray at the bottom.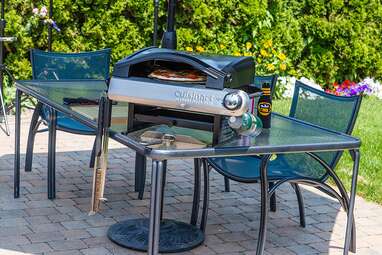 Amazon
With plenty of space for personal or full-size pies, the Cuisinart CPO-600 is a great choice if you're looking for a compact and portable pizza oven. Perfect for tailgating and camping, this oven delivers wood-fired taste at maximum convenience. The oven uses convection, conduction, and reflected heat to ensure an evenly heated surface for crisp pizzas properly baked from the bottom up. The Cuisinart conveniently includes a warming tray and can bake desserts and breads in addition to pizza.
Amazon
You won't miss delivery with this versatile, easy-to-use pizza oven. Streamline your next outdoor function with the multipurpose Gyber Freemont oven, which handles so much more than just pizza—think juicy burgers, tasty salmon, and perfectly cooked veggies, too. This stainless steel, wood-chip fueled appliance includes a removable door, grease pan, and pizza peel, meaning you only need to choose your toppings and you're good to go.
Amazon
A gas-powered pizza oven like the Ooni Koda means less smoke and soot (making maintenance a cinch) as well as adjustable heat with the simple turn of a dial. The insulated shell and steel body maximize heat retention, saving you time and ensuring an even bake. Designed for outdoor cooking, this oven can roast meat and vegetables as well as pizza, so you'll have a crowd-pleasing meal in no time.
Caroline Curran is a Thrillist contributor.