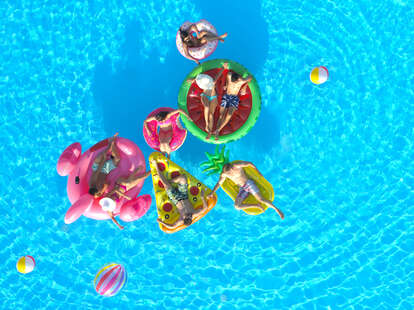 We independently source all of the awesome products and experiences that we feature on Thrillist. If you buy or book from the links on our site, we may receive an affiliate commission — which in turn supports our work.
Pool season is rapidly approaching—or it might even be here already, depending on your spatial relationship with the equator. Either way, it's high time to get that lovely giant puddle oasis in your backyard (or vacation rental) prepped for a long summer of sunbathing, splashing around, and springing off the diving board.
In general, the market for pool toys is mostly directed toward children, which I, for one, find decidedly unfair. While I understand that water-based games and activities are a great way to get kids to exercise and tire them out so you can have an evening of peace, there's no reason that the grown-ups shouldn't get in on the fun, too.
Fortunately, there's still a solid section of adult-minded aquatic accessories on Amazon, and we did some digging to find the most exciting ones. So whether you're pulling out all the stops for your Fourth of July BBQ or just preparing for the moment when your classy poolside cocktail party turns amphibious, we found all the best toys, floats, and games to keep everyone in the water entertained this summer.
Amazon
No list of adult pool toys would be complete without a floating beer pong table, and I'm not one to break the rules. This six-foot option comes with ping pong balls, extra cup holders, and a full 10-cup setup. Plus, it has built-in tethering grommets, so you can decide if you want the challenge of hitting a moving target or not.
Amazon
For those looking to add a touch of sophistication to their pool parties, this premium floating drink holder addresses the age old question of how to get your appetizers to float. Perfect for whatever you're sipping and snacking on, the holder can be loaded with everything you need for the perfect pool day.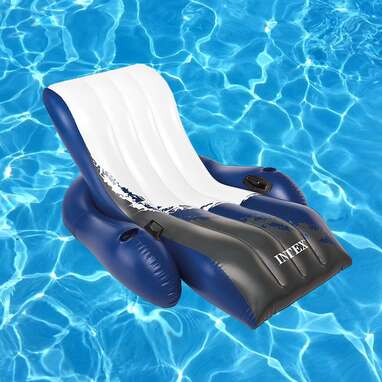 Amazon
If you are anything like me, then you're tired of pool floats that require an engaged core and constant adjustments just to stay above water. This floating recliner is the perfect solution. It's big, comfy, and sturdy, and comes with not one but two cup holders to help defer a trip back to the fridge.
Amazon
The pool is a great place to let your competitive side out—and with this premium volleyball set, you can quickly turn your backyard into a cutthroat athletic coliseum filled with furious spikes and endless arguments about where a shot landed. Or, you know, you can just play for fun.
Amazon
Sticking with the sports theme here, if you're more into hoops than volleyball, GoSports also offers this basketball setup that's primed for trick shots and diving board dunks. It comes with a net plus two inflatable balls, and the weighted base ensures stability no matter how hard you throw down.
Amazon
And now, back to our regularly scheduled pool relaxation program. This two-in-one float set comes with a cozy recliner, plus an attachable caddy to house your drinks, sunscreen, phone, and whatever else you need while you soak up the sun.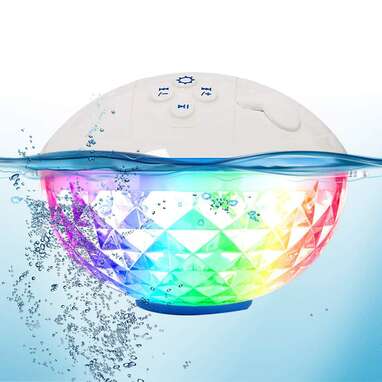 Amazon
This floating bluetooth speaker will not only fill your pool with your favorite tunes, but it also lights up to set whatever visual mood you're going for. The battery is great with up to eight hours on a full charge, and you'll love the crisp sound quality and easily adjustable volume.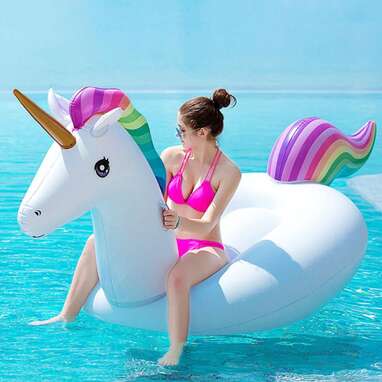 Amazon
Is this giant inflatable unicorn absolutely necessarily for adults? No. Does that matter? Also no. Don't overthink this one—just allow yourself to enjoy getting a tan and floating around on this cute and comfortable mystical creature.
Chad Rafferty is a Thrillist contributor.