We independently source all of the awesome products and experiences that we feature on Thrillist. If you buy or book from the links on our site, we may receive an affiliate commission — which in turn supports our work.
If you've checked out Thrillist before, you've likely noticed our extensive grilling coverage. We brought in BBQ experts to talk about their favorite grills, we asked a pitmaster for his tips on grilling, we even created a hub focused on all things outdoor cooking. Well, we're back, baby! Get ready to check out these nine portable grills under $50 that are perfect for porch parties, rooftop roasts, or simply adorable cookouts (some of these things are pretty 'lil).
Chances are you won't get one of these in time for Labor Day if you order today, but so what? Who said grilling has to stop after Labor Day? No one, that's who. And take it from someone with a small, portable Coleman grill—you'll use this thing way more than a bigger grill (unless you're cooking with clean, efficient propane and propane accessories). These smaller charcoal cookers are easier to clean, require less charcoal, yet still produce the same results as their larger counterparts. Plus, all of these are under $50. They basically pay for themselves.
This is a great deal on a medium-sized kettle grill. Although the portable aspect here might be limited to you wheeling it out front or over to your neighbors, it's still easy to transport and boasts a 18.5" grilling surface (more than enough room for some burgers & hot dogs).
Here's a 14" kettle grill that looks like it should have a Pixar movie made after it. This is an excellent kettle grill for city folk, as it's easy to move, easy to clean, and easy to pass to your friend up the fire escape without worrying about a concussion.
A folding table top grill that you can carry like a briefcase? Give this company a Nobel prize in innovation. This grill can easily cook for 3-4 people and even fit into a backpack (albeit, a backpack that needs to be a bit larger than average). It's constructed from cast iron and also has a foldable warming back to keep those buns toasty.
If a grill is named Old Smokey, you can probably bet your bottom dollar it cooks up a mean BBQ. This grill's made from aluminized steel and is probably as basic as they come. It's not as pretty as the other ones, but it'd make a great addition to your camp cookware collection or meticulously designed backyard, where the aesthetic is "campsite chic."
Here's a 13" barrel grill that's pretty much made for tailgates (or RVing if you're into that). It's long, sleek, and folds up small to fit comfortably in the trunk of your car. Is it the prettiest grill? Who's to say. Will it get the job done? Absolutely.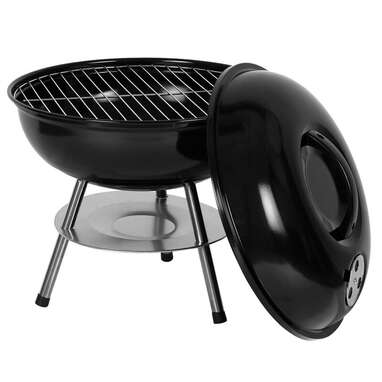 This number weighs only 3.5 pounds and, like the Pixar-esque grill from earlier, is super portable and easy to store. It's made from steel and has a grilling surface of 14". Also, it does not come with the removable ash catcher, so definitely note that.
I've never taken a grill on a hike with me. But that isn't to say I wouldn't want to, which makes me really into this mini grill made for camping/hiking. It folds up almost flat and can be set up in minutes. Plus, unlike some of the other grills on this list, this one comes with a removable ash catcher.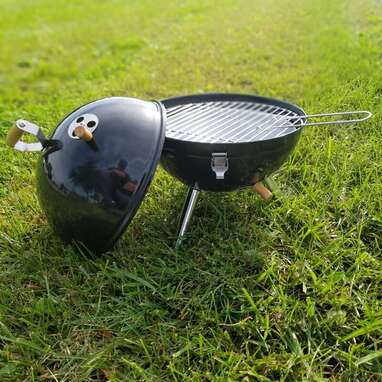 This 13" kettle grill is 50% off and has over 26 reviews, so you can assume it's great. There isn't much that separates this one from the other kettle grills except the cool design with the wooden handles to open/close the vents. So I guess I'm saying this is a more design-forward grill that doesn't sacrifice functionality.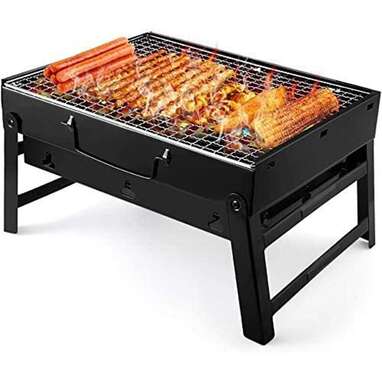 I could rewrite the description of this grill, but what's the point when the company did such a fine job? "This mini BBQ grill: Super convenient for taking to the beach, on a camping trip, or anywhere you want." Say no more.