The PSL-Lover's Guide to the Pumpkin Spice-Flavored Treats
Behold: Inventive and delicious pumpkin spice snacks you didn't know you needed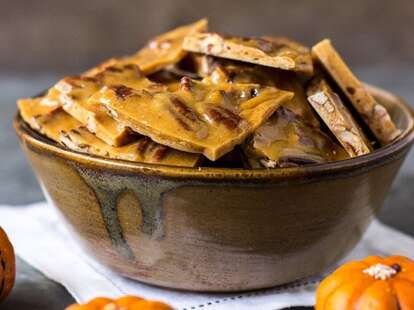 We independently source all of the awesome products and experiences that we feature on Thrillist. If you buy or book from the links on our site, we may receive an affiliate commission — which in turn supports our work.
Get out your Ugg boots and infinity scarves: it's pumpkin spice season. Every time September rolls around, we feel morally obligated to tell you that it is now time to infuse cinnamon, nutmeg, and ginger into every breakfast, beverage, and baked good possible. Sure, the outside temperature is still caught somewhere between summer and fall, but we're pretty sure you can manifest the onset of cooler weather with the perfect blend of autumnal spices.
Pumpkin spice is popular for a reason—don't let the haters convince you otherwise. It's comforting, it hits the right notes of sweet and spicy, and it perfectly embodies the cozy yet spooky spirit of fall. Of course, the classic vehicles for pumpkin spice are homemade pumpkin bread or the tried-and-true Pumpkin Spice Latte (affectionately, the PSL). But if you don't feel like running to the grocery store for pumpkin pureé or Starbucks just isn't your thing, you are by no means limited. In fact, small businesses online are leading the game when it comes to inventive and delicious pumpkin spice treats.
We've compiled a list of treats guaranteed to satisfy any sweet tooth with some autumnal flair. Whether you're looking for themed party favors, unique Halloween giveaways for trick-or-treaters, or just a yummy afternoon snack, we've got you covered with options ranging from gummy candies to hot chocolate bombs. Read on to find the pumpkin spice treats you didn't know you needed.
Etsy
If you're craving a quintessential state-fair treat as the weather gets cooler, consider this hand-crafted cotton candy. Full of comforting autumnal spices, this fresh spun sugar is sure to impress at a fall party, and kids will definitely love it. That said, we fully support you if you want to hog it all to yourself.
Etsy
Sure, you could break out the stand mixer and bake pumpkin cookies yourself. But if you're too busy or straight-up not the baking type, why not remove the hassle with these macarons? With adorable fall-themed designs, a hint of spice, and beautiful packaging, these macarons are a perfect pumpkin treat.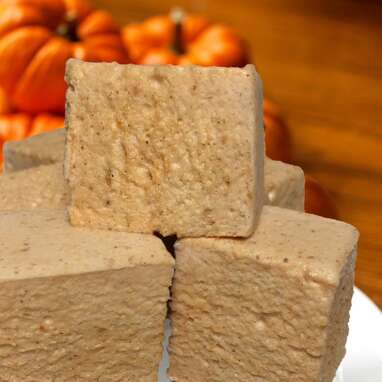 Etsy
It's time to level up your s'mores game with these jumbo gourmet marshmallows. Spongy, sweet, and lightly spiced, these treats will make you the talk of the campfire. And s'mores are just the beginning—think of the rice crispy treats, cookies, and pies you'll be able to whip up. The possibilities are endless.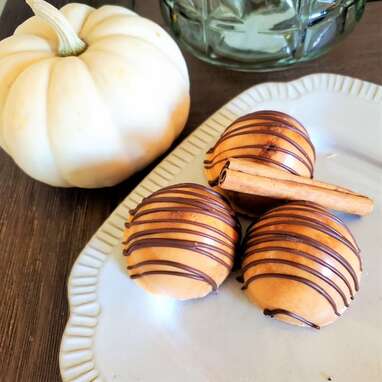 Etsy
Everyone has heard of the pumpkin spice latte, but hear us out—what if chocolate was involved in your autumnal beverage du jour? The white chocolate shell of this "bomb" melts in hot milk or coffee, releasing pumpkin spice cocoa mix and mini marshmallows. We promise, your mug has never seen anything this cool before. It's quite the sensory experience.
Etsy
Salt water taffy isn't just for the beach boardwalk. If you love autumn flavors but miss summer weekends at the beach, this is the candy for you. Whether you're handing them out on Halloween or simply enjoying them yourself, this chewy pumpkin pie–flavored taffy is the perfect fall treat. The best thing about this taffy is that it's available year-round, so you never have to wait to get your pumpkin spice fix.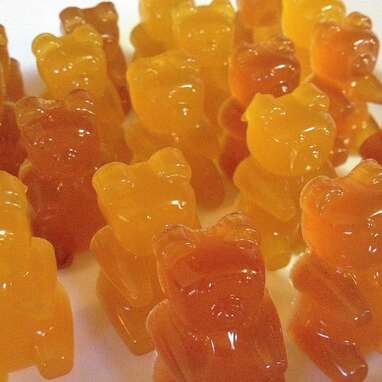 Etsy
Sweet, chewy, and spiced just right, pumpkin spice gummy bears are the candy you never knew you needed. The unexpected taste is gourmet and sophisticated, and the bear shape simply cannot be beat. These ultra-cute gummies are perfect as a fall-themed gift or party favor since they conveniently come in individually portioned bags.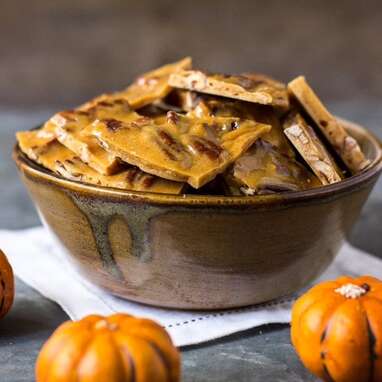 Etsy
What happens when you combine two classic autumn pie flavors into a sweet and crunchy snack? You get this pumpkin spice pecan brittle, which combines buttery roasted pecans and seasonal comforting spices into a perfect treat. This delicious brittle makes a perfect snack to accompany your afternoon coffee or tea (or, perhaps, pumpkin spice latte). Tide yourself over until Thanksgiving with this delicious brittle.
Etsy
Your pancakes will never be the same. With this pure Vermont maple syrup, you can add a touch of pumpkin spice to (almost) any breakfast or baked good. Drizzle it on oatmeal, sweeten your coffee with it, drink it straight from the bottle—you have our permission to go crazy with this syrup. This classic flavor combo is the perfect autumn pantry staple, so it's a great gift for pretty much anyone.
Etsy
What could be better than pumpkin spice fudge? Liqueur-infused pumpkin spice fudge, of course. While you can't actually get tipsy off this fudge, this gourmet dessert is packed with flavor that is both sophisticated and seasonal. It's also creamy, smooth, and made from quality whole ingredients, so it's the perfect indulgence.
Caroline Curran is a Thrillist contributor.