10 Heavy-Duty Hiking Boots to Step Into Your Winter Adventures
Freezing temperatures are no match for these killer kicks.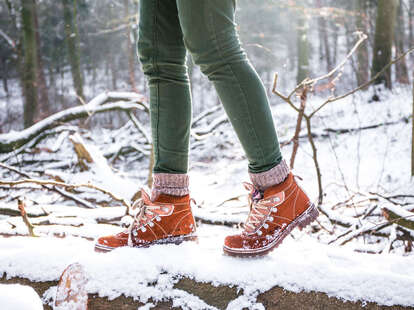 iStock/Getty Images
iStock/Getty Images
We independently source all of the awesome products and experiences that we feature on Thrillist. If you buy or book from the links on our site, we may receive an affiliate commission — which in turn supports our work.
As a hiker, there are fewer experiences more rewarding (and more unforgiving) than setting out on a long hike across frozen trails through piles of snow. It's difficult, it's slippery, it's very cold, and if you make it up to an exposed peak, it's unrelentingly windy. That said, it's undeniably worth it for the sense of satisfaction, along with other-worldly vistas and fairy tale trails that you'll likely have all to yourself.
Unlike summer treks, which tend to be a lot more accessible for novice hikers, a winter hike requires some specific preparation and gear, from extra-warm layers to a hat and gloves to some microspikes to keep you on your feet. However, you could make a fair argument that all of these are moot without proper footwear, so your first step is to invest in a high-quality pair of winter hiking boots.
The best cold-weather hiking boots provide some extra warmth while retaining the mobility and comfort of your summer boots. Of course, any winter boots worth their weight should be fully waterproof, or at the very least water-resistant, which is non-negotiable from both a safety and enjoyment standpoint for winter treks.
So, to help you get prepared, we rounded up the best winter hiking boots in both women's and men's sizes. We based these picks on both personal experience and user reviews, so you can trek assured that whichever pair you go with, it'll come with a stamp of approval from an experienced winter hiker.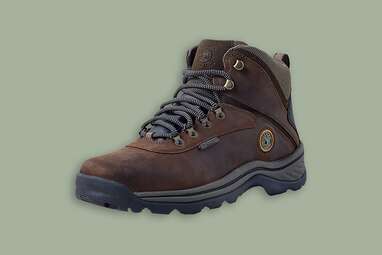 Amazon
With a staggering number of positive reviews (no seriously—there are currently 41,650 five-star reviews), these are some of the most beloved winter hiking boots on the market. They are 100% leather, fully waterproof, and proudly flaunt their trustworthy Timberland branding. According to reviewers, they are also surprisingly comfortable and lightweight. "Wearing this new pair of boots feels as if I'm wearing a pair of sneakers—that's how light these boots feel," one happy customer explains.
Amazon
A favorite amongst enthusiastic reviewers, these Merrell boots will take you from a casual trail walk to week-long backpacking treks. Each shoe boasts a durable leather exterior, a breathable mesh interior, and traction for comfort and stability. One of the reviewers who awarded these five stars added, "They are sturdy and honestly they give me an incredible amount of confidence with every step. I don't fear another twisted ankle anymore. Plus, they are lightweight and very comfortable." However, some customers noted that while they're water resistant, they're not completely waterproof.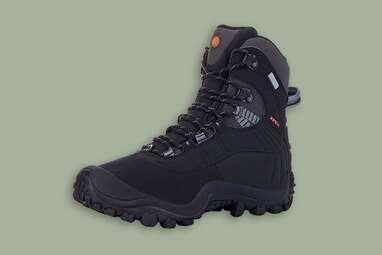 Amazon
Reviewers agree that these boots are comfortable, have the perfect grip, and do an excellent job at keeping your feet dry and warm. Per one customer: "Took these straight from the box on a four day hunt going through extremely rocky steep terrain, in several inches of snow and frigid wind. I could not have asked for better performance. My feet were warm and dry and still remain blister free." They're also not as chunky as other hiking boots, which provides much better on-trail agility.
Amazon
Designed with a soft suede leather material, these hiking boots offer comfort and durability—two things you need if you're spending a long time on the trail. They boast rubber soles that promise stability and slip-resistance, perfect for a variety of outdoor terrains and conditions. One reviewer added that they "fit nicely, feel very comfortable, and also don't feel heavy as you would imagine."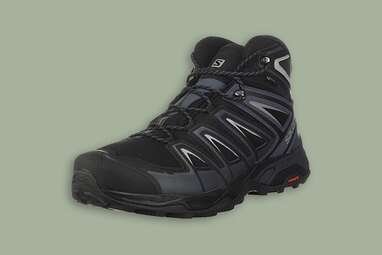 Amazon
While the Salomon X Ultra 3's are not specifically designed for winter weather, we're big believers in these boots; and with some nice thick hiking socks, they'll more than get the job done no matter the weather. To start, there's waterproof Gore-Tex that'll last for hike after hike, and Solomon is well-known for producing some of the best boots around in terms of comfort and durability. They also don't skip on traction, so even if you leave your microspikes behind, you'll still be okay on most terrain.
Amazon
These Mishansha hiking boots are sized for both men and women, and come in variety of colors and styles. The water-resistant artificial leather base is paired with a faux fur interior, and the hard rubber sole will set you up for some cold weather traction. These boots will look on-brand out on the trail and in the ski lodge, so there's a solid chance they'll be the only thing on your feet from December to March.
Amazon
These boots bring both style and functionality to your winter hikes. They feature sturdy construction combined with a lightweight sole, which provides comfort with superior cushioning and grip. Plus, reviewers agree that these are fully waterproof. "Feet stay completely dry. It's like magic!" one raved, while another said that they're "extremely lightweight and require almost no breaking in."
Amazon
With more than 2,000 mostly positive reviews, these boots promise to take you through your hike without breaking a sweat under your puffer jacket. "I struggled with a good fit in other brands of hiking shoes; however, the Keen boots fit perfectly without any hot spots, foot numbness, or bruising," one reviewer writes. "The lacing design works well to keep the toe box loose while allowing me to tighten the boot at the ankle." Others pointed out that there's no need to break them in, and that they're both breathable and waterproof.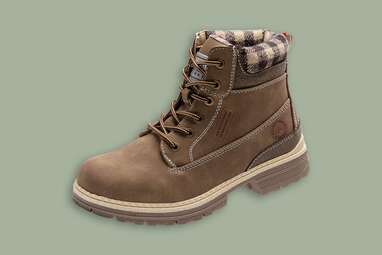 Amazon
These Anjou Femme boots are both practical and stylish, and they come in a ton of different styles and colors. They're perfect for winter hikes and walks around town alike, and the non-slip soles will help you stay upright in slick conditions. While these boots aren't quite rugged enough for super-intense winter treks, they'll more than do the job for casual snow-covered hikes for the whole season. As one reviewer described them, they are "great for light trail walking" and an "excellent value for a cute boot."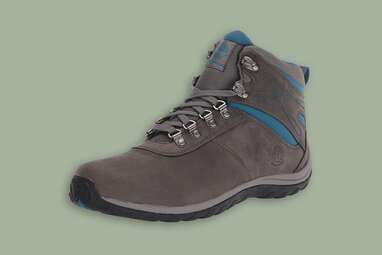 Amazon
You might think of Timberland as more of a work boot company, but they also come through with some pretty solid hikers as well. The leather-based Norwood Mids are sustainably-made, completely waterproof, and come with compression-molded EVA foam for added comfort. They also feature sturdy rubber soles, as well as a great looking design. According to one five-star review, they're "perfect for hiking and cute enough for a night out with jeans and leggings."